ASUS ZenBook Pro (2017) + ZenBook Flip S hands-on
ASUS builds out its premium laptop line with an excellent high-end machine, and an unconventional convertible.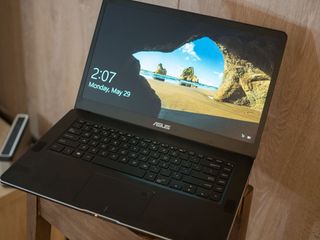 ASUS chairman Jonney Shih unveiled two new members of the ZenBook today, at a special event in Taipei ahead of Computex 2017. The 2017 ZenBook Pro is the company's most premium laptop to date (outside of its gaming-focused ROG brand). And the bendy ZenBook Flip S lays claim to the title of world's thinnest convertible, but without compromising on display quality or hardware specs.
After some brief hands-on time with both at ASUS's event in Taipei today, we're eager to see more of these two high-end machines.
ASUS ZenBook Pro 2017
ASUS's redesigned ZenBook Pro sits at the top of the ZenBook line, packing the latest seventh-generation Core i5 and i7 chips from Intel and discrete graphics in the form of an NVIDIA GTX 1050Ti GPU. (That's faster than the regular 1050, but less battery-hungry than the 1060.)
Plus it's configurable with a 4K touchscreen, up to 1TB of PCIe 3.0 SSD storage and 16GB of DDR4 RAM. And all of that power is contained in a chassis that draws on ASUS's established design language, with dual color pairings, reflective chamfers and an etched concentric circle design on the lid.
As a result of the 15.6-inch screen diagonal, the ZenBook Pro is a hefty machine, but it's not excessively weighty, tipping the scales at just under four pounds. That's all the more impressive when you consider that ASUS is promising up to 14 hours of battery life from this model — with an H-series Core i5 or i7 processor and a meaty GPU.
The Pro isn't exactly pitched as a high-end gaming laptop — that's ROG territory, after all — but the combination of specs should make it a nicely balanced machine for folks working on photo or video production, or anything requiring a bit more oomph than an Ultrabook. And yes, that pits it directly against Apple's larger MacBook Pro — which is why it's important that other premium features are packed in there. There's a built-in fingerprint sensor for Windows Hello in the top-right corner of the trackpad and audio driven by a quad-speaker system, developed in partnership with Harman Kardon.
Image 1 of 4
Speaker quality is tough to judge in a demo situation, but I was impressed with the clarity and bass of the ZenBook Pro's audio playback and was able to max out the volume without any noticeable distortion.
While you can argue about the ergonomics and aesthetics of the ZenBook Pro compared to Apple's 15-incher, and Windows rivals, it's hard to fault the brilliant 15.6-inch touchscreen, which makes up 83 percent of the interior surface and covers 100% of sRGB color gamut. It's bright and vibrant, and between this top-notch display and the Pro's impressive audio capabilities, this looks set to be an excellent laptop for audiovisual connoisseurs.
ASUS ZenBook Flip S
ASUS's other new ZenBook is aimed at an altogether different kind of consumer. The ZenBook Flip S is a convertible Ultrabook — the world's thinnest, as ASUS is keen to point out — with U-series Core i5 and i7 processors, and the same maximum 16GB/1TB RAM/storage config as the ZenBook Pro. It has a suitably gorgeous 13.3-inch 4K touch display, which takes up 80% of the screen area, and this can be used with the ASUS Pen for even more precise drawing and note-taking.
The key differentiator for the Flip S is its 360-degree "ErgoLift" hinge. Sure, the name is cringe-inducing, but the joint itself is firm yet flexible, allowing you to prop it up in a tent or stand position, or rotate it all the way around in tablet mode. The ZenBook Flip S isn't entirely fanless — there is a tiny impeller fan on the inside, measuring 0.3mm in thickness — and with any luck, this will help keep the Flip S cool despite its svelte depth of just 10.9mm. Despite its slim dimensions, the Flip S also manages to pack a one-touch fingerprint sensor on the side bezel for Windows Hello, ideally placed for use in tablet mode.
Battery life is quoted at 11.5 hours, which isn't the longest we've seen in an Ultrabook, but equally is nothing to sniff at. Unlike ASUS's other ZenBooks, the Flip S's integrated 39WHr battery charges over USB Type-C, with quick charging technology able to revive a dead Flip S to 60 percent in 49 minutes.
The convertible space is more crowded than ever right now, but ASUS's latest offering has promise, taking the familiar design of the ZenBook 3 and transforming it into a versatile lightweight machine. Even more compelling is the $1,099 starting price — though you'll likely need to settle for less RAM and internal storage, and an i5 CPU to bag a Flip S at this price point.
Windows Central Newsletter
Get the best of Windows Central in in your inbox, every day!
fingerprint magnet. The design of Asus laptops is very ooutdated, they should do something with it

The fingerprint magnet was what I was thinking too. Seemed like they tried to clean it before the show. Hmmmm....

Hundreds of people all trying to touch doesn't make for a clean laptop.

Yeah, you've got the point. I was thinking of my personal experience with ZenBook users around me having these fingerprints on their machine and I felt like I do not want that on my machine. Only my preference though.
.
Back to reality, My Surface 3 has no fingerprint on the keyboard, but plenty on the screen 😆 I have to wipe it everyday.
.
Different design choice, different problem, it seems.
.
Admittedly, I do not like Asus design choice to date. Many people around me do and I respect them.

Really seems like a great alternative to the XPS 15. Give up the 32GB ram option to get the GTX 1050Ti and, while to me, it's not as much a looker, nice to shed a half pound over the XPS.

If they add a Thunderbolt 3 option to the Flip, that might be my next

If this Zenbook Pro has a Thubderbolt 3 port with a full 4 lanes. Then this would be a better spec laptopthan the Lenovo 720 Yoga 15" 4K that I got. Although this Asus looks awfully wide, I like the look of my Yoga 720 better. Plus I don't think Asus can match the $1,319 I got my Lenovo for with the specs I got on it.

Is the back removable on the Zenbook Pro for battery replacement and upgrades?

They removed the num pad from the Pro, making it decidedly less "pro." Glad I bought the previous gen!

I prefer this version of Zenbook Pro. Having smaller case for 15.6 inch monito into somewhat 14 inch frame, have 2 thunderbolt, have usb 3.1 that I always wanted (I don't dig the all usb-c for future). It has pcie x4 ssd. The keyboard layout is good for me, due to I feel awkward hand placement when typing on G501, maybe it just not my thing to have num pad. And with the extra column of home and other key, it position the del button aligned with enter button, which helps me more to avoid tapping the power button. Now of course the only matter left is pricing.
Windows Central Newsletter
Thank you for signing up to Windows Central. You will receive a verification email shortly.
There was a problem. Please refresh the page and try again.