ASUS unveils new ZenBook and VivoBook laptops at Computex 2017
Five new laptops from ASUS target the premium performance segment.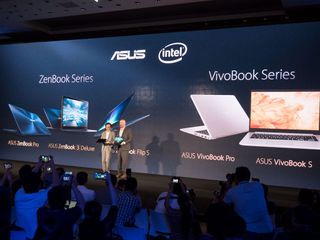 At a special event ahead of the Computex 2017 trade show in Taipei, ASUS has announced a quintet of new laptops in its ZenBook and VivoBook series.
The lineup is led by the ZenBook Pro, the new star of the company's premium notebook family, which boasts seventh-gen Intel Core i7 (H-series) processors, an NVIDIA GeForce GTX 1050Ti GPU and configurations with up to 16GB of RAM and 1TB of PCIe 3.0 (4x) SSD storage — all in a sleek metal unibody with ASUS's trademark two-tone color design. Along with those leading internals, the ZenBook Pro packs a 15.6-inch 4K display with an 83% screen-to-body ratio and a Harman Kardon audio system. Powering that whole assembly is a 74WHr battery promising 14-hour longevity, and quick charging that'll refill to 60 percent in just 49 minutes, along with Thunderbolt 3 connectivity.
Pricing for the ZenBook Pro starts at $1,299 — likely with at a configuration somewhere below the maxed-out 16GB/1TB option.
Image 1 of 2
At the other end of the spectrum, the new ASUS ZenBook Flip S claims the title of world's thinnest convertible laptop, with a thickness of just 10.9mm and a 360-degree steel hinge, allowing it to be contorted into a wide range of positions. It's powered by Intel's latest U-series Core i5 and i7 processors, and available with up to 16GB of RAM and 1TB of storage, and ships with a 13.3-inch 4K touchscreen boasting an 80% screen-to-body ratio. It uses the same quick charging tech as ASUS's other premium ZenBooks, with 11.5 hours of use quoted. For $1,099 you're getting quite an impressive piece of kit, however the maxed-out RAM-plus-storage config will likely set you back a good bit more.
Image 1 of 3
For buyers who don't need a discrete GPU and gaming-class performance but still want an attractive, capable 14-inch machine, there's the ZenBook 3 Deluxe. If this sounds familiar, it's because we already got a first look at it at CES in January. Internal specs are largely the same as that of the ZenBook Flip S, with a few important differences. There's a larger 14-inch Full HD display, with a large 84% screen-to-body ratio. It's constructed out of aerospace-grade aluminum, and is the first notebook to feature Corning Gorilla Glass 5 protection, matching the toughness of leading smartphone displays. Like the ZenBook Pro, Thunderbolt 3 connectivity is supported, allowing you to connect external 4K monitors or hook up an external GPU. Pricing for the base model starts at $1,199.
Image 1 of 2
ASUS is also doubling down on affordable laptops with premium specs, through its VivoBook series. The VivoBook S starts at $499 with a 15-inch Full HD panel (80% screen-to-body ratio), and U-series Core i5/i7 processors. It's available with "up to" a GeForce 940MX GPU — suggesting the base model will come with integrated graphics — and configurable with up to a 512GB SSD + 2TB HDD, and up to 16GB of RAM. (Again, don't expect to get all those extras for anywhere near the $499 baseline price.)
Image 1 of 4
You'll also miss out on the ZenBook line's gorgeous two-tone metal aesthetic, nevertheless, the VivoBook line's slightly chunkier chassis are attractive enough, especially considering the starting price.
For price-conscious buyers wanting more power, the ASUS VivoBook Pro steps up to a 4K display, H-series Core i5 and i7 chips, and up to a GTX 1050 GPU and Harman Kardon audio.
On the software side, ASUS's new laptops support the latest Windows 10 features like one-touch login through Windows Hello (optional on the VivoBook models), Windows Ink (with the ASUS Pen bundled with the ZenBook Flip S) and Modern Standby.
So between a bewildering array of SKUs, configurable options and price points, ASUS' latest professional-grade laptops should have something to suit most buyers' tastes.
No word on release dates for ASUS's new notebooks yet, but we'd expect them to land later this year. Stay tuned for hands-on coverage from Taipei!
Windows Central Newsletter
Get the best of Windows Central in in your inbox, every day!
I had an Asus Zenbook just before I got my Surface Pro 3 and I did love that machine! Was one of the first at the time with an SSD, stunning looks and superthin! They really make great devices!

Still have ux21e in the intro slide first ultrabook from 2011. The machine is still fast but the battery is dead and it is hot.

I believe mine was a UX21 as well... i7 2nd generation and SSD... Lot of people's mouth fell wide open when showing of the startup time :)

I am not sure if I missed it, do all of these have touchscreen or just the 2 in 1?

Man the market is so competitive these days.

And I will never really understand why Microsoft did not include a 360 hinge in the surface laptop :(

I think it's to not compete with the surface. but I 100 percent agree. they need to hinge that with the same hinges on my dell....NOT the surface book hinges. I think they are ugly and too complicated adding extra thickness with no function.

Surface Book hinge is absolutely beautiful, LOVE it.

The Surface Laptop was laser focus targeted at the MacBook, down to the "lift the top with one finger" and "laptop only" experience.

Whatever. Who cares about Crapbook.

500 isn't exactly affordable category, or is it ?

Yeah. It's one up from budget which are the super cheap laptops. I mean...people drop 500 bucks on a phone without thinking about it.

what do you mean?
i think 500 for a laptop is average.. for that price, you will get a HW which can run average tasks without problems and the laptop itself will last for at least 2 - 3 years everything under 500 is considered as cheap plastic toys - at least for me

MS is failing in mobile phones, but it brought new life to the laptop market. OEMs are competing with each other to bring exciting new HW to the market.

All nice offerings... All better offerings to the Surface Laptop.
Still trying to figure out why that thing even exists (and spare me Microsoft's PR bullcrap about students etc. Students don't pay over 1000€ for laptops).

I'd get the SL any day over these generic boring pieces of plastic.

Except at least half of them aren't plastic. But OK, then. Fanboy away ;-) You've obviously never actually seen an ASUS laptop if you're throwing around words like "generic" and "boring".

I love being a fanboy :) Microsoft rocks software and hardware.

And without companies like ASUS, Dell, Lenovo, etc, there would be no Microsoft. At all. It's these companies who push out the real volume of Windows devices. Not Microsoft.

Yeah, I get that. But these machines look like Toyota Camry's. Yes, there reliable and bean counters usually have them, but they're as ugly as sh#t...but yes, there is a market and I am glad they are there. Over there... not near me. ;)

This is the part Microsoft fans start sounding like Apple fanboys ;-)

You do know that you can put Windows on a MacBook, right? You don't need the Surface Laptop to achieve that ;P

again, Aden, you have NEVER touched an asus ZENBOOK. ITs all metal, premium, fast and high quality...that blue is not ugly as ****...having fur on your keyboard, a stupid ugly roll up hinge, and flexy keyboard on the surface is ugly however. TOO FUNNY FANBOYS!

Just so the downvoter knows...the hinge on the suface book adds unneccessary thickness and complexity to a device that would otherwise be perfect. However, that hinge is terrible. and.....the fur on the keyboard wears. mine did on my surface 3, and that will wear on the surface pro. No way to avoid it. Surface devices are aewsome but they are not PERFECT as fanboy is touting.

Word of advice: ignore these "upvotes" and "downvotes". They were only a childish feature that Mobile Nations added to pander to kids reading the site who believe upvoting or downvoting someone's opinion will have any effect on the validity of the argument lol

That hinge is awesome, fantastic, legendary, remarkable.

I don't believe there were many 2-in-1 laptops, when first introduced and MS was seeking to kinda be the demonstrator in the market, not so much the leader. I do agree that MS's offering isn't necessarily those most awe inspiring, when compared to what's out now. However, without their initial lead in this category, I doubt the market would have as many options today. It says a lot that competitors are inspired enough by a form factor to create something just as good or better to compete with the likes of the Surface Pro and Surface Book. I certainly appreciate the options that are and will be available. Now, I don't have to limit myself to just MS products to get a premium machine in those form factors...and at a better price point in some cases.

I don't disagree. As you can read here: https://www.windowscentral.com/first-look-hp-spectre-x2-2017#comments

Lol yes they do. Check out any American College. Flooded with Macs. And I just spent 1,300 on a laptop too.

American Colleges? You mean those where kids are given bank loans they can't possibly pay and then spend the better half of their adult lifes paying for? Those colleges? Yeah. There I'm not surprised. But you see, the good thing is that the USA is nothing but ONE insignificant country in a pool of over 190 countries Worldwide. And when you step outside the 'murica-bubble, you notice reality is strikingly different and students are so stupid that they go around spending money they don't have before even getting a job ;)

An upvote from me. I hate that kind of spending spree too. Adding AA reference point, many bloody expensive international school in Thailand (repeat, Thailand) tell their middle school students to use Mac. So, all parents have to go and buy their children a Mac. Okay, the school is mainly for the rich, but mandating a Mac is too much.
.
Simply stupid.

You sound like a wonderful human being.

"You sound like a wonderful human being." Again, not sure what I did to deserve this hate. I provided an opposing opinion in a respectful manner with no name calling. Or is it because I mentioned spending a large deal of money on a laptop that I intend to use for the next 6+ years?

Not sure why my comment inspired so much anger. Whether or not students should be spending money on these premium laptops is another argument. The fact of the matter is that students are. So it is entirely reasonable that the Surface laptop can be marketed as a device for college students. Because MSFT, like it or not, is an American company and caters to their home market the majority of the time.

God these look boring. Yawn.

when is your sufrace laptop keyboard due for it's haircut? give it 3 months of use and that alcantara will look like ****, while the beautiful blue aluminum asus will still look like new. I have owned the surface products, i know how their keyboards wear, and I have had alcantara on the steering wheel of my Audi...so again, i know how that wears.

Alcantra on a steering wheel is lunacy. Clean your hands before using the keyboard, and it will Last three years and still be perfect.

Guys, don't attack each other because one likes Surface more and the other likes Asus more. That's just opinions and preferences.
We're all Windows users.
--
You can choose Surface or Asus no problem. Even if you buy a MacBook pro and install Windows 10 on it, I believes Microsoft is equally happy.

the comparison itself is laughable. The Surface line is PREMIUM quality while this Asus is low-mid range at best so... nothing to compare here

The UX360 or ZenBook 12" for example have premium build quality (dindn't go hands-on with the new devices yet), especially compared to competing Lenovo or Acer devices, but regarding display, cameras, touch pad, and some other internal parts, Surface SKUs are far more premium.

Your comment is the perfect definition of "How to spot a fanboy who has never used a product of the company he's attacking 1 on 1".

I have the UX501 (6th gen) and boy is it a great laptop!

The ZenBook Flip S is the Q325UA that Best Buy already has. Like expected, it's plagued by trashy quality that ASUS is known for. Very wobbly hinge with hinge covers that aren't even on straight, cheap-feeling keyboard, and a trackpad where a half inch of pad around the entire edge doesn't respond to your touches. Skip this hunk of junk.

What a plethora of configurations augmenting average cost!

Is ASUS not afraid of confusing customers with the USB-C port? :)
Windows Central Newsletter
Thank you for signing up to Windows Central. You will receive a verification email shortly.
There was a problem. Please refresh the page and try again.