ASUS ZenBook Duo review: Changing how you'll use a laptop forever
The Ultrabook of tomorrow is here today, and it'll change how you use a laptop.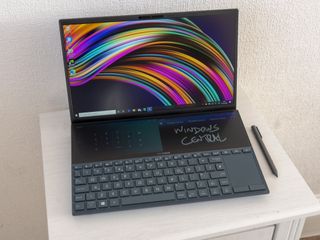 (Image credit: Windows Central)
Much is being made of the new breed of foldable smart devices, be they something like the ThinkPad X1 Fold or the Surface Duo, Windows will have its fair share.
But what about laptops? Well, never afraid of trying something new, ASUS has hit the ground running with a pair of ZenBooks with additional display panels. The ZenBook Pro Duo came first and now, recently revealed for North America at CES 2020, there's the ZenBook Duo.
It's smaller but still packed with the latest tech and the key feature, that full-width additional display panel above the keyboard. Even on an Ultrabook, it's possible to have more, and I honestly feel like this is something everyone could and should get behind.
The first big shopping event of the holiday season is upon us as well with Amazon Prime Day looming large and such times are always great for laptop deals. The ZenBook Duo already represents great value, with the non-NVIDIA version starting at $1,200, but it's definitely worth keeping an eye on any discounts as we head into the big event. This is a truly special laptop and a chance to get it and save a bundle is a chance to take.
Bottom line: You might not think you need additional displays on your laptop, but trust me, you do, especially attached to a laptop as good as this one.
For
10th Gen i7
Dedicated NVIDIA graphics
Large SSD
Matte display
Secondary display panel
Attractive price
Against
Keyboard a little cramped
Quite chunky
Small trackpad
Fingerprinty
ASUS ZenBook Duo specs as tested
Swipe to scroll horizontally
Category
ASUS ZenBook Duo
Display
14-inch, 1080p non-touch
12.6-inch ScreenPad Plus touch-enabled
Processor
Intel Core i7-10510U
Graphics
NVIDIA MX250 2GB
Memory
16GB 2133 MHz LPDDR3
Storage
512GB PCIe SSD
Security
IR camera for Windows Hello
Connectivity
Wi-Fi 6, Bluetooth 5.0
Ports
1 x USB 3.1 Gen 2 Type-C, 1 x USB 3.1 Gen 2 Type-A, 1 x USB 3.1 Gen 1 Type-A, 1 x HDMI, 1 x Audio combo jack, 1 x MicroSD card reader
Audio
ASUS SonicMaster stereo audio system
Battery
70Wh
Weight
1.5kg (3.3lbs)
ASUS ZenBook Duo: Two screens are better than one
Here's the thing. Most of the ZenBook Duo is pretty standard early-2020 spec Ultrabook, so I'll skip that (for now) and concentrate on the feature which makes it stand out from the crowd, and likely the first thing that would ever draw your eye towards it.
It has two screens. Ok, well, technically one and a third, but the point is the same. The ZenBook Duo has two individual display panels, which can be used independently, together, or in the case of the secondary panel, turned off altogether.
ASUS calls it the ScreenPad Plus, and it's essentially a large strip that runs the full width of the laptop and about a third of the depth of its bottom portion. It's not particularly high-resolution, nor is it overly bright, but it doesn't need to be. Think of it as Apple's Touch Bar, but not ridiculous and actually, properly useful.
So what makes this different? It's essentially just an extension of the main display, just as you'd run a secondary monitor on a desktop, so the ScreenPad Plus is on the ZenBook Duo. ASUS has built some custom apps for it, such as a number pad and a handwriting area, but you're not limited to just these. Any app you can run on your laptop can also run on the ScreenPad Plus.
This is where it becomes a game-changer, for me at least. When I'm working in my home office, I have multiple monitors with things on the go constantly. Be it Slack, email, whatever article I'm working on right now, there are always several important app windows visible at all times. On a laptop, this is impossible. On the ZenBook Duo, I can pin Slack to the secondary display panel and snap my email to the other half, never having to leave the browser I'm actively working in.
Not just productivity, either. iTunes on Windows is a pretty heinous experience, but it can still live down there on the ScreenPad Plus, and since it's touch-enabled, I can change music just by tapping on it, again, never switching away from what I'm working on. It opens up whole new possibilities for laptop workflows.
But just as useful as it is, you can make it go away with a single keypress. It's as flexible as you need it to be.
The rest of the ZenBook Duo is business as usual for an ASUS Ultrabook. Compact, great display with a matte finish, packed with hardware and in that signature blue color that makes it stand out from the crowd of black and silver boxes at the coffee shop.
One thing that is immediately noticeable is that the ZenBook Duo is pretty chunky, especially compared to ASUS' other ZenBooks or competitor Ultrabooks. It's not without reason. After all, there's an additional display in a part of the laptop that also houses a GPU, the entire cooling system, and, well, everything else that makes the laptop work. But it's still a thing, and even the included envelope case that comes with it barely fits.
It still has a pretty compact footprint, though, and ASUS has done a fantastic job in ensuring there's no wasted space making it bigger than it needs to be. The bezels around the display are pretty skinny, and there's literally no empty space on the lower portion of the laptop. And you're not left wanting for ports either, with all the main boxes ticked and no dongles required.
Image 1 of 2
The ZenBook Duo also retains the same sort of hinge design as other recent ZenBooks, so the base raises up when the laptop is open and is supported by a portion of the hinge at the base of the display. Not only does this give you a comfortable typing position, but it's also pretty handy for airflow.
Naturally, it's also incredibly well made, as usual, from high-end ASUS laptops, so it's looking pretty good. There are some issues, though, and it's sadly a byproduct of the awesomeness you get from the additional display panels. Because so much space has been taken up by the ScreenPad Plus, you have to make some compromises with the keyboard and trackpad. The space has been used as efficiently as possible, but it's not perfect.
For example, the trackpad is now to the right of the keyboard, which takes a little getting used to, but it's something you can learn to live with. What's worse is that it's a tiny trackpad, and it's vertically oriented, so you don't have much sideways swiping room at all. It's precision at least and very responsive, but it's just too small, so you're going to want a mouse.
There are other compromises on the keyboard, too. The positioning is a little unusual compared to 'regular' laptops since you've no wrist rest area, and it's hard aligned to the very left edge of the laptop. More so, you've got smaller keys, the one that gets me the most is the tiny right-hand shift key which I missed every single time I tried to use.
I don't think any of these are dealbreakers, but they're compromises, and they're things you have to learn to work around. I'm not the best case, perhaps, given the number of different machines I use in the course of a year, but it's still frustrating. Unfortunately, I don't have an answer to how they could make it better without making the laptop bigger, but in the end, I'm ok with the compromise given the additional benefit the ScreenPad Plus gives you.
ASUS ZenBook Duo performance
The ZenBook Duo isn't cheap, because any laptop coming in at £1,500 could ever be called cheap, but given the hardware on offer and the performance, it delivers its excellent value. At that price, you're getting a 10th Gen Intel Core i7, 16GB of RAM, a 512GB NVMe SSD, and a dedicated NVIDIA MX250 2GB GPU.
A gaming machine this is not, but it can still do a little bit of gaming, and for its size, it's a pretty potent performer. Let's crunch some numbers.
CPU
Geekbench 4.0 Benchmarks (higher is better)
Swipe to scroll horizontally
| Device | CPU | Single core | Multi core |
| --- | --- | --- | --- |
| ASUS ZenBook Duo | i7-10510U | 5,519 | 17,625 |
| Dell XPS 13 2-in-1 7390 | i7-1065G7 | 5,459 | 19,097 |
| Razer Blade Stealth | Core i7-8565U | 5,139 | 16,339 |
| Huawei MateBook 14 | Core i7-8565U | 5,327 | 17,522 |
| Huawei MateBook 13 | Core i7-8565U | 5,336 | 17,062 |
| Huawei MateBook X Pro (new) | Core i7-8565U | 5,192 | 16,757 |
| Dell Latitude 7400 2-in-1 | Core i7-8665U | 5,469 | 15,800 |
| Lenovo IdeaPad S940 | Core i7-8565U | 5,101 | 14,089 |
| HP Spectre x360 13t | Core i7-8565U | 5,056 | 14,767 |
| Surface Book 2 13 | i7-8650U | 4,862 | 14,694 |
| Surface Laptop 2 | Core i5-8250U | 4,203 | 13,233 |
| Lenovo Yoga C930 | Core i7-8550U | 4,787 | 15,028 |
| Dell XPS 13 (9370) | Core i7-8550U | 4,681 | 14,816 |
The processor in the ZenBook Duo is a 10th Gen Intel chip, but it's the 10510U variant, so it loses a little in performance when compared to something like the 1065G7 in the XPS 13 2-in-1. Nevertheless, the performance is excellent.
SSD
CrystalDiskMark (Higher is better)
Swipe to scroll horizontally
| Device | Read | Write |
| --- | --- | --- |
| ASUS ZenBook DUO | 1,689 MB/s | 987 MB/s |
| Dell XPS 13 2-in-1 7390 | 2,400 MB/s | 1,228 MB/s |
| Dell Inspiron 13 7390 2-in-1 | 1,440.3 MB/s | 359.2 MB/s |
| Dell Precision 3541 | 3,468.8 MB/s | 2,220.4 MB/s |
| Huawei MateBook 14 | 3,470 MB/s | 1,920 MB/s |
| Huawei MateBook X Pro (new) | 3,416 MB/s | 2,779 MB/s |
| Huawei MateBook 13 | 3,436 MB/s | 2,553 MB/s |
| HP Spectre x360 13t | 3,085 MB/s | 1,182 MB/s |
| LG gram 14 2-in-1 | 558.1 MB/s | 523.1 MB/s |
| Dell Latitude 7400 2-in-1 | 3,110 MB/s | 2,825 MB/s |
The SSD isn't the fastest you'll find, but it's more than adequate with read speeds peaking at 1689 MB/s and write speeds topping out at 987 MB/s. It's not close to the performance you find in some of Lenovo or Dell's high-end offerings, but given the price point here, it's not too bad at all.
3DMark
Fire Strike (Higher is better)
Swipe to scroll horizontally
| Laptop | GPU | Score |
| --- | --- | --- |
| ASUS ZenBook Duo | MX250 2GB | 2,799 |
| Lenovo Legion Y545 | GTX 1660 Ti | 12,598 |
| Lenovo Legion Y7000 | GTX 1060 | 10,137 |
| Lenovo Legion Y740 15 | RTX 2070 Max-Q | 14.669 |
| Lenovo Legion Y740 17 | RTX 2080 Max-Q | 16,303 |
| Dell G7 15 7588 | GTX 1060 | 10,029 |
| Razer Blade 15 | GTX 1070 | 13,560 |
Ok, so this isn't a gaming laptop by any stretch, and intensive graphics aren't really going to be a thing. But the dedicated NVIDIA GPU is still a stronger performer than you'll get from integrated graphics.
The design of the ZenBook Duo ensures that there's never any heating up beneath the keyboard or trackpad, and while the ScreenPad Plus can get a little warm when the laptop is really being pushed, the main vents are just behind it, so the heat is dissipated quickly.
It'd be rude not to at least try and play some games on the ZenBook Duo as well, even though that's not what you buy any MX250 equipped laptop for. When it comes to having a little extra horsepower for creative work on a compact laptop such as this, it's ideal. But that's not to say you can't do a little gaming as long as you're ok with the obvious sacrifices.
At 720p (which is still fine on a 14-inch display by the way), you're looking at a 55 FPS average in Rise of the Tomb Raider with a customized set of graphics options based on the low settings, but it looks ok, and it's very playable. Equally, and perhaps a little surprisingly, Destiny 2 runs pretty well at 720p with a similarly tweaked low settings-based profile, delivering consistent frame rates between 45-55 FPS. It doesn't look as good as it usually does, but it's still a much better FPS than you get on an Xbox or PS4.
The best performance came from the first Dirt Rally game, with a native 1080p resolution on medium settings delivering a smooth and enjoyable 67 FPS average. Not bad at all. And it looks great, too, with the matte finish on the display that also delivers 100% sRGB. So the colors look nice and vibrant.
Battery life clocks in pretty well, too. ASUS crammed a 70Wh battery inside the ZenBook Duo so that additional thickness was undoubtedly worth it in that regard. ASUS claims up to 15 hours with the ScreenPad Plus on, and I've been easily getting 9-10 hours of real-world use without turning it off. I'm happy with that.
ASUS ZenBook Duo: The bottom line
Everyone I've shown the ZenBook Duo has had essentially the same reaction: Wow. It's a real head-turner, and in a sea of me-too laptop designs where every manufacturer is chasing thinner bodies, narrower bezels, and any excuse to stand out from the crowd, ASUS really has one.
The ScreenPad Plus not only grabs attention, but it's also actually pretty damn useful. That's the best part. This isn't a gimmick.
It's one of those features you genuinely can't get a feel for without trying, and when you've tried it, you don't want to live without it. The flexibility it gives you is immense.
It's not without compromise, but the benefits easily win out. And honestly, I was expecting a laptop like this to cost an absolute fortune, but the regular UK price of £1,500 is very reasonable. And it's not like the rest of the spec list is sparse.
The best thing I can say about the ZenBook Duo is that I know I truly love a laptop when I'm sad that I have to send it back. And I've been despondent since I sent the ZenBook Duo back to ASUS. Perfect it isn't, but I love it anyway.
At the time of writing, the ZenBook Duo hasn't officially gone on sale in the US, but following its CES debut, it shouldn't be too far away. In the UK it's already on sale and experiencing its first discount.
So much screen
This is no gimmick

Once you've tried a laptop like this with that additional display, you'll wonder how you ever lived without it. The future is here, now.
Get the Windows Central Newsletter
All the latest news, reviews, and guides for Windows and Xbox diehards.
Managing Editor - Tech, Reviews
Richard Devine is a Managing Editor at Windows Central with over a decade of experience. A former Project Manager and long-term tech addict, he joined Mobile Nations in 2011 and has been found on Android Central and iMore as well as Windows Central. Currently, you'll find him steering the site's coverage of all manner of PC hardware and reviews. Find him on Mastodon at mstdn.social/@richdevine