Atmosphere Weather gains beautiful redesign and new features in latest update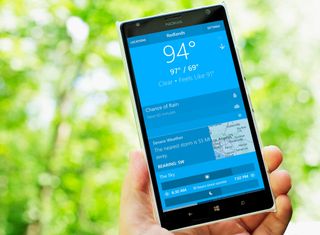 Popular weather app Atmosphere Weather for Windows Phone has just been updated to version 1.4. Today's update marks the biggest yet in Atmosphere's history on Windows Phone. Highlights of today's update to the popular weather app include a complete redesign, including 1080p support for devices like the Lumia 930/Icon, HTC One, and Lumia 1520, user customizable themes, "feels like" temperature and much more.
Meander to the Windows Phone Store and you'll see Atmosphere at version 1.4. The redesign is impressive, but it's worth pointing out two features in the redesign – the graphic system and a new themes system that allows users to select unique themes. Here's how these two new changes look:
In the far left screenshot above, you'll notice the temperature line graph. In the middle screenshot, you'll notice the new sun, moon and visibility graphs with wind and humidity bars. And the third screenshot shows off a graph that displays the precipitation by minute.
In the next set of screenshot above, you'll notice the new theme system on the left. The new system allows you to select from millions of themes. You can select any shade of color for themes, from pure white to pitch black. Head to the settings in Atmosphere to select the theme that you want.
The second screenshot above with the theming system shows off the improved storm tracking system. It's more intelligent now and will tell you things like "Light rain ending in 25 minutes, beginning again in 30 minutes." It's a neat way to keep a detailed eye on stormy weather around you.
Here's a quick summary of the other changes you'll find in today's big Atmosphere update:
All-new introduction screen which is no longer useless and instead prompts the user to configure initial settings
"Quick Glance" at current weather for your location on locations screen
Up and down arrows at top show if the temperature is rising or falling
"Feels Like" Temperature
New Animations for page exit/entry
Radar map UI overhaul
Locations/Warnings UI overhaul
New settings UI (I overhauled most of the UIs)
Some icons have been improved or changed
Internal Changes such as a new, more advanced method of theming the entire UI at once - making a color picker possible, a better way of handling page changes by using the same basic logic rather than each page having its own entry/exit code, and more. While these changes are invisible to the user, they improve app performance and make development easier - meaning that rapid releases become more possible.
Other misc. and irrelevant changes
Atmosphere is also available on Windows 8.1. Though you won't find the features in the 1.4 Windows Phone version in Windows 8.1. Instead, the Windows 8.1 version of Atmosphere is currently being revamped and will be out once it's brought up to the same level as Windows Phone.
Take Atmosphere for a spin, there's a free trial in the Store. If you like the app, it can be yours for just a $0.99. Be sure to head to our forums to check out the support thread just for this app setup by the developer.
We were impressed with Atmosphere when we first checked it out, and we're even more impressed after today's update.
Get the Windows Central Newsletter
All the latest news, reviews, and guides for Windows and Xbox diehards.
"First" would be a better comment ;P

This looks pretty good. Been using amazing weather hd on all my lumias as the live tile has been the most stable, clean and accurate. Will give this one a gander. Hey does anyone know what windows phone Megan fox is using in tmnt movie? Don't recognize it. Camera on the back looks kinda big (1020 replacement?)

It looks like a 920 in the movie ninja turtles as well as in the movie Grudge Match. Microsoft pushed windows phone hard in that movie. Almost all phones in it are windows phones. I saw 920's and maybe a 1520.

With all the weather apps. Now which one should I download on WP its confusing. WP has tons of weather apps.

Not confusing. Download them. Try them. See which one works for you. Change on occasion to keep things fresh.

Depends on what is most important to you in a weather app. I have tried quite a few of them, but each one has things I like about it and things I don't like. For example, I use Vieather because the look of the live tile is kind of high on my requirements and I feel it has one of the best. But, it doesn't have a radar or weather alerts, which is important to some people. Atmosphere would probably be my second choice since the app looks good, runs good, and it has a radar and weather alerts. The only thing I don't like is the live tile. It is kind of basic looking, especially since I like the look of Vieathers icons that show the weather instead of just saying that it is raining. Ultimately, I ended up going with Vieather for my Live Tile and use Weatherbug (since it's free) for weather alerts and can go check the radar with it. If Atmosphere improved the Live Tile, I would get rid of everything else and just use that.

I will be updating the tile soon, actually.

Awesome, can't wait to see it! Thanks for taking the time to reply. I did really enjoy your app when I ran the trial on it. Will definitely purchase even if it is just to support a dev that actually cares about WP. :D

Will you be taking Live Tile suggestions? Of all the WP weather apps once used, Atmosphere is my current 'goto' app.
Loving the update.

One other issue I'm having difficuly with is switiching between different stored locations. I like to be able to easily see the weather where I live, work and where my kids are. Not easy to switch between saved locations, I don't really get how to do that and how to make one of them the live tile. Thanks.

Agreed. I was using Vieather for the same reason, its live tile. But I wanted the lock screen options of choosing my background which only comes with Weather Flow. After the Cyan update and having new additional apps added, I needed to release some and Vieather got removed. So it's Weather Flow for the win...currently.

Try appy weather. It has detailed tile, rain toast notification and you can select 1) rest of the day + tomorrow or 2) next 5 days as the backside of the tile with % of precipitation on it.

I don't think I've tried that one yet. I'll give it a trial run. Thanks for the suggestion.

I would give Forecast a chance... Simple, beautiful and accurate

I love using Atmosphere Weather, he keeps improving it and it provides the most info I want

Looks nice to me. Maybe more language is needed.

Very nice! There is a lot of information and it is well presented. Once the Live Tile gets a sunny/couldy/rain/snow icon for each day's forecast this will become my go to weather app.

is says "failed to initialize all concent" :| and i can't change temperature to celsius .

Reinstalling fixed the issue for me... And now its not updating the weather timely...

i'll try it , lets see if it works for me :/

Weather flow still the best

Still happier with the weather app Forecast. It's a lot cleaner with regards to the live tile, fits in better with all my other tiles.

Those color settings would be great to have on the WP system settings. Only black and white is getting old...

Nice upgrade, but still doesn't have options to remove the updated time and/or app name from the Live Tile, or to eliminate the tile flip altogether...not feeling the frosted back tile either. I'll stick w/ Blue Skies.

Like it. Thanks for advice

Metweather best for UK....accurate

I like the update though I did wonder what was happening when I opened the app for the first time.

No Swedish support is a no go. The app "Frost" is the best for our region.

"Failed to load all content" message after update. Anyone else?

How is this considered beautiful!!!

that's what I ask myself when I'm using windows phone various screens that can't even properly flow text in a 6 inch lumia 1520...you know how it has to be HUGE and not fit the screen?

I think blue skies is still better than this

what strikes me about these apps is that they start by looking at the MSFT UI guidelines and then using them to light a fire or as a cat litter pads, which IMO makes apps look the best because MSFT 2001 inspired guidelines are more at home in 480x800 phones with 3.5 inch screens than on today's full HD 5.5 inch devices. this app looks nice because oh, not everything had to be Sized like it is 2011

My favorite weather app. I did have to uninstall and reinstall after the update as it was failing to load. It looks even better than before.

Oh wow, really impressed with this app! I have always used Weather Flow for my go-to forecast and MyRadar Weather Radar for radar tracking. This app combines them both in a visually appealing, easy to use layout.

Worth a look, I am looking for a new weather app since AccuWeather remains broken since 8.1 update and they show no interest in fixing it (although they do seem quite interested in jamming the whole thing full of bright pink advertising). Currently using Weather Flow which I quite like.

Thanks to the developer for continued features and support!

My current fave, and this is a really nice update. Dev is very proactive.

so, what's the trial like? It's like using it for some time and then have to purchase the app, or it is full functional app but with adds? Just wondering, nothing more. It's not expensive, i might purchase it.

WP Central certainly doesn't test the stuff they put out there. I'm thinking they're paid for putting out this stuff.It's a shame really. An honest appraisal of a product would be a great service!

The radar needs to be put in motion for it to be of use to me.