AT&T Denim update for Lumia 830 now available through Windows Phone Recovery Tool (Update)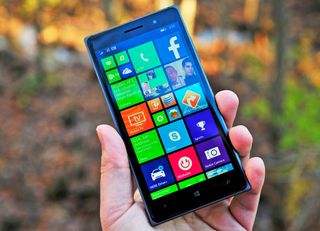 Update: The files have now been removed from the servers preventing users from using this trick. However, users in our forums have set up a how-to guide to still make this happen if you are interested. You can find that guide here. Thanks, Hilmar, for the tip
Despite AT&T not releasing the Lumia Denim update for their Lumia 830 smartphone, it looks like there may be hope yet.
Starting last night reports started circulating in our forums that the update is indeed available, but only on the Windows Phone Recovery Tool (WPRT) servers. This caveat means the update is not available over-the-air, but it may be coming in the future.
Windows Central has not yet confirmed the update on our phones, but some users have reportedly flashed their devices with the update through WPRT with success. Any user can run this Microsoft app to restore their phone from Windows 10 Mobile and go back to Windows Phone 8.1. It should be noted that this process obviously wipes the phone and all information on it. As such, you will want to have all your photos, music, and documents properly backed up.
Windows Phone 8.1 Update 2 - All you need to know
Update 2 brings some notable changes mostly to the camera as users can take advantage of the faster Lumia Camera 5 app. That app results in faster photos and some advanced features like Rich Capture (HDR).
There is no word if and when AT&T will push the update officially. However, as we are nearing the official unveiling of Windows 10 Mobile in the coming weeks, we would not be surprised if AT&T ties this update into that one. Some reports suggest that Windows 10 Mobile's official update requires Denim, and this is likely part of that process. It is plausible that Update 2 won't come out as a separate update, but instead will be part of the update process to Windows 10 Mobile.
If you don't want to wait for anything over-the-air, you can use our restore guide on how to use WPRT.
Thanks, Allan R., for the images
Daniel Rubino is the Editor-in-chief of Windows Central, head reviewer, podcast co-host, and analyst. He has been here covering Microsoft since 2007 when this site was called WMExperts (and later Windows Phone Central). His interests include Windows, Microsoft Surface, laptops, next-gen computing, and for some reason, watches. Before all this tech stuff, he worked on a Ph.D. in linguistics and ran the projectors at movie theaters, which has done absolutely nothing for his career.
No wonder I had it... I reverted back from W10M

My wife is still using 8.1 on her phone so when and if ATT releases it, she'll get it via the standard update process without having to wipe her phone

In that case, she won't get it....

Hmm...kind of seems like wishful thinking. Posted via the Windows Central App for Android

Att said they will not release denimn

I thought it was that they wouldn't release it for WP8.1. It could very well be part of the upgrade to WM10 (assuming AT&T doesn't try to delay that even more).

The recovery tool has now surpassed AT&T in reliability.

Too late for me. Went through W10 insiders program and am not looking back. No regrets!

However you don't have the firmware up to date.

You won't get the new firmware then.

It improves the camera firmware so is worth the upgrade even if you Backup, flash this, move back to WM10 and restore...

I'm pretty sure you don't understand how this all works.

CAN I GET A HELL YEAH?!!!

When you directly go to Wndows 10 without having the Denim firmware update you can use Camera features before tied to the Denim update?


Was wondering the same....?

What about the other Lumia users AT&CRAP

The 830 was crippled because of not getting this update, and it gains the most features compared to the other Lumia's so they are first on the list

If you happen to have the GoPhone 635 (512 variant) I do believe that 8.1 update 2 is your first step on your way to WM10. Don't think it's full Denim but its still a nice update. You can opt to stay there rather than take the next download to 10.

I hope they will use the tool to bypass all carriers. You can now bring your own phones to Verizon so I don't think they care. As much any way... ;)

These are likely AT&T approved updates still.

Its interesting how MS promised updates though, regardless of carrier. And maybe ATTT wont mind as much.....

" MS promised updates though, regardless of carrier. "

There were caveats to that and it wasn't so much a promise IIRC

Why am I not surprised....

They are breaking out the important bits of the OS into seperate parts, and these parts will be updatable through the store, thereby bypassing the dependence on carriers. It's the same thing Google did with Android.

Of course not, no money involved for them. Just the kind of thing they like.

It appears Microsoft pulled the file off the WPRT server earlier today. Check the forum thread...

Yes it is, currently using it on my Lumia 830 and Lumia camera 5 is working awesome

Yup - backed up, used the tool, restored, then upgraded to WM10 preview - still have Lumia Camera and Lumia Camera beta. :)

I'm currently on 10 Preview on my AT&T 830. What I never found out was if simply doing this fixed some of the issues the phone had without proper Denim, namely the Bluetooth stack problem. I love the design and experience with that phone, but having to reboot almost daily due to broken connections with my car, Band, and everything else was very testing. Will reverting back to 8.1 with this new Denim and then going back to Preview improve anything, or am I good where I'm at? Thanks, everyone. And to AT&T: THANK YOU.

Has nothing to do with att, and please don't thank those asshats

Thank you! Whomever is responsible. And for the news.

I'm downloading to ensure I definitely have a copy.

Sigh guess its time to revert update then go back to 10. Pain in the ... but denim is a good update.

Once it hits this server typically OTA happens relatively shortly afterwards... worth waiting.

I was already on the insider preview so it was easy for me to just download and flash back to factory settings

Yay am finally happy with the camera, Raw images are in there too. Thanks for the shout out Daniel.

What firmware revision number is displayed on your AT&T Lumia 830 after upgrading to Denim proper?

Well, I for one bitched and moaned about AT&T not releasing the firmware, so now I'll say THANK YOU ;-)

Well, they still haven't released it. This is just a work around.

Can anyone confirm? My gf will be excited if this is true...

Yes it is, I have it installed already, no OTA only through the WPRT so far

Thanks for your confirmation... Btw, was you able to restore from your previous set up?

I was able to last night. restore worked fine

AT&T does not deserve any thanks!!!

Congrats, fellow AT&T Lumia brethren for finally getting it somehow!

Kudos to the few (can't rembember his or their names) that fought AT&T on this and pushed back. It seems it paid off in an acceptable compromise. Even more awesome if they do indeed push this out over the air.

When I first updated my Verizon Lumia 928 to W10M as part of the insider program, I noticed that I received a "Welcome to Cyan" text message. When I look at "extras+info" where each version of the firmware was visible before, I now see a blank and when I click on the large "I" I am taken to the MS website announcing "the Denim Update". Last weekend my 928's battery failed and Verizon's extended warranty replaced it with a refurbished model that arrived on Tuesday with 8.1 update and Denim installed. As I updated the new phone to the 10536.1004 version of W10M, I noticed that Denim is no longer shown in "extra+info", that I now have the same blank space and I now have another text message from Verizon that says "Welcome to Cyan". Does W10M revert us back to Cyan? Does it require Denim? What implications are there if we run W10M on Cyan? Did I uncover a bug in the install process?

For phones that don't use the new camera features, Denim=Cyan

Yup, Denim in software, not firmware

Yeah there's a bug there somewhere. Got the same message, but definitely on the real Denim firmware.

Brilliant. Over the air updates take much too long to access.

About God Damned Time!!!!!!!!!!!

Is this specific to the Lumia Camera? Maybe I'm missing something, but aren't they phasing out Lumia Camera? Isn't 'Microsoft Camera' replacing everything? Would Denim still be required with some of the features of the Microsoft Camera?

I noticed the same thing this week when I used the recovery tool on my 920 (on AT&T). I ended up with Denim at some point during my upgrades prior to re-installing the Windows 10 Mobile Preview, although once I got the preview on it ended up back at Cyan.

I have as wondering if I should check my backup L920 after yue news broke about the 830. I'll be doing that update this weekend then. Thanks for the info.

You still have the denim firmware. It is being reported incorrectly. The TP does not include firmware

Denim is name only on a 920, build number is exact to Cyan. Unless they released the full denim like they did for the 1020

Hmm, I wonder if this applies to unlocked US variant as well...

that one should already have the latest updates

So they are doing what they promised and have figured out how to bypass carriers so now the update is between us and Ms that's it

nope, this is pretty much an AT&T build, with a late May build date!

Is this the real life Or just a fantasy ??? Somebody pinch me. I promised myself I wasn't going to cry. Now I gotta get home and do this!

Are there other benefits alongside the camera and bluetooth? I don't really like my 830, Will full Denim improve overall performance? Will it, sorry, seem faster? I'm not in love with WM10 and I'm going to stick with 8.1 for a long while and recovering the phone is a big job and I'm not sure it's worth it ffor the camera and bluetooth.

It will probably seem faster, but I doubt the 830 will see a huge performance boost. Still wouldn't hurt to get it as long as you don't mind erasing everything on your phone to do so.

Pretty sure I mentioned in the previous BBB said no updates article that the BBB gave out a bs answer to close the complaint. Did this last night and let my phone revover overnight. what have I noticed? Netflix now works
Better bluetooth support in the car
Better miracast quality
and...
"Seems Faster!!!"


I'm glad to hear Netflix finally works.

It would be nice to get the update on a 920 in AT&T through the WPRT. The 920 has been updated in every other country but in the US. I doubt it will happen with Windows 10 seemingly around the corner, but that initial push will rely on AT&T releasing it as well. At the very least I'd like Win10 through the WPRT for the 920 when it's available.

I have got update 2 for lumia830

Got the update onto my phone and everything seem to be working well. I did it through the WPRT.

AT&T abandoned the 830 (just like Verizon abandoned the Icon), so even expecting a Windows 10 update by way of AT&T is.....optimistic? Also, what confidence does Microsoft have in their sole launch carrier partner that the aformentioned Lumia 950 devices won't be similarly abandoned by the carrier a few months later as well?

Hallelujah, there really is a God! :D

How about some love for the 1520 now At&t!?!?

It received Denim in like February via OTA

Hey look at that, it worked. And it fixed my netflix too.

What about at&t 635 go phone version.Is this phone ever be update to denim?

That is easy to fix. You can download the AT&T post paid 635 firmware which is full denim and flash that to the 635 go phone. Works fine. More info - use Navifirm+ to download product code ​059W380. Then use NokiaCare or WPID to flash to the go phone.

How about some love for the L1520 At&t?!?!

It already has the update

Im talking the Update 2.. So tired of scrolling through things in the large screen..

So I decided to give this a go... wiped my entire device.. and can't find any of my backups... man, this has been a bad few days for me with Windows Phone...

Anyone think that this could be a way to get phones to update to win 10 that won't get it through carriers

Looks like they took it down. It was showing an update for me this morning but I didnt have time to do the install. When I got home and reran the Windows phone recovery tool, it now says I have the latest version....

Makes me wonder if someone jumped the gun. Well, now we know there is an AT&T update for the 830, and AT&T is sitting on it. Now when will it hit OTA? Kinda glad I checked the forum last night before bed.

And here I am, with my factory unlocked 1320 just getting 8.1 update 1/denim last week... ​

Update: They took it down! #SadFace


I really hope someone can share the update as it's cached to your pc when it's done through wprt... Please someone post it... Posted via the Windows Central App for Android

Even if we did have the file; I don't see any way to install it "offline" via the WPRT.

You can flash manually via the Nokia Care suite tool. am going to try to upload to mega/one drive so others can have.

If you do, hope it works... I've never done this before so a tutorial or links would be greatly appreciated

we can flash via Nokia Care suite. Plenty of guides on XDA on how to use NCS

Seriously wouldn't be surprised if slow ass Microsoft was sitting on this update after AT&T tested it months ago and MS is just now releasing it to WPRT. Another MS FAIL!!!

You couldn't be more wrong.

If AT&T releases this update over-the-air to my Lumia 830 I will throw a party. You're all invited (except those of you who aren't).

I switched back to windows 8.1 last night and I was going to take a picture and saw that I had the denim camera and i got sooooo happy! :)

Wiped my 830 doing this, lost music I wrote and was planning on recording (should have backed it up but forgot to since it wasn't in the sd card) along with everything else that I didn't want to lose, but decided to in order to get this update. And of course the update was pulled while I was doing it so I'm right back where I started minus all of my data. Go to hell AT&T for making us wait so long that I'd go through this headache to try to get an update that your lazy asses wouldn't give us.

You could flash your 830 with Demin package from other users using WPRT or Nokia Care Suite. Check this thread (http://forums.windowscentral.com/nokia-lumia-830/345051-29.htm).

This absolutely sucks!!!!! Finally home and able to sit down and do the update and the goddamned thing is pulled.... So sick of att ,Microsoft and windows phone. I'm probably the only damn person who failed to nab this today.... Any word on why???

I missed it too damn, anyway have the download?

Yes, check out this thread (http://forums.windowscentral.com/nokia-lumia-830/345051-29.htm).

Maybe Microsoft 'accidentally' released it to WPRT and know full well we will share it amongst ourselves. That's my conspiracy and I'm sticking to it :) AT&T should be ashamed

If so, they need to do the same for every phone when the carrier is unreasonable.

Sadly I think posting this update to WPRT was a mistake. This shows that the update from AT&T does exist, though. Frustrating that they won't even tell us why we can't have it.

Posted a How To here http://forums.windowscentral.com/nokia-lumia-830/383877-how-flash-att-lu... for those who missed the update on WPRT server. Make sure you thank the folks who made this possible (pfranceschi, TheSuperShoe, ashram). Hopefully it will be back or the OTA will come soon and that won't be necessary anymore.

Looks like the files are still available through NaviFirm+

Bell 830 doesn't have denim either. Carriers in north America are doing everything they possibly can with any sales or releases it seems. I wonder how much apple paid them to ignore WP

Lumia 720 : Just look '.'

Denim news! Seriously!
That's like saying Android Jelly Bean released today.

Maybe, but if my phone was stuck on Ice Cream, it would still be welcome news

I just bought mine through MSFT store and it is preloaded with Denim.

Its simple. AT&T and Microcrap had care less about WP customers.

You're only half right. This one is completely on AT&T.

Agreed! Nutella would rather kiss Apple's ass!!!

Wow seriously FUCK ATT, AND FUCK MICROSOFT too for that matter. They have until the end of the year to fix this nonsense

What's wrong with at&t?? Owned by google??

Mooooooove your ASS AT&T!!!!! You too microblowsoft!!!

How about this: Unlock your phone. Insert a sim from a carrier that supports denim update. Do the update. Insert back att's sim... Yes?

It doesn't work like that lol, firmware and sim used has no correlation. They are two different things and not to mention generally flashing a different rom doesn't sim unlock a phone.

Where is Denim for AT&T Lumia 920???

There is STILL no Denim update for the Lumia 635 GoPhone version.

Well at least it's out on the internet now.

Yeah we need the Lumia 635 GoPhone denim upgrade also...ATT updated some..but not all.

What about AT&T lumia 820 denim update.....