AT&T GoPhone adding more data to smartphone plans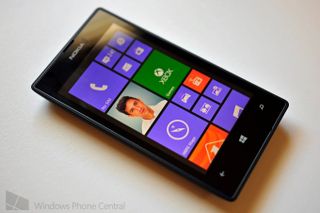 AT&T's pre-paid GoPhone customers are in for a nice little treat: their monthly data allotments are going up, but their monthly cost is staying the same. Starting April 25th, GoPhone's 2GB $60-a-month plan will be bumped up to 2.5GB, while the $40-for-250MB plan will double to 500MB. Additionally, those on the larger and more expensive plan will gain mobile Wi-Fi hotspot support at no additional charge. And if you happen to be wanting to buy your smartphone from Wal-Mart, GoPhone shoppers there will have the option of a $45 monthly 1GB plan.
The prepaid smartphone selection on GoPhone is admittedly fairly limited. On the Android side you can choose from selections like the AT&T-branded Avail 2, Z998, and Radiant, as well as the Samsung Galaxy Express and the Samsung Galaxy Note II (though the latter is both only available online and sold out online). Those interested in Windows Phone have the choice of a Nokia Lumia 520 or a "certified like-new" Nokia Lumia 520 (though at $45 it's a hard price to beat for the budget-conscious smartphone buyer). And, of course, you can bring your own AT&T-compatible device as well, if you're already in possession of such a device.
Source: AT&T (opens in new tab)
Windows Central Newsletter
Get the best of Windows Central in your inbox, every day!
Derek Kessler is Special Projects Manager for Mobile Nations. He's been writing about tech since 2009, has far more phones than is considered humane, still carries a torch for Palm, and got a Tesla because it was the biggest gadget he could find. You can follow him on Twitter at @derekakessler.
While it is only 500 MB... I suppose it's better than nothing. Now when will Verizon offer LTE to their prepaid customers!? That's what I'm waiting for.

Wow talk about perfect timing. I just moved into my new house yesterday and I have to wait 'till next week for Comcast to come hook up the internet. I tried the hotspot on my iPhone 5 (I have the 60 dollar plan) and it fired right up. Working great so far!

Good job tmobile, you are shaking things up. Still some bullshjt plans from att.

Wow same here, I'm shocked! Have 60 dollar plan also with Lumia 1020. Went into internet sharing option and it fired up no issues. Pat on the back to ATT

Do you mean to say that the $60 a month customers are getting wifi tethering added to their plans? I've been very pleased using a Lumia 1520 on a gophone plan for the last several months

I've been thinking hard about getting the 1520 but didn't know how well it would work on GoPhone. Now that the hotspot feature is enabled I might stay with the service.

Any of AT&T's phones will work with gophone. I've been using my 1020 with my gophone sim for quite some time. Super fast lte too.

Lol u mean pat on the back to tmo...att would never offer this If It weren't reacting to Tmobile and their uncarrier shakeup...

And non of them would be doing this if it weren't for trac phone and straight talk

Yea you're right. Tmob is shaking things up for the big guys. Now if they manage to join with Sprint look out. And it's 60 bucks plus taxes so about 64. Unlimited everything minus data, it's 2.5 gigs. Works great for me!

Is it $60 including all fees and taxes? Or $60 plus fees and taxes?

Thank you. Something to keep in mind although I am ok with AIO currently.

Depends where you add your airtime... If use a kiosk it's $60 flat. Of you have to buy at a sales counter usually plus tax and 911 fees... That's usually are an authorized dealer tho.

Actually it comes out like 65 thru att website

Just buy from places like CallingMart on the web. There is always 5% off without any coupon. They often have a coupon for another 5% off for a total of 10% off. If there is not a 5% coupon at anytime, they have a permanent coupon ca3p-1207 that gives 3% off for a total of 8% off). NO TAX EVER and you get PIN immediately beginning from your second order(they verify payment details for first order using phone to avoid credit card fraud). Plus you get 1% back in points with every refill that you can use towards your next order! I usually pay $54 for the $60 refill plus get 54 cents in rewards for next order!

Amen! I refill doing this exact same thing.

At,my work,location we also have refurbished iPhone 3GS for $159 for those interested

Good to see this. T mobile only gives me 2G and I pay for unlimited everything. I was thinking about switching to straight talk, but now I'll definitely be switching to AT & T

T-Mobile is currently giving away free signal boosters for those that get bad signal in their home, it's a nice little way to hold off people before deploying their 700Mhz spectrum

I have the maximum amount of signal because I live beside a tower. I still get 2G despite that. I've called T-Mobile and they have nothing that can justify why. I told them that I'm playing for 4G, but receiving 2G which is false advertising.

Does that tower only give off 2G signal? and does the coverage map confirm it's suppose to have HSPA?

Norris Rochelle, what phone do you have? Is it a T-Mobile phone, or a phone you brought from another company?

I inboxed you about the situation.

in my country 4gb data worth $ 10. but speed is 5 or 4 mbps

Does anybody here know the difference between ATT's AIO and ATT's Go Phone plans. It just seems redundant to have both. I must be missing something.

good question. I've wondered that myself.

Probably Data Caps. AIO caps you at 4Mbs on 3G+ and 8Mbs on LTE. Don't think GoPhone has those as far as I know.

GoPhone :
-- Data usage is limited (hard-cap just like post-paid plans). Extra data can be purchased by the GB ($10).
-- Super fast ping-times (exactly same as post-paid) and speeds you get are exactly same as post-paid with no proxy servers ever. I get 30Mbps on LTE consistently.
-- You can walk into any AT&T store and get help just as post-paid customers (including phone replacements if the phone was bought at AT&T store).
-- Very reliable network / you will never see an outage unless there is an outage on AT&T post-paid too.
-- Every post-paid feature seems to be supported - SMS short codes, Visual Voice Mail, Hotspot etc.
-- Basically post-paid experience on pre-paid plans. AIO :
-- Data caps are soft caps, basically speed reduces after you reach your data allowance but you still can use use data at a slower speed (128 or 256 kbps IIRC)
-- Ping times are longer and Data flows through an AIO proxy server and speed can never exceed 4Mbps when using HSPA+ and 8Mbps when using LTE).
-- It is almost as if they run their own virtual network on top of AT&T towers and there have been times when they have had outages for a few hours (probably teething issues for a new service)
-- SMS short codes are not supported (unless something has changed in the last couple of months)
-- Visual Voicemail support is very limited (select androids only IIRC). Not sure about Internet Hotspot feature. If unlimited (although slower) data is more important to you - use AIO.
If speed/support/reliability (although AIO will get better at this over time) are important to you - use GoPhone. A real life scenario is - I have AIO for wife and kids but GoPhone for my business needs.

Thank you SocalTouch for the summary. The idea that you cannot get SMS short codes on AIO creates a blocking concern for me. I appreciate the short and consise summary. I think it's the $45 Walmart 1G Go Phone plan for me..... I just need to bring my Red AT&T 920 over and figure out how to get on the Walmart plan without buying a phone from them.

Awesome! Thanks for the breakdown. I'm on AIO and am enjoying the service. Any chance you can explain what the short code thing is about?

I'm using the Samsung Focus 7.8 on the AT&T $60 plan since 2011-2012 and I haven't had no problems.

That's awesome I'm happy I just upgraded to the 60$ plan so I get more data for less between this and the data sense in windows phone 8.1 I'm set lol

Just use aiowireless you can get group saving's with more then one line up to 90bux off a month or if you have a single plan you can get the 5gig Pro plan and use auto pay for 55 a month anways the Lumia 620 is a great deal they have going on or even BYOD

I tried to sign up for aio wireless they wouldn't ship a sim for my focus because my billing address is different than my physical address

That's great I just gave away a Nokia Lumia 520 on my business page the winner will be happy gonna giveaway more nice love my 1020 with 8.1.

At&t is doing such a good job. Proud customer of the company.

Att no just no... Go sit in the corner

I would recommend the L620 on Aio Wireless, they have it listed for less than their L520, but they've been sold out for some time now and I don't think they're planning on restocking. They too have the L520, so if you want the same coverage as GoPhone but at a better rate then you should consider Aio Wireless (owned by AT&T).


AIO has $40 for unlimited T/T and 500 mb of 4GLTE. An additional $5 off for autopay. If another a 2nd line is added, I think there is a new promotion for an additional discount, but not sure how much.

Thinking about changing to monthly plan

This new data plan is better then what AT&T been offering but i believe AT&T can do better for its loyal customers.. most phone service have unlimited data and AT&T should consider it. Bigger data offer and or unlimited data for all..