AT&T Nokia Lumia 1520 now available at Amazon.com for $99.99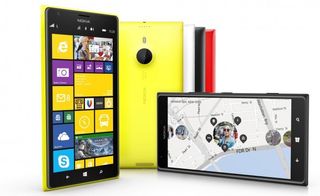 You can now add Amazon.com (U.S.) to the list of retailers carrying the AT&T Nokia Lumia 1520. The 6" screened Windows Phone is listed in the white, red, yellow and black models for only $99.99 (after contractual discounts).
It does not appear the AT&T Next plan pricing is available through Amazon.com and if you want to go without the contractual discounts, the Lumia 1520 will cost you $799.99. You do get a slight break with the black model that only costs $749.99 off contract.
The only model showing out of stock is the yellow Lumia 1520 with the others available for delivery on November 26 (if ordered in the next eighteen hours) with two-day shipping.
You can find the AT&T Nokia Lumia 1520 at Amazon.com through the following links.
via: Windows Phone Daily (opens in new tab)
George is the Reviews Editor at Windows Central, concentrating on Windows 10 PC and Mobile apps. He's been a supporter of the platform since the days of Windows CE and uses his current Windows 10 Mobile phone daily to keep up with life and enjoy a game during down time.
No sign of it on the uk amazon as of yet

Its available at att.com for the same price

I saw it on Amazon with 32 GBs... AT&T only has 16 GBs doesn't it?

/ragequit. Why did I buy a 920 in September........ Well I guess when 8.1 phones come around I'll be rdy for an upgrade

Lol why would you do that?

The 920 should get 8.1. It can't get new hardware, but the software is covered. I miss my 920. But I don't miss the carrier fees. I have a 925 today from T-Mo.. now all I miss is signal.

Lol, I love how Amazon has stock and the exclusive carrier AT&T is running on empty. Sad really.

Or when Microsoft couldn't ship them.

That's because each distributor only gets a certain amount of stock, and AT&T has exhausted theirs. How much stock is determined by an agreement between the manufacturer (Nokia, in this case) and the distributors (Amazon, AT&T, Microsoft Store, etc.). AT&T has managed to burn through theirs, and now has to wait on Nokia to give them more (the $99 price point combined with the bundle probably encouraged everyone to seek AT&T for buying it first, leading to it selling out). I'm sure AT&T would love more stock, but for now they've gone through their agreed launch amount, and have to wait for more to come off the assembly line and be shipped to them by Nokia.

I do not understand.... $799.00 plus taxes for a device branded and butchered by AT&T?

They have to make sure they recoup their costs of the phone

Of course but at that price you can buy the International version, Unbranded and with 32GB and wireless charger. My understanding was that the price for the AT&T unlocked one was lower.

Is the overseas one using the LTE bands for T-Mobile I wonder? I could use some of that for now.

You can get it from http://microsoftstore.com for $549.
http://www.microsoftstore.com/store/msusa/en_US/pdp/Nokia-Lumia-1520-for-AT-T/productID.289421700?icid=Homepage_WhatsNew_6_Lumia_1520_112313

I thought It was going for 599 of contact and the 1320 was 399

Some excessive markups, that is for sure.

I just had to get my 1520 today. Since I traded in my 1020 to get the 1520...i had to pay the $200

I tried out the 1520 in the at&t store... It's a big, beautiful phone, but I'm not sure a phablet is for me

By the time I'm due for an upgrade this will be a Penny, just like my 900 and 920 were...

Why does the phone cost more than the tablet?

Got my Nokia Lumia 1520 from AT&T this morning off contract for $540 + tax so that $799 price unreal. If you want one off contract just get one from AT&T directly.

It's now showing $549 off contract on Amazon too. Must have been a pricing issue at first when the article was posted.


Does the Amazon version have 32GB?

Hey how can i get this beast in india..plz guys i want this phone where can i order this phone..

Is sprint getting any of these phones? My gf has sprint but wants one and can't get any except for those ht8x. I told her don't get it

Although I know that 8.1 is on the horizon, the 1520 is feature pack inside and out... It will definitely be 8.1 ready!
The question is!!!
When will ATT release the upgrade, knowing Att they this all the freaking time..
Im still rocking my 7.8 900, I skipped 920,925,1020
But this time I ain't skipping BIG DADDY IN YELLOW!!
IM GONNA wait till Dec 26 for my NEXT program, I know its not the smartest thing to do, but the way it is now a days if you want the nicer phone you go NEXT!!

If only they could get them in all the at&t stores!

Calling all tech savy readers!, I am considering purchasing the current bastardized AT&T 16gb, but like everyone else I am dissappointed with the decision. I have been shopping for Micro Sd cards on Amazon and in several cards indicated as Smartphone Micro Sd cards they are set up to work with Apps and Games!, But everywhere I read related to Nokia 1520 the 64gb expansion card can only work for Photos, Music and Video!!! Does anyone know if the highend listed Micro Sd cards that state that they work with Apps and Games are for other OS? Lastly if the Micro Sd expansion wont work for Apps and Games on the Nokia 1520 is that a Nokia Hardware Problem or a Windows Phone 8 OS Problem because if its a Software problem then maybe in future updates the expansion slot will handle Apps ans Games!!! if so I am ok with purchasing the cheaper 16gb version phone.

The micro SD card will only work for pics, games, and music because the apps are stored on the phone. It doesn't matter what class/quality of card you get. And I was informed by the MS store (kiosk) in Roosevelt Field Mall that a 32gb 1520 is in the pipeline. I need the higher capacity internal storage myself.

Still waiting for my pre-order from AT&T to ship. AT&T blaming lack of shipments from the manufacturer, they don't even use Nokia's name.
Windows Central Newsletter
Thank you for signing up to Windows Central. You will receive a verification email shortly.
There was a problem. Please refresh the page and try again.