AT&T rolls out unlimited international messaging for texts, pictures, and video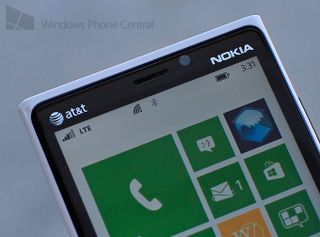 If you happen to be on one of AT&T's Mobile Share plans and have friends, relatives, acquaintances, coworkers, or just people you want to message with that happen to live outside of the United States, then we've got good news: AT&T is making international messaging free on February 28th.
In addition to the free messaging, AT&T is rolling out reduced international calling rates. The new World Connect Value package that includes 1¢ per minute calls to "over 35 countries, including Canada and Mexico." Those other countries are located exclusively in the Caribbean and Central and South America, and tiny nations like St. Pierre and Miquelon are counted among them.
Press release:
AT&T Delivers More Value To Mobile Share Customers With Unlimited Messaging To The World
AT&T Also Introduces New International Calling Rates from the U.S. for as Low as 1 Cent Per Minute
DALLAS, Feb. 25, 2014 /PRNewswire/ -- AT&T* today announced two of its best-ever offers for international messaging and direct dial calling from the U.S., delivering more value to customers who want to connect with family, friends and coworkers living abroad.
On Friday, February 28, all AT&T Mobile Share and Mobile Share Value plans will now include unlimited international messaging from the U.S. to the world.** AT&T consumer and business Mobile Share customers can send unlimited text, picture and video messages. Current Mobile Share and Mobile Share Value customers will automatically benefit from this offer. AT&T is also excited to introduce international calling from the U.S. to any number anytime to over 35 countries, including Canada and Mexico, for 1¢ per minute with our new international calling package, World Connect ValueSM.***
The "penny-per-minute" calling rates also apply to calls made to any number in the majority of Latin American and Caribbean countries: Anguilla, Antigua and Barbuda, Aruba, Bahamas, Barbados, Belize, Bermuda, Bonaire, British Virgin Islands, Cayman Islands, Colombia, Costa Rica, Curacao, Dominica, Dominican Republic, El Salvador, Grenada, Guadeloupe, Guatemala, Haiti, Honduras, Jamaica, Martinique, Montserrat, Nicaragua, Panama, Saba, St. Barthelemy, St. Eustatius, St. Kitts and Nevis, St. Lucia, St. Maarten, St. Martin, St. Pierre and Miquelon, St. Vincent and the Grenadines, Trinidad and Tobago, Turks and Caicos Islands, and Venezuela.
"Two weeks ago, we introduced our best-ever value plans for families and small businesses, and now we're delivering some of our best offers for international," said David Christopher, chief marketing officer, AT&T Mobility. "When you combine these phenomenal new offers, our leading device portfolio available at $0 down with AT&T Next, the nation's most reliable 4G LTE network****, and our award winning customer service -- there is no comparison -- our customers get incredible value."
World Connect Value will be available to all AT&T wireless postpaid customers, including those who have Wireless Home Phone service, for $5 a month as of Friday, February 28. The package offers low rate calling from the U.S. to over 225 countries. At launch, complete details will be available at att.com/worldconnect.
Review all our international calling plans at att.com/global.
*AT&T products and services are provided or offered by subsidiaries and affiliates of AT&T Inc. under the AT&T
**Unlimited Messaging: Includes unlimited domestic and international text, picture, and video messages, received or sent from the US, Puerto Rico and the USVI. Unlimited messaging applies only to AT&T's Short Messaging Service (SMS) and Multimedia Messaging Service (MMS) and not to any other messaging services or applications. Using such other messaging services or applications will incur cellular data charges, unless used over Wi-Fi. Messages are for direct communication between mobile phones and must originate from your mobile phone number. Messages sent to tablets, laptops, or other connected devices are excluded. Service may be terminated or restricted for tethered messaging, excessive international messaging or misuse.
International Messaging: includes unlimited international messaging to more than 190 countries for text messages and 120 countries for picture & video messages. Messaging capabilities vary by country. AT&T may change countries at its discretion. Visit att.com/text2world for details.
***AT&T World Connect Value℠ Package: Rates are subject to change at any time. $0.01/minute rate applies to calls to wireless and wireline numbers made to the selected countries identified at att.com/worldconnect. AT&T reserves the right to terminate your AT&T World Connect Value Package for excessive usage, and then current international long distance pay-per-use rates will apply to calls you make to those countries. Calls to special services, such as Premium Rated Services, may cost more. Other restrictions and limitations apply.
****Based on data transfer completion rates on nationwide 4G LTE networks. 4G LTE not available everywhere.
Source: AT&T
Windows Central Newsletter
Get the best of Windows Central in in your inbox, every day!
Derek Kessler is Special Projects Manager for Mobile Nations. He's been writing about tech since 2009, has far more phones than is considered humane, still carries a torch for Palm, and got a Tesla because it was the biggest gadget he could find. You can follow him on Twitter at @derekakessler.
Great timing, I was thinking of adding international texting to one of my lines.

Makes you wonder if VOIP services like Ooma and T-Mobile were beginning to take money away from this bad boy and now they're trying to stop the bleeding. Either way, cool!
Competition lowering prices for us all. What a concept.

Nice. I've been an AT&T customer for eight years now...there has been a rough patch here and there, but I've been really happy with their service for the most part. This is a nice add, especially for travelers.

Looks like they gave in to What'sApp pressure. About time.

GREAT! Can we get Data Sense now??

"HAHAHAHAHAHAHAHA" - AT&T execs to your question.

Or the transfer arrows? Nope!

Verizon added it on 2/13/14

What about unlimited data?

I'm paying 145 for 3 lines on 4G, call att ask them to lower the price

I'm paying 160 for 4 lines, 10G

I mean I know. To call them but to say what? That they need to lower the price because I think that it is too expensive. I really wish that T-mobile has a high end windows phone which I will be full price and have the $70 unlimited data.

Say you're thinking of leaving due to price. If person on phone doesn't offer to lower rate hang up, get another operator and do it again until one does. Tedious but could save you lots of money.

Thanks a lot. I will try to do that.

You might not have to say much of anything. I was in an online chat the other day and the rep suggested that I change my plan to 4 lines for $160/mo which would save me over $100/mo (4 lines for $260). Just mention you saw an ad for their latest 4 lines for $160 promo and would like to switch (unless you only have a single line, in which case, you might be on your own there...).

Looks like TMO is causing problems with numerous carriers. Keep it up. Maybe my cellphone bill will start going down now.

Every AT&T customer has to thank John Legere of T-Mobile for kicking these guys into high gear. This addition along with the slashing of family plan pricing with INCREASED data plans has finally brought GREAT value to AT&T mobile plans since they eliminated Unlimited everything plans.

Too late. Everyone already uses intenet-based messaging for international messages. I bet their international SMS have almost completely ceased since Whatsapp became popular.

Not everyone. Some folk out there don't use smartphones and likely have friends and family overseas that they would love to text at no extra charge. Much cheaper than calling.

Whatsapp covers me fine. Skype too. Both have always been free

Love it,, even tho I'm already using whatsapp but oh well....... And what the heck at&t ,, no love to the middle east?? I wannna call for only 1 cent a min :'(

This sounds like a preemptive move against messaging apps like Whatsapp becoming so popular.

I suggested this early last year to O2 here in the UK. Would save me a fortune as having friends and family throughout Europe, North America, Israel, etc is costing me a fortune. I know loads of people use whatsapp, but not everyone has a smartphone believe it or not.

They should instead roll out Data Sense, damn pricks.

What does that mean. Can I text any country or just Puerto Rico and virgin islands

Text any country as long as you are in USA, Puerto Rico or USVI

That's a whole lot of dust in that front facing camera! Lol

What I really need is cheap calling/data when I'm on vacation. Roaming in a foreign country costs a fortune.

How much are we going to cost the recipients with each International SMS/MMS?

Maybe I'm reading too much into this but the fine print describes "Unlimited Messaging" as "messages, RECEIVED OR SENT from the US, Puerto Rico and the USVI. But only describes International messaging as "messaging TO more than 190 countries for text messages and 120 countries for picture & video messages." Note the emphasis to the word "TO" with nothing about FROM. Will incoming International messages still cost? note: emphasis is mne, not the posts.

AT&T currently treats messages received from the US as domestic even when roaming. Also receiving international texts while in the US is covered too. The only time you will be charged after this is when you are sending messages while roaming outside the country.

I'm starting to wonder if after this two year contract is up if att might be a smarter choice then straight talk... O.o

Thank you T-Mobile for doing what you are doing and in turn forcing other carriers to do the same!

Thank you Facebook for buying wassap
Windows Central Newsletter
Thank you for signing up to Windows Central. You will receive a verification email shortly.
There was a problem. Please refresh the page and try again.