AT&T Tilt ROM Update Tomorrow (Update: It's Here!)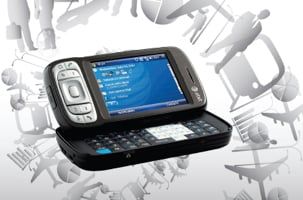 Update: The update is out now, you can go get it from HTC's site - looks like we should have been clearer when we said "AT&T will be releasing" the update, it's technically coming to you direct from HTC. Which is something we should have figured, since HTC seems to prefer providing their updates directly (ala the Mogul update) rather than mucking about having the carriers provide it. (Tip of the hat to Tilt Site for pointing out the distinction!)
Thanks to nbarksdale in the comments for telling us it's here. :D
We have it from reliable sources that AT&T will be releasing a ROM update tomorrow, February 15th. The update isn't going to add any significant new features -- unless "working properly" counts as a feature. It's not Windows Mobile 6.1 or a magical driver to speed up the display, either. Instead, expect a bunch of bugfixes, mostly related to speed and Bluetooth issues.
Here are the things you'll no longer suffer through on your Tilt once you apply the "software version 1.62.502.0":
Device freezing during unlock process when a password is enabled on the device.
Pocket Outlook unresponsive when launched while on an active voice call.
Fast Forward and Rewind not working with Bluetooth headset and the Tilt.
DTMF tones for the slide out QWERTY keyboard not working.
Intermittent unresponsiveness from Touch Screen (aka Start Button Issue).
Excessive background noise while using a BT headset.
The update comes out tomorrow, but you might want to head to our How To article on Customizing your Tilt today so you can be prepared. A new ROM means that AT&T will be throwing a lot of crapware "bonus applications" onto the device, and the tips in the comments are something you'll want on hand when you apply the update.
Thanks anonymous tipster!
Update: We lied [about there being no new features available: WOW, can't believe I let that be so ambiguous!!] -- looks like there'll also be a new version of BlackBerry Connect tomorrow as well - though that might be available for any Windows Mobile device that uses BlackBerry Connect. It won't be built-into the ROM, but you can download the new version via the standard stub-app included on the Tilt.
Windows Central Newsletter
Get the best of Windows Central in your inbox, every day!
ROFL! crapware ?bonus applications? onto the device
Crapware is the truth! Too bad you can "build" a PPC phone like you would an Apple or a Dell.
Sigh.

I installed the original HTC ROM, so I pretty much don't need that update unless HTC releases one of their own, like WM 6.1 for example than I'll do the update.

The update is now live at HTC Americas site, direct grab HERE

I installed the original HTC ROM, so I pretty much don't need that update unless HTC releases one of their own, like WM 6.1 for example than I'll do the update.
Hey,
finally somebody mentioned that...
So ATT Tilt runs OK with HTC ROM update?
Please , where did you get it? I _really_ want to get rid of this ATT clickie smoothie stuff...
Thanks, Michal

The official ROM update 1.62...has been released on HTC's support site
http://www.america.htc.com/support/tilt/software-downloads.html
I downloaded it, but haven't tried it yet. I hope it works...I hate how slow this expensive phone is.

Yes the unlocked HTC ROM runs fine, you will need to install a file which re-maps the keyboard on the tilt, since the keyboard on the TyTN II has different symbols layout.

The ROM update is NOT available on HTC's site at this time. They still have the 502 version from October posted

Ahh,
Never mind - Browser cache issue. The new ROM IS there.

Yes the onlocked HTC ROM runs fine, you will need to install a file which re-maps the keyboard on the tilt, since the keyboard on the TyTN II has different symbols layout.
Thanks for this info... KB is always pain in the ***....
Is there v1.62 ROM for pure HTC (not ATT rebrands)? I found just 1.56 HTC...
Thanks, Michal

Thanks for this info... KB is always pain in the ***....
Is there v1.62 ROM for pure HTC (not ATT rebrands)? I found just 1.56 HTC...
Thanks, Michal
My HTC ROM version reads: 1.56.405.5 radio: 1.27.12.11 so I really do not know about the v1.62 unless you can point me to the link. The version I installed works fine & my unit is unlocked as well (subsidy code removed).

So I updated to the new ROM and restored all my stuff using Sprite Restore and some of the settings I had updated using KaiserTweak were reset to default while others were restored to what I had updated using KaiserTweak. After about 12 hours of usage however, I have not noticed the HSDPA (H) show up as it used to, despite my having HSDPA enabled via KaiserTweak.

My HTC ROM version reads: 1.56.405.5 radio: 1.27.12.11 so I really do not know about the v1.62 unless you can point me to the link. The version I installed works fine & my unit is unlocked as well (subsidy code removed).
I did some investigation and this came up:
1/ Initial version of ATT Tilt and HTC Kaiser is 1.56.405.5
(ROM file RUU_Kaiser_HTC_WWE_1.56.405.5_radio_sign_22.45.88.07_1.27.12.11_Ship.exe)
2/ New update is for ATT Tilt 1.62.502.0
(ROM file RUU_Kaiser_CINGULAR_WWE_1.62.502.0_radio_sign_22.45.88.07_1.27.14.09R2_Ship.exe)
So I suppose there is 1.62.502.0 for HTC Kaiser as well, isn't it? (file would be named probably like RUU_Kaiser_HTC_WWE_1.62.502.0_radio_sign_22.45.88.07_1.27.14.09R2_Ship.exe)
BTW, my Tilt was unlocked by simunlocker and the unlock survived even the ROM update. Quite strange, isn't it?

I installed the AT&T Tilt update posted at HTC's website. It...er...well...SUCKS!!!!
Everything related to the radio and Bluetooth is clearly WORSE than the original.
Bluetooth is constantly cutting off or doing something very strange. For example, double-pressing my call button on my headset used to redial the last number I called. Now the same action turns off the headset. I am a heavy user of MS Voice Command, which worked flawlessly on the original ROM/Radio. I would hold down my headset button and it would make a noise to prompt me to speak. I would say what I want and it would happen. This is not the case with the new ROM. Now I hold down my headset button and I hear the first tone and then nothing. After resetting the phone and turning Bluetooth on an on I can get it to work but only one or two times before it fails again.
Now for the radio. OMG! A huge loss of coverage and disconnects. I provide phone support and travel frequently in the same areas. The new radio has fewer bars and disconnected me on 5 calls in an area where I have never encountered a problem before.
I installed this ROM update to fix the known issues with the touch screen but it sure is not worth losing the radio and Bluetooth.
Please follow my recommendation and AVOID this ROM at all costs.
I am currently reverting back to the original ROM.
I recommend that you read the Class Action Lawsuit against HTC (http://www.htcclassaction.org/)
FYI: You can find posts to restore the original ROM at: http://forum.xda-developers.com/index.php

I'm sorry for you Jaxplanet. But your experience is very different from mine. I use MS Voice Command as well and it's working quite well with the ROM update. Perhaps you may want to re-pair your BT headset?
Hope you'll find your solution soon.

I have a few questions. Since I am always traveling, I purchased my AT&T Tilt unlocked from someone on E-Bay so I could use SIMs from different carrier.
[LIST=1]
[*]Can someone tell me if I install ROM update (version 1.62.502.0) will my phone lock back to AT&T as the only carrier I can use?
[*]2. Can someone point me to the HTC UNLOCKED updates mentioned on the earlier posts. Where Can I get the file that fixes the keyboard layout?
[*]3. How can I get what people call Windows Mobile 6.1 upgrade?
[/LIST]