How To: Customize Your Tilt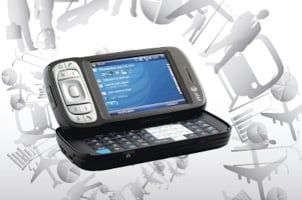 If you saw our Video First Look at the Tilt, you know our major complaint is that it doesn't have an especially good out of box user experience. The Tilt is ok on its own, but it certainly has a lot of annoying tweaks and twacks that keep it from being the stupendous device the hardware promises.
So what do you do? You hack the mutha. After the break, what we did to bring our Tilt up to speed. Note to hardcore Windows Mobile fanatics and newbs alike: this is the "lite" version - it's a guide your grandmother could love. In other words: Registry Editor not required!
Step One: Start with a clean slate
This tip comes to us courtesy of taylorh (opens in new tab), who gathered that the screen you get where AT&T is loading "custom apps" was a pretty good sign that something "ugly" was going to happen. So he stopped it cold (opens in new tab):
So that's good advice, eh? The best part is, as taylorh mentions, you're not going to have to muck around with any internet settings in your Connections tab. It's all good to go.
Step Two: Kill off some annoying settings
Number 1 annoying thing on the Tilt? Well, there are a few contenders, but the big one for me was the default screen timeout during calls. Seems like the screen goes black and untouchable the instant a call connects for me (I know it's longer, but still). Totally unacceptable.
The fix, though, is dead simple. Go get KaiserTweak (opens in new tab) by Jorrit Jongma. KaiserTweak was designed for the HTC Kaiser, aka the AT&T Tilt minus the AT&T. You will need to unzip both of the included files into the same directory and then use File Explorer to launch the program.
But then you're able to customize a plethora of settings. All of the settings have "default" and "advised" clearly labeled, meaning you know immediately whether or not it's something you want to mess with. First thing I messed with was the annoying "Fast Screen Off" setting. But there were other useful settings like:
Turn off SMS Sent Notifications
Change photo save locations
Change keyboard backlight timeout
You can ignore most settings, in my opinion, but the above were very nice to be able to clean up.
Step Three: Save the Today Screen!
Lordy, the default Today Screen on the Tilt is a piece of work. It's no good at all. Which is aggravating to high heaven because the Kaiser, which is identical to the Tilt, has an awesome Today Screen. As I see it there are two ways around this issue:
The second option is free and is actually pretty slick, especially if you're not interested in the other system features packed into SPB Mobile Shell. Installation couldn't be easier. Head over to this link at pocketnow (opens in new tab) and download the 6-tab version (I prefer that one), install it on your Kaiser.
The it's just a matter of going into Settings -> Personal -> Today -> Items Tab and unchecking all the cruft you don't want and checking that HTC Home Plugin. Badda Bing.
Bonus Round
You might want to install the TouchPal soft keyboard, which will allow you to do some light typing without sliding open the keyboard. That was the last "hacky" thing I did for my Tilt.
Honestly, though we're just scratching the surface here. Some folks have successfully taken the entire ROM off of a Kaiser and replaced the one on the Tilt with it. Others have added the Audio Manager application to replace Windows Media Player and then edited the registry for HTC Home plugin to point to it. The list of things you can do to customize your Tilt goes on and on.
What did you do to get your Tilt how you like it? Bonus points if you can tell us how without recourse to a registry editor. :)
Windows Central Newsletter
Get the best of Windows Central in your inbox, every day!
How about some tips and tricks instead.
1) Double tap on the start menu hard button takes you back to the today screen.
2) In Pocket IE, a long press on the side OK button is the same as pressing the back button (nice for one-handed use).
3) Pressing on the Internet button while in Internet explorer takes you to the Address bar, meaning you wont have to scroll all the way to the top of the screen, which makes for easier one-handed usage.
5) Pressing and holding the phone down button locks the buttons.
6) The phone down button is also a quick way to get back to the today screen - if you use a free program launcher like cLaunch this gives you a very iPhone-like workflow if you so desire- open your app, do your thing and return to your today screen when you are finished.
7) The side OK button on the today screen brings up the start menu, which again improves one-handed launching of apps.
8) The start menu scrolls all the way around, i.e. if you scroll of the top you end up at the bottom of the list. This makes it quicker to scroll upward using the scroll wheel or d-pad to get to Programs or Settings than to scroll downward.
9) This is a simple hardware mod that will make your life a little easier - using nail polish or a similar thick paint, put a drop on your power button. Obviously do this very very very carefully (I suggest masking the button with some adhesive tape to be doubly sure). This makes the very slick and near undetectable power button very easy to find without looking, which again will improve your experience tremendously.
10) XDA-Developers have a pile of lovely black background images which goes very well with the Kaiser's look (and the HTC Home plug-in) in general.
11) Make sure Cleartype is activated under Start>Settings>System>Screen>Cleartype
12) This is a stupid one, but the Kaiser appears to have problems with full duplex conversations on speaker phone, so you will have a much better experience on speaker phone if you wait for the other person to finish speaking before replying ;)
Thats probably enough for now.
Surur

The write-up is great. I already applied most of the suggestions from the article.
One tip that I got from xda-developer site that saved me from returning my Tilt is the disabling of the HTC Task Manager from the Today screen. After doing so my emails come through, alarms kick in on time, and reminders show up as scheduled even when the phone is 'asleep'. There is a long thread going on there discussing why emails do not come in when the Tilt is 'off'.

Great suggestions both! Thanks!

All,
Thanks for the great tips! I too am trying out the Tilt--my first slider/HTC product. So far, I like it!--esp after applying many of the tips/tweaks found in this forum. I do feel a little guilty of leaving my 750 behind, but may still use it--have 2 wks left to decide.
I do have a few functionality questions c the Tilt:
1. Any way to disable the PTT button? I seem to keep accidently hitting it when I pull the tilt out of its pouch/case.
2. Are most of you connecting to the web via MediaNet or The Internet? Meaning the wap.cingular or isp.cingular? I still am confused on how to avoid the proxy on the Tilt. I know I use the isp on the Treo 750, but the settings b/t WinMo 5 and 6 are different, so am using medianet on the tilt.
3. Any tricks or hacks to speed up the device? Esp the transition from portrait to lanscape when using the slide-out keyboard?
4. Anyway to disable the blinking blue LED?
thanks,
Doug

Answer to no. 1 at least.http://forum.xda-developers.com/showthread.php?t=335995
Here's some cool software to enhance your Tilt.http://forum.xda-developers.com/showthread.php?t=332438
I really recommend the HTC Album software.http://forum.xda-developers.com/showthread.php?t=339944
Surur

How To Customize your Tilt:
Step One: Start with a clean slate:
This tip comes to us courtesy of taylorh, who gathered that the screen you get where AT&T is loading "custom apps" was a pretty good sign that something "ugly" was going to happen:When you get to the 3 second countdown before it 'configures', press the reset hole on the bottom and you'll end up with a totally clean Device.
Hi Dieter (Septimus),
I'm not clear where this 3 second countdown suposedly occurs as I'm not experiencing anything in the bootup sequence lasting 3 seconds on my Tilt.
Here's the Tilt 'boot up' sequence I'm getting:
1) I press the power button on my Tilt,
2) at&t & logo immediately appears for 35 secs, following a brief phone vibration
3) 3G animation appears for approx 5 seconds
4) blank screen appears for 1/2 sec
5) Windows Mobile logo appears on screen for approx 6 seconds
6) password screen appears for user entry of unlock passcode
At what point (in the above boot up sequence) does the Tilt begin loading custom apps? Exactly where in my above outlined 'boot up' sequence am I supposed to be pressing the reset hole?
Many thanks in advance, and thank you for this wonderful forum.
Jazzman :)

He's referring to the first boot after you start it for the first time or hard reset. Hard reset means wiping your device to factory state and removing everything thats on there at the moment. I believe you can hard reset your device by going into Start>Settings>System> Restore Settings.
Surur

Surur and all:
So once a hard reset is made, during re-boot, exactly when does the 3 sec countdown occur? Is there something that occurs on the screen to clue me when the countdown actually occurs so I don't miss pressing the reset button at the correct moment?
I couldn't find "Restore Settings" on my Tilt, but found "Clear Storage" in the same folder instead. I assume, this is the same as: "Restore Settings" as it says it deletes all data and restores the phone back to manufacterer default settings.
Start>Settings>System> Clear Storage
I assume after the hard reset that I'll need to reconfigure my mesenger email send/retrieval settings, wifi settings, lock password, owner info, screen settings, clock & alarm, and Today screen settings. Are there any other important initial phone settings removed as a result of a hard reset?
Thanks,
Jazzman

The 3 second countdown is for carrier customizations from the extended rom. It occurs after a hard reset right after you do your screen calibration and setup your timezone. Bypassing this can somtimes give you issues. On the 6800, for example, there was an audiopara cab file that set volume levels for bluetooth. Bypassing it would cause the volume to be very low on bluetooth. However, most of the cabs it installed were crap.
To do a hard reset on most HTC devices, you press and hold both softkey buttons, press the reset button with your sylus while continuing to hold the 2 softkey buttons until you get the reset screen. You will then follow the instructions on the screen to hard reset.
This will set your phone back to the condition it was when you first got it. You will have to set everything back up.
I suggest you visit the forums over at ppcgeeks.com as there is lots of useful information on HTC devices that should help you.

thanks Surur for the great tips and links! I am going to work on these tomorrow. I am hoping to remap the PTT button as the "Ringer to vibrate" to be more Treo 750 like and remap the side "OK" button to another program such as Epocrates. My only remaining gripe is w/ my AOL account. Any fix for the Tilt's tendency (my Treo did this occ too) to cont to download ALL of your messages for hours on end? I have it set to download the last 30 days of messages including attachments and to ping the network every 5 minutes. But instead of only downloading say the 5 new messages that appeared, it says its downloading "5 of 222" or something like that and this REALLY slows the device down. I am using the settings that the tilt automatically selects from the Web for AOL. Any thoughts? I have space as am using a 4GB MicroSD card.
thanks,
doug

can anyone help me. i have a att tilt and i was wondering if it has standalone gps. reason im askin is cuz i use google maps and windows live search. and if i have no connection i cant get my location. it it that i use those services. if i was to get tom tom would i need gsm singnal to use my gps. one will a unlocked tytn 2 be able to connect without a gsm signal ? can anyone help me

Yes, it does have stand-alone GPS.
Surur

BTW, if anyone is having difficulty getting their GPS to work, this web page provided me with a solution.http://www.expansys.nl/ft.aspx?k=100176
Surur

http://forum.xda-developers.com/showpost.php?p=1596138&postcount=26
If you are tired of the boring sliding sound when you open your Tilt, download the cab in this thread (you need to register). It gives you 5 extra sounds which are much more fun.

Does making these "simple" changes increase the snappiness? The video makes this thing look really sluggish. Once the crap is gone and the Today screen is re-worked, does it all move a lot faster?

The scrolling problem solved, but the device is just not a speed demon. Example - rotating the screen ALWAYS leads to a 5 second pause when the device is completely unresponsive, and going into the program menu for the first time, before the icons have had a chance to be cached, will always be slow. In my experience, if you want a super responsive interface the the Kaiser will not satisfy you.
However, the device is very stable, and will always eventually get there, and of course your patience is generally rewarded by great functionality.
Surur

ArmyDoc... (or anyone for that matter)
Please tell me were able to reconfigure the PTT to act as the Ring-Vibrate toggle... and how did you do it!? The is the only feature I miss from the Treo, but it's a big one.
thanks!

Try AEButton plushttp://ae.inc.ru/aebplus.php
It has a toggle function that will toggle between vibration on and off. It does not mute an incoming call however.
You may have to do free the PTT button first, but try AE Buttonplus alone first.http://forum.xda-developers.com/showthread.php?t=335995
Surur

Questions about hard reset. I realize I will have to redo all of the cusomizations but will I have to rely on AT&T to redo anything? I'm assuming the identity of the phone (like the number) is on the SIM and remains untouched(?). Should the SIM be pulled before the reset? Will the mSD card get wiped? Thanks.
Bob

Its good practice to remove your sim card before a hard reset, as you may receive a phone cal during the first reboot afterward. Its also probably a good idea to remove your SD card. Be sure before you do a hard reset to copy off all the important files on your SD card if you enabled encryption of the card, as the files will not be readable afterward.
After a normal hard reset you should not need to contact AT&T for any reason.
Surur

thank you to everyone. I retunred my Tilt, got a new one and installed the Kaiser tweaks and the HTC home screen. So much better. Is there any way to add a "shorcut" to the today screen. I would like to have my favorites there so I can just click what I want.
MLF

If you double tap on the start menu button it will take you to the today screen. Also, of course, pressing the end call button also takes you to the today screen.
edit: if you mean, having your shortcuts on the today screen, thats part of the HTC Home plug-in, but there are plenty others around too, e.g. a free one called claunch, or a pay for one like spb pocket plus launch.
Surur

I want to add my mobile "favorites" or a shortcut to my favorites to the today screen.

I want to add my mobile "favorites" to the today screen. I need a shortcut to my internet favorites on the screen. I'm sorry if I wasn't clear.

I want to add my mobile "favorites" to the Today screen. I would like a shortcut on the Today screen that will open my internet "favorites". I'm sorry I wasn't clear. Thanks

sorry for the triple post - screen froze.

If you take your favorites shortcuts from \windows\favorites and copy it to \windows\start menu\programs you will be able to add them as a shortcut in HTC Home. The only problem is that all the shortcuts will look the same, having the Pocket IE icon. There's software around which will allow you to change the icon to something else if you want however.
Surur

Doesn't work. the folder is there but nothing appears

Doesn't work. the folder is there but nothing appears
Which folder is there? Do you have any favorites saved?
Surur

I have 2 favorites that I saved in the favorites folder. I copied the folder and the items in it but only the folder moved not the items.

I have not tried to copy the whole favorites folder, but I was able to copy the individual links without any problem to the windows\start menu\programs folder.

I hope this question hasn't been posted before and that the way I phrase it makes sense.
When I open a text message, the screen automatically is scrolled all the to the bottom. It is annoying to always have to scroll up to see your text, who it was from, the time, etc. as opposed to the text opening the way everything else opens, with the screen scrolled up to the top.
Does anyone have this problem or a potential solutions?
Thank you!
Marcelo

I bought my father the tilt and he just asked me the same question!! Does anyone have a solution to why texts open at the bottom of the screen?

outlook e-mail. My settings allow only a portion of the e-mail to come thru. If I forward the e-mail only the portion that originally came thru gets forwarded. Is it possible to set my setting to forward the entire e-mail without having to download it first to my tilt?

marcelo found the answer on forum xda-developers:
If you ever ran KaiserTweak and enabled the dpad scroll in PIE, that is what causes it. Disable that and it will fix it.
I did it and it works.

Is There A Way To Map The Disc On A Titl When Connected W/ A Usb?

Is There A Way To Map The Disc On A Titl When Connected W/ A Usb?
Do you mean make the microSD card accessible as removable storage?
The softick card export app apparently works.http://www.softick.com/pocket-pc/cardexport2/
Surur

ok here is a good new problem that i have and from what i see is a common issue on other wm5 and 6 phones..
I cannot browse on Internet Explorer with use of 3g network.. I have hard reset the phone using clear storage. though reading the above looked like there was an alturnative way to reset it.. but after reseting the phone IE still dosnt browse on 3G. i have posted this also on att fourms and microsoft fourms.. no fix yet. going to soon replace the tilt. ohh and wifi with IE works ust fine.. HTC has no rom flashing software and att dosnt either..

Sounds like a proxy problem. Doesn't the Tilt come with software where you can modify the proxy used? Maybe a Tilt user can jump in.
Surur

I just purchased a new Tilt after a long enjoyable relationship with an 8125 (R.I.P.) and am having trouble with a couple of things.
1.) I can't get my tasks to sync with my phone from Outlook on my computer. I have talked to the HTC customer service and tried everything.
2.) On my 8125 I could use a picture from the internet and it would display as one big picture on my Today screen background. On my Tilt (8925) it displays in tile form, the same small picture over and over. I've tried using different picture sizes and different methods of saving (on the phone as well as on the computer)
Any help on either of these subjects would be much appreciated

I just purchased a new Tilt after a long enjoyable relationship with an 8125 (R.I.P.) and am having trouble with a couple of things.
1.) I can't get my tasks to sync with my phone from Outlook on my computer. I have talked to the HTC customer service and tried everything.
2.) On my 8125 I could use a picture from the internet and it would display as one big picture on my Today screen background. On my Tilt (8925) it displays in tile form, the same small picture over and over. I've tried using different picture sizes and different methods of saving (on the phone as well as on the computer)
Any help on either of these subjects would be much appreciated
1) that is *Very* odd - your contacts and calendar sync fine, I suppose?
I'd try setting activesync to *NOT* sync contacts, do a sync, then unplug, reset both compy and device just to be safe, then recheck it.
2) how are you setting that picture as your wallpaper / getting it on your Tilt? That's also a weird one!

I really have tried everything to sync the tasks. I can get it to show up when i first start it (after a hard reset) but then, even if it is checked the only thing that will NOT sync is the tasks.
As for the today picture it seems to be the default setting to display the pic in tile form. I've tried to get the pic off the internet while on the phone and i've tried to get in on my desktop comp and use the USB to put it on the phone and i get the same result. I have looked and can't seem to find a setting for how the pic is displayed.

Thanks for the great tips here! I was very disappointed in everything that was loaded on the Tilt when I got it as well. A friend of mine told me to flash the rom as he did it on his and it worked a lot better. He referred me here: http://forum.xda-developers.com/showthread.php?t=334679
Well I could never get that to work so I figured I'd deal with it. Luckily I found this site today. I just got finished loading my programs back on it and it seems to be running great!
Also, I went with SPB Full Screen Keyboard instead of the one you had listed.

Try AEButton plushttp://ae.inc.ru/aebplus.php
It has a toggle function that will toggle between vibration on and off. It does not mute an incoming call however.
You may have to do free the PTT button first, but try AE Buttonplus alone first.http://forum.xda-developers.com/showthread.php?t=335995
Surur
Thanks for posting this! When I first realized what that button was for I wanted to change it. I installed AT Buttonplus, added the button, and mapped it to voice dialing. AWESOME!

Anyone tried to put 2 phone numbers from 2 different accounts on the same phone? I was really hoping to do this as work pays for my data plan and I could still use the other phone number for my personal stuff. I got a sim programmer but of course the instructions are in some language I cannot read. I have had trouble verifying if the Tilt even has 2 line support. ATT counter rep said yes, phone rep at att said no.

Some people have verified the hardware supports 2 lines, but I'm not sure of the Tilt ROM does. Search XDA-Developers.com
Surur

Have unlocked att tilt. Signed up for data plan with t-mobile. Phone works ok, never can get connect to internet. Sim work in old phone and it connects so not the sim, not the service? Anyone got and idea?
cds

Have unlocked att tilt. Signed up for data plan with t-mobile. Phone works ok, never can get connect to internet. Sim work in old phone and it connects so not the sim, not the service? Anyone got and idea?
cds
You'll need to go into the connection settings and enter the necessary information for T-Mobile connections. Which settings you use depends on which data plan you're on.
Sorry, but it's been forever since I set up the data settings for t-mo. Some googling should find it....

I'm thinking of upgrading from a Treo 650. My question is: does the tilt have ringer silent switch?

Unfortunately not, but there are work-arounds if this is a very important feature.
Surur

Does anyone know if there is a way to change the PTT chirp sound? We use PTT all the time, but are not thrilled with the sound that is emitted during use....

Thanks for the info Surur. I just need to turn the ringer off during meetings. Is the Tilt a good upgrade from the 650?

Where do I get java for my tilt? I have some web pages that I need it for....

Does anyone know if there is a way to change the PTT chirp sound? We use PTT all the time, but are not thrilled with the sound that is emitted during use....
I haven't used PTT on the Tilt myself, but I assume that the standard volume settings would adjust that??

Where do I get java for my tilt? I have some web pages that I need it for....
You'll need a browser that fully supports it first... I'd try to get in on the SkyFire Beta...

I have a lot to learn about my Tilt - it does drive me crazy that my screen goes black so I will install the program suggested. My question - I sync this with microsoft outlook on my pc. Even if I have no tasks on my pc with reminders set - they all come up on my tilt with a reminder. I have to go through each one and erase the reminder (it comes up for 8:00 am). How can I stop this from happening?

My AT&T Tilt screen has gone blank and I received a replacement from AT&T since I was under warranty. However, need help erasing all the data from my old device. Is there a way to do this via sync software since I cannot see anything on my phone screen.
Please, help.
Thank You

You could try remote control software like Soti pocket controller.http://www.handango.com/PlatformProductDetail.jsp?siteId=1&osId=1152&jid=6ECA7D3F42DE3B42128B66AE883XD35C&platformId=2&N=4294910263%2095606&R=18480&productId=18480
Hopefully the trial will be able to do the job.
Surur

Thanks for the info Surur. I just need to turn the ringer off during meetings. Is the Tilt a good upgrade from the 650?
darrela,
i switched from treo650 to the tilt. i dont repent at all.
turning the ringer off is not as easy as the treo, but one gets used to it.

i know this as been around alot but i must ask how do i get a valid link for the flashvideobundle. I have tried several places and cant get it to download also yahoo wont work on my tilt it says logged off by server?

i know this as been around alot but i must ask how do i get a valid link for the flashvideobundle. I have tried several places and cant get it to download
Try this: http://www.mediafire.com/?2ct1dez5kbh
Or you can visit the HTCWiki for more details: http://www.htcwiki.com/page/ATT+TILT

Is it possible to increase touch pad size when dialing numbers on the ATT Tilt? Thank you -

Is it possible to increase touch pad size when dialing numbers on the ATT Tilt? Thank you -
You can try the HTC Black Dialer skin. I have been using it and it's a great replacement:http://www.freewarepocketpc.net/ppc-download-new-black-dialer-skin.html

You can try the HTC Black Dialer skin. I have been using it and it's a great replacement:http://www.freewarepocketpc.net/ppc-download-new-black-dialer-skin.html
Looks great! Does this skin still have left and right button access to speed dial and call history? If so, I'm in.
Thanks!
Mac

Looks great! Does this skin still have left and right button access to speed dial and call history? If so, I'm in.
Thanks!
Mac
Yes it does. (I didn't know about these two 'features' until now!)

How can I add a program to the today screen? for example, i have telenav and dont care for it and would like to make my google maps default and on the home screen?

Лучший сайт валюты ММПОРГ называется ГЕЙМТОРГ! wow, world of warcraft, everquest 2, eve, Eve online, Everquest 2, wow прокачкаПоявились все евро сервера и сервера Age of Conan в продаже. Цена 15$/1000 или 350 рублей за все редкией сервера. В Age of Conan цена договрная. По цене всегда договоримся!ffxi gilwarhammer online goldwarhammer goldbuy warhammer goldworld of warcraft gold

if i do a hard reset on my tilt which i just unlocked, will i have to unlock the phone again?

if i do a hard reset on my tilt which i just unlocked, will i have to unlock the phone again?
Hard reset does not affect the SIM locking of the phone. You can hard reset as many times as you wish. :)

How can I add a program to the today screen? for example, i have telenav and dont care for it and would like to make my google maps default and on the home screen?
You can uncheck the unwanted items from the Today screen by unchecking them from:
Start -> Settings -> Today -> Items
In the same screen, you can enable the items that have Today screen plug-ins.
Unfortunately Google Maps does not have a Today screen plug-in ready for you to choose, so you cannot simply 'enable' it in the Today screen. However, there are third party plug-ins (such as HTC Home plug-in http://www.freewarepocketpc.net/ppc-download-htc-home-plugin-v2-1.html) which allow you to add your own favorite programs as part of the launcher.
Hope my delayed response helps.

My screen cracked and I am trying to get the phone off of vibrate. How can I do that without using the touch screen? Thanks