AT&T Titan - Did you get yours?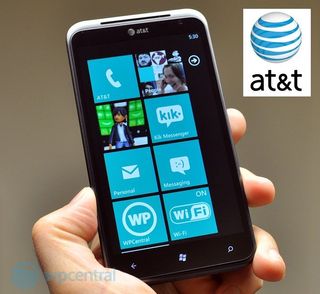 We ask the question even though we think we know the answer: probably not!
Yes, the HTC Titan on AT&T "launched" today (see our first impressions video) but from our experience and yours, supply seems to be might-t tight on the mammoth phone. We had to hit three AT&T stores to get one. And we mean one. The phone we bought was the only HTC Titan within 30 miles of us and we're in Long Island (metro NYC). From Texas to Alabama to Eastern Virginia to Indiana, we've heard most stores don't have them in stock. Our local AT&T store told us they were expecting some tomorrow (Monday), which is plausible.
So why the hold up? It's clear HTC missed the BIG New York City launch a couple of weeks ago. Remember the six-story Windows Phone thing? Granted, the Titan was technically there (the unbranded international version). But the AT&T one clearly was missing and our hunch tells us that AT&T and Microsoft would have preferred to launch three phones on AT&T instead of just two (Focus S and Flash). That tells us that HTC is probably having trouble either meeting demand or fulfilling their order to AT&T--whatever the reason, it is clearly having an effect on supply.
Your best bet if you don't want to order online? Call your store, give them your name. Store reps will personally call you to make the sale, so if you let them know you're interested, they'll most likely give you a ring as soon as some arrive. We also hear that Microsoft Stores do have them in stock and available--so if you're near one, that's a safe bet.
In the meantime, feel free to vent in comments and let us know if you got one!
Missing Titan image credit: Nick S., taken in NYC
Windows Central Newsletter
Get the best of Windows Central in in your inbox, every day!
Daniel Rubino is the Editor-in-chief of Windows Central, head reviewer, podcast co-host, and analyst. He has been covering Microsoft since 2007 when this site was called WMExperts (and later Windows Phone Central). His interests include Windows, laptops, next-gen computing, and for some reason, watches. Before all this tech stuff, he worked on a Ph.D. in linguistics, watched people sleep (for medical purposes!), and ran the projectors at movie theaters because it was fun.
No, though I think the store I was in did have one to sell.
But I'm now more worried that the penny sale on Black Saturday is for Windows 7 netbooks.

Denver:The ATT store I went to said they did not get any and only 6 stores in the metro area got them. Luckily in the same mall was the Microsoft store and they had stock. This post is from my Awesome HTC Titan!
Loving the screen, speed and weight of this great phone!

I've said this so many times..
Canada please!

Darn, I never thought about the Microsoft store. Oh well, maybe tomorrow I'll be able to brag too. I hate being obsessed with technology.

I'm waiting for Black Friday. If the Titan goes for $0.01, then I'll be getting it for sure. If it's $200, we'll see. It'll be hard to not take the Focus S.

They do promise *all* windows phones, I too am waiting until then. I don't know if it's in stock in my area; I was going to buy it today until I learned of the penny sale...

They promise Windows 7 devices, not Windows Phones. I think this means netbooks, but I am hoping they meant phones.
http://www.att.com/gen/press-room?pid=22053&cdvn=news&newsarticleid=33275&mapcode=wireless-networks-general|consumer

I think that's gotta be a typo. An earlier release had WP7 where the Windows 7 is now... and a lot of people are getting confirmations of the WP7 sale from calling in if the comments are to be believed.

Called about 15 different AT&T stores around Los Angeles, none of them had it. Thankfully I remembered there's a Microsoft Store in Century City so I went over and bought one!


No. I have called 10 stores in DFW and no luck. Called the ATT customer service number and they had no phones to ship from customer care. Called Best Buy, none. No stores had displays, inventory, or accessories. So much for a North American Launch… Is this why WP can't gain market share? I've been anticipating this phone since it was announced and I'm pretty let down. Now what am I going to do while I am spending Thanksgiving at the in-laws? I was counting on the HTC Titan to occupy all of my time. I guess I will have to drown my sadness in pumpkin pies for all three days.

I went to 3 local stores and none were in stock. One store did have a spot for it with a sign so it seems they are expecting it. In another store, the rep hadn't heard of it and said "It is not one of the phones we're promoting".

Got mine five minutes after the ATT store in downtown Redmond opened. This thing is a beast. Massive, luxurious, and roomy. Pixel density doesn't bug me at all and the screen is fantastic. The few pictures I tried taking turned out great.

stores get them MONDAYS. did you guys really think Fedex/UPS delivers Sat/Sunday bulk packaging? LOL Sunday is a web only thing (you'll have them tues/wed)

Glenc: many of us did buy the phone from stores today, meaning someone shipped them, no? Not to mention when the Focus S launched, it too was on a Sunday and there were plenty in stock. Point is: if you set a date for launch, you usually receive plenty of stock before that day in preperation. Clearly that did not happen here. No where does it say "a web only thing", so I respectually disagree. There were other phone launches today at AT&T and they were in stock.

Samsung Focus S came out on a Saturday for the record, but your point is valid if you have a launch day on a specific date stores should have stock 5 days before then.

For the official record, the Focus S came out Sunday 11/6.

My store had the S and Flash last Sunday...Friday delivery?

You are incorrect. I visited an AT&T store and they said they typically launch new phones on Sundays, yes SUNDAY. You don't know what you're talking about.

Well I think this is gonna cost AT&T big time. Mainly cause those who wanted the phone and were willing to pay the 199 today will now wait for next Saturday and hope it is on the Penny deal. I know I am. I was pissed going to the AT&T store only to be told it was not there. They said they might have one tomorrow for me to look at. Look At? I know all about it, in fact better than the AT&T sales person. Oh and by the way the crap that I heard while waiting to hear my phone was not in stock was unbelieveable. Dont know which is worse, Cell phone or used car salesmen?



some of these store sales reps know nothing. I hate calling the stores because I dont believe anything they say.. I find that I actually get more information with better knowledge on WP on live chat with online reps.. Its ridiculous.

The only good part of my visit to the local AT&T store was what I overheard while discovering there was no Titan for sale, or on display, no Focus S or even the original Focus. The Focus Flash was the only WinPhone the store had on display and in stock.
But as I wandered the store I heard two things that made me laugh. First, a salesman was talking to a customer about some new Android phone. The customer asked about battery life. The salesman replied "A friend of mine has this phone and he says he gets about half a day, so it's pretty good." Half a day of use is what is called "pretty good" in Android land." Second, there was a teenager playing with an iPhone 4S. He was testing Siri and asked "How good is the Chinese food in America?" Siri had no clue and simply provided a list of nearby Chinese restaurants. Apple is selling Siri as able to answer natural language questions, and it obviously can't do that. Apple has programmed a few cute and really obvious questions relating to weather, calendar and, I'm told, the meaning of life, but strip that out and it is no better than the TellMe service.

Got mine in Palmdale CA when they opened this morning. It was the only one they had in stock. I am loving it. Just had to sign in with my hotmail account and my contacts and xbox live was live! I had to redownload my apps but was painless.
ATT did not have screen protectors and did not show they could order them. I ordered one from a retailer online when I got home.
It is definitely faster than my focus. Everything loads much quicker. Power on took only 25 seconds to get to the tiles screen. I like the panorama picture taking.

Called 3 stores today with no luck. Hopefully tomorrow!!

I didn't .. yet . I don't know if I should get this or wait for Nokia 800 . What do ya'll think ?

None in all the five corporate AT&T stores in Reno/Sparks area.

Yes I was lucky enough to purchase one from my local AT&T store. It was the only one in stock. I have Mr Rubio to thank. I originally purchased the Samsung Focus S on the 6th. I loved the phone, but after listening to your podcast detailing the new wp7 hardware I opted (after much debate for the Titan). This was not an easy decision. I thought Mr Rubio was a little harsh on the Focus S in the podcast. It put a seed of doubt in my mind (enough to check out the Titan today).
The Titan really is the premium wp7 phone. Beautiful screen, gorgeous construction and super quick. I'm a very happy customer!
Now purchasing specifics. I like all of the other day 1 adoptees' was guted to find the upcoming penny sale. In talking to my AT&T sales rep, he confirmed that they would apply the appropriate ($199) credit to my account come Saturday when the sale begins. Yes, I have lost $35 ( restocking fee), but considering the quality of my new phone this is an outstanding deal. Also if the phone sells out online quickly, I will still get my discount due to the 30 day price matching policy.


I just ordered mine online. I'm a little worried the number porting is going to be the big issue here, but we'll see. I wonder if I'll get my phone by Wednesday.

won mine on Monday, love it so far aside from a few hiccups. My local store didn't get any either.

I went to the local ATT store today to see the HTC Titan in action and compare with Samsung Focus S that i bought last week. Two pretty girls walked up to me and started telling me about Android and iPhone 4S when i said that i want to upgrade. When i told them that i came here for HTC Titan, they first said there is no such device. I explained that it launched today and then one of them said, "oh that one, it is with Verizon and not ATT". When i insisted that she talk to a senior rep. and come back, she was kind enough to talk to senior rep. at the counter and confirmed "Yes, that device is with Verizon and not ATT". Heights of ignorance at a pretty big ATT store in one of the biggest malls in the town. I decided to walk away instead of arguing with the whole bunch of idiots.

Amazing that stupidy of that level exists. How the hell do these people land these jobs.

Honestly, sometimes I am tempted to get a part time job at at&t cause I would make a crap load of commission saling Windows phones! those reps know nothing..

LOL oh yeah it's with Verizon. All the Verizon customers that love WP7 wish this were true. Looks like ATT is supporting WP7 more than any other carrier so far. I'm with T-Mobile so while the Radar is actually a nice phone I just drool at the Focus S and Titan...

I feel your pain...... as I, keep playing with my HD7

I live in Pikesville, MD and I was so pumped just to go into the ATT store and get my hands on the demo phone. Unfortunately the rep said they actually pushed the launch back a whole week so I just played around with the Focus S for a little while before leaving totally deflated.lol

I could see AT&T doing that just for the sole reason of not wanting to include the new phone on the .01 sale on the 26th.

Ehhhhh, reading these comments gave me flashbacks to last year when I bought my Focus. I tried the nearest store to me and it took them nearly 10 minutes to determine they did not have one in stock to sell to me. They promised some would come in after lunch. So, I departed and decided that since I had the day off, I'd venture around to see if I could find it anywhere else.
Store #2: I didn't even make it to the counter because someone was returning an iPhone. Waited twenty minutes in line then left.
Store #3: Short and sweet, no phone.
Store #1: Finally calls me around noon saying they had a phone.
I really understand last year it being such a scarce item but it sounds like this year it's not much better? Nokia and the marketing machine cannot happen fast enough. Also, someone needs to teach the sales reps a thing or two.

Isn't that the old WP7 logo in that 2nd pic?

Does anyone feel that the 16 GB (or 12 GB usable) is still limiting in anyway? That has been the only thing from preventing me from making the switch from my iPhone to either the Focus S or Titan. If it matters, I have a 32GB of storage now (29 usable) and it'll be tough to have to manage that UNLESS I use a dedicated MP3 player for music.
Also, I've played with the Focus S at stores and really like it. Besides the larger screen and potentially sturdier construction (haven't had hands-on time with the Titan yet), is there much else to consider between these two devices?

Well you might get more music on there than the iPhone. I got way more on my Quantum than I thought I would. They must compress the heck out of it. I use lossless on Zune, but I know there's a conversion that takes place on the phone that doesn't seem to be configurable. If music fidelity is important to you you might look into this further.

@lippidp I had the first Focus and tried to play with the storage by adding certain artists/music to my phone but eventually gave in and bought a memory card. (Though that turned out to be no fun as the device kept restarting into a "default" mode. So having 40GB wasn't worth it at that point!) Anyways, on one hand I could simply find another way to store my small library onto another device (be it another iPod) or just simply not worry about it like I used to! If my cell service was more solid then I would simply stream 90% of the music I like from Zune directly and be done with it!

I think the size issue bothers other users, though their reasoning may not be as superficial as mine.

I just got my HTC Titan yesterday at the local Microsoft Store for.... $0.01 :-) ahead of the Black Friday deal. Isn't that SWEEEEEEET?


Got mine on Sunday. The store in Montgomeryville PA only had one. and it's in my hands and very nice :)
Also check out a freepie card from MS
https://windowsphone.promo.eprize.com/redemptionprogram/:b=ie9/?affiliate_id=WPBuy


Windows Central Newsletter
Thank you for signing up to Windows Central. You will receive a verification email shortly.
There was a problem. Please refresh the page and try again.