ASUS VivoBook S400, an attractively priced ultrabook with a touchy-feely screen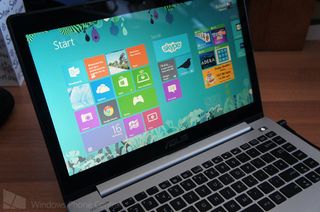 ASUS has launched (and will be launching) multiple products that run Windows RT / 8. A family of laptops branded under the VivoBook umbrella, the S200 and S400, are solutions for those who require a light, thin notebook that sport touch screens and all the bells and whistles for Windows 8. We recently invested in an S400 to see what all the fuss is about with this mid-range notebook. We must admit - we're pleased with the experience on offer.
So what's the S series packing that's oh-so-incredible? The latest generation of Intel chips, touch screens and other bits and bobs. Compared to the its S200 sibling, the S400 sports a larger display, faster Intel chip options and overall improvements to the specification sheet. The model we purchased set us back £500 / $699 (Amazon pricing) and contains the following setup:
Intel Core i3 1.8GHz dual-core CPU
4GB 1600MHz DDR3 RAM (upgraded to 8GB)
500GB SATA hard drive
3-cell battery (provides 4-6 hours worth of power)
HD webcam, Bluetooth (v4), SD reader and WiFi
HDMI, 2x USB 2, 1x USB 3, VGA, LAN ports
Not bad for a Windows 8 notebook.
Weighing in at just 1.8Kg and is just 21mm thick, the notebook is easy and light to hold and carry. That's quite an impressive feat for ASUS as the laptop does indeed sport a touch screen display, which adds both weight and size to the overall figures. Speaking of which, the screen is a 14 inch LED-backlit TFT LCD display with a 1366 x 768 resolution (16:9). It's no 1080p, which is sported in the Acer S7 we recently took a look at, but it's a useable resolution nonetheless.
While $699 isn't cheap for a notebook, what you receive in terms of quality and power surely makes up for the price. The S400 is an aluminum-plastic build with a hairline finish for the lid - it looks every bit a star. Windows 8 64-bit runs smooth on the i3 chip and we can't see the requirement for more horsepower unless you're into video processing and advanced gaming. Running multiple apps simultaneously failed to slow the system down, thanks to the amount of RAM installed and optimisations present in Windows 8.
What's surprising about the S400 is just how quiet and cool it runs. The processor is generally clocked at just 800MHz until bumped up to the maximum 1.8GHz when demanding processes are launched. This enables the chassis to remain cool and for the on-board fan to run almost at idle. The result is a comfortable palm rest and a pleasant experience when using the notebook on the lap.
The keyboard is a joy to use and we've encountered no issue using it on a daily basis, apart from sometimes a key stroke may not be registered correctly (which may well be limited to the unit we received from Amazon). Just be sure to give each key some wellie when going for gold. As mentioned above, the laptop runs fairly cool and so the keyboard remains at a comfortable temperature for those long periods of entering data onto the screen.
Audio is actually pretty good for a laptop, especially one that's just 21mm thick. Sporting ASUS SonicMaster (www.sonicmaster.asus.com) there are two speakers under the beast's belly, one on either side of the laptop. Providing some decent levels of bass and rich audio, the sound quality surpasses the MacBook we used for comparison by a clear mile, especially with the subtle surround effects.
Battery life is okay. Reviewers have slammed the laptop for only providing 3 hours worth of power, but we managed to get through 6 hours on a single charge. It of course depends on what you're doing with the laptop, as is the case with any electronic device with battery power. ASUS bundles a number of suites with the installation, which aren't too bad and don't need to be removed.
The S400 isn't a perfect laptop, but if you're seeking a slightly cheaper ultrabook with a touch screen this might be the choice for you. ASUS has done a superb job packing quality and strong specifications into a cheap package, which is surely a hit with consumers. Again, the S400 is running in the neighborhood of $650-700 US and can be found at various retailers such as Amazon.com (opens in new tab) and the Microsoft Store (opens in new tab).
Rich Edmonds is Senior Editor of PC hardware at Windows Central, covering everything related to PC components and NAS. He's been involved in technology for more than a decade and knows a thing or two about the magic inside a PC chassis. You can follow him over on Twitter at @RichEdmonds.
Check out the VivoBook Q200. Another great notebook and only $499 @ Best Buy.

Am I the only one who thought that the title said the ASUS Vivobook was $400?

Nope, I just clicked the link in the feed reader to read the full article and was surprised when $700 appeared. haha

I like their effort with Windows 8, seems they got it right.

I wanted to point out there is a smaller 11.6" version of this laptop. The Asus Vivobook S200E. I have one myself and according to reviews there are some noticable differences between the models, with the S200E having a better keyboard fo example.

Asus Vivobook S200E Mini-Review/Differences
- Cheaper than the S400 (£450 at amazon.co.uk), combined with a £70 Samsung 840 120GB SSD is a great combination. (Boots in seconds and removes the major bottleneck of the 5400rpm drive that comes with it. This combination is about the same price as the S400, a bit cheaper.
- The keyboard and trackpad are very good, easily the best trackpad I've seen short of a Samsung Series 9.
- Touchscreen is good, responsive and enjoyable, although it doesn't feel as good as a high end tablet or smartphone.
- Screen Resolution is OK, but screen quality could be better. Brightness is fine for indoor use, glare not too much of a problem.
- Battery life is similar to the S400 it would seem. 3-4 Hours on Battery with brightness at medium and medium use. Good enough

Very happy with mine. :)


You know, we mentioned that one on the podcast yesterday as I've been looking at it myself as a mobile development machine (my current 15" laptop is too big for train use honestly). It seems fantastic and at only £450 on Amazon or at PC World it's a bargain

I can definitely recommend it. I was given a pretty aweful Dell Latitude at work. The poor battery life, tiny trackpad and slow performance just made it intolerable. So I decided to replace it with something better.
I had previously had a Surface (which I sold on cheaply to my brother) but I found I kept using the Surface more like a touchscreen laptop than a tablet. The Surface Pro was looking good, but expensive for my needs. The Vivobook has been ideal.
I would definitely recommend the Samsung 840 SSD though (make sure you get the "Kit" version which comes with the USB to SATA cable you need to do a migration. There is some very wierd partitioning going on with the default Asus configuration. A lot of disk clone software failed to properly clone the drive, Macrium Reflect did the job perfectly (since it can migrate GPT partitions now. I've got a video of it booting in a couple seconds.
You're right though. Total bargain. One of the best "budget" thin notebooks I've seen in a long time.

(Totally usable to play light games too, for those wondering. Warcraft 3, Braid, Tropico)


I also have the S200E, got it at Sainsburys for £450. Exactly the type of device I wanted, almost a tablet but still a full Win8 PC

Thank you for this. It is more in my price range then the 400.

I own one, it is a FANTASTIC computer. I highly recommend.

Yeah, I mean it's got a screen and a keyboard and a clamshell design so they definitely copied it.

Lol, well said. Coming froma MacBook myself, it looks (and handles) nothing like one.

Who cares as long as it isn't priced like a macbook? After using a Macbook for a few months I found it does things a little differenet than a windows machines, but not better. The internals on a lot of machines are the same or better than a macbook. So, why pay the extra price? Mac fans point to the blue screen and viruses. Ever since windows 7, I have not had a single blue screen or virus. MS has improved stability and security quite a bit since XP.

My girlfriend bought one of these (with my recommendation) and so far she's happy with it. Also I wasn't expecting to see her make much use of the touch screen but I was surprised how much she actually uses the touch, even when in regular windows mode.
My personal review: setting it up was a bit of a pain in the ass... ASUS update had to do a bunch of updates but it needed a restart between each! luckily it boots up VERY quickly. Other than that, pretty responsive once you get rid of the mcaffee trials and junk. The touch-screen is also responsive and works pretty nicely, the touchpad gestures however.... hmmm.... a bit on the finicky side.
For the price however, it seems rather fantastic. Great build too (apart from the touchpad, build is also finicky.)

I just bought the S200 and it is an excellent notebook. Just be careful not to buy the BestBuy variant. It has a slower CPU & the warranty doesn't include accidental damage protection like you'll get if you purchase it from Amazon or NewEgg.

Rich, have you guys tried running the Windows Phone 8 emulator on this laptop? The bios has very limited options for Hyper V. Fantastic laptop, but even the latest bios update offers a poor bios interface. With an i3 , i5 chip, hyperV compatibility should not be an issue but it seems to be with the Asus s400 running an Intel i5 processor. Please check and report for any WP developers considering this laptop as their next purchase.

I can definitely try this out! Will try get round to it this weekend (have everything set up on the main desktop).

I wished these laptop companies would stop trying to look like the MacBook ugly grey n black keys at least Sony puts nice white keys

Using it, and coming from a MacBook, it doesn't look like the Apple laptops as you first believe. It feels nice with the aluminium, but ASUS has done a good job with the build to not mimic Apple at an extreme level.

Asus first of all send to your customer the free keyboard for Vivo Tab RT you promised us in november !!!!!!!

Umm.. this is a mediocre laptop at best.

Asus S400CA $650 at Microsoft Web Store and $699 at Amazon. Screen resolution / graphics and battery life are the only things I don't like. Windows 8 Pro, touch screen, Intel I5, upgrade from 4 Mb ram to 8 Mb for < $30. Can upgrade to SSD.
I think one of the better values if you looking for a non-gaming mainly business use laptop.

I bought the S400 for my wife from the Microsoft store so it had no bloatware. It is an awesome computer, the best I have ever purchased.
Touchscreen is great, Hybrid hard drive is a plus, has an i5 processor, the sound on the laptop is VERY good, the body feels nice and sturdy and is beautiful.

looks to much macbook for my taste

I excited for the Zenbook Touch... Core i7, touch screen, SSD, the razor thin design.

Strongly considering this thing.

To the editor: Ultrabook is a laptop with a solid state drive. This is more less a sleekbook or a notebook

I bought one just last week. S400 but with the i5 processor. It cost me around $730 i guess. So far loving it ! Just gotta be careful with the touch screen though, its a finger print magnet.

Nice machine. Touch and w8 will be great experience

Picked up the S200E at Staples a couple months ago for $499. It lacks BT (I already had a dongle) but included and external DVD-RW drive. Microsoft has the X202E variant but it was out of stock. Not a powerhouse (includes 3rd Gen i3) but a great basic notebook with touch. A really good way to introduce someone to Windows 8. They should sell a boatload of these.

I bought the Asus VivoBook X202E a couple weeks ago; it is a higher end variant of the Q200E (low end) being sold at Best Buy and the S200E (mid-level) being sold at various retailers. Excluding the battery life (which I knew was a weakness going in), I like it a lot. I also have a 1 year old HP, Windows 7 laptop (more specifically a Pavilion G4-1215dx, which has a 14" screen), which like the VivoBook is a budget laptop (the G4-1215dx without a touchscreen cost $380 in early November 2011; the VivoBook X202E with a touchscreen cost $550 in early January 2013). It is amazing how much better the VivoBook X202E is than the G4-1215dx (which itself is a solid laptop for a budget model). Touchpad gestures pretty much don't work on the HP Pavilion G4, but they work very well most of the time on the Asus VivoBook. The sound on the VivoBook is also much better, despite being generated by a smaller chassis. Finally, the build quality is more solid on the VivoBook than the Pavilion G4.

I only have two issues with the VivoBook X202E, one (I think) specific to the model, one related to Windows 8:

1) The battery/power settings always want to default back to performance mode when I turn the computer on, regardless what the settings were when I turned it off after my last previous use.

2) The transition between Windows 8 Metro/live tiles and Windows 8 desktop can be jarring, particularly when you want to search for something while in an application that defaults to desktop mode. On the tile mode, searching for things is a cinch (just start typing, or bring up the Charms bar on the right), but it isn't as straightforward in desktop mode, and this is an issue when you are using apps that default to desktop mode.

I should note you can buy the VivoBook X202E for $500 at the Microsoft Store (either brick and mortar or on-line). I bought mine at Amazon because I had a couple hundred dollars of Amazon credit saved up. :)

Hi
How did you get this with 8GB RAM and SSD in the UK? I can't find any retailers that do anything but 4 gig
Thanks
Windows Central Newsletter
Thank you for signing up to Windows Central. You will receive a verification email shortly.
There was a problem. Please refresh the page and try again.