Australian retailer mistakes Lumia 920 pricing, honours erroneous price tag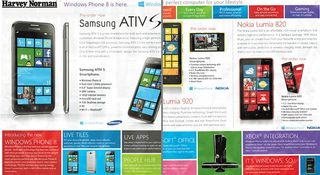 We've previously seen retailers and carrier stores get things wrong. Whether it be labelling Windows Phones as Android handsets, or by listing incorrect specifications - mistakes can happen. But what about publishing incorrect pricing for the latest Nokia flagship? Australian retailer Harvey Norman made that very mistake when revealing the price for the Lumia 920.
According to a report over at WPDownUnder, Harvey Norman had the Lumia 920 listed as AUD $699, while the Lumia 820 - the less advanced sibling - was $799, a whopping $100 more expensive than the flagship Windows Phone. Obviously this was a mistake and the listing was quickly reverted. But the damage had already been done as this was a pre-order listing.
The usual call for action would be for the retailer to fire out an email stating they got the pricing wrong and they were sorry, possibly bundling a free accessory in the deal or something similar. But this was not the case with Harvey Normam. With an estimated release date of mid-Movember, the retailer has chosen to honour all pre-orders that have been placed by customers. You read correctly. They're allowing those affected by the error to go through and purchase a new Lumia 920 for just $699.
So not only did consumers get hit by the surprise of the Lumia 920, the Windows Phone with Nokia's PureView, PureMotion+ HD and other technology, being priced less than the Lumia 820, but they then had to recover from acknowledging the retailer would indeed be shipping orders using the price that was provided to customers on checkout.
Paul Bernhardt, National BM of Technology & Entertainment at Harvey Norman, confirmed to WPDownUnder that the retailer would indeed be honouring the price provided to consumers, should the customer choose to continue with the pre-order. But who wouldn't want to take advantage of this offer?
So whoever managed to dive right in and slap down an order when the mysterious pricing was revealed, congratulations. You'll be able to enjoy the top-tier Windows Phone experience on a Lumia 920 that was priced cheaper than the Lumia 820.
Source: WPDownUnder
Windows Central Newsletter
Get the best of Windows Central in in your inbox, every day!
Rich Edmonds was formerly a Senior Editor of PC hardware at Windows Central, covering everything related to PC components and NAS. He's been involved in technology for more than a decade and knows a thing or two about the magic inside a PC chassis. You can follow him on Twitter at @RichEdmonds.
Relation in price to the other phone doesn't mean much. Was the 820 just priced high? Can you say what the proper price of the 920 is? I'm too lazy to go do a currency conversion.

699 AUD = 563€ / 722 USD
799 AUD = 644€ / 826 USD

Rrp for the 920 here is oz is $829

That can't be right. The 920 is only AU$30 more than the 820?

Beat me to it by 2 seconds rofl

Rrp for the lumia 820 in oz is A$649

i called my local harvey norman yesterday afternoon, they're still giving it for $699 and available in 5 colours (including cyan and grey)

WHATTTT??? seriously CYAN!!!
I also have a preorder at $699

They aren't going to have cyan, they don't know what they're talking about. None of the Harvey Norman stores know specifically what colour they're getting as the database doesn't show it . Nokia's press confirmed that there definitely won't be cyan though.

yeah i went there today just to confirm, had a look at the screen while the guy checks it and yep it doesn't say any colour at all, but still at $699 so i pre-ordered just in case, i can always cancel it on the day anyway. available for 24 months interest free as well and stocks will come 10th of november (as printed in the receipt)

Haha, i was also tempted by the 24 months int free, but i decided to pay with my 28 Degrees mastercard (Price Protection, Damage and Loss for 6 months) :-D

Mid-Movember, get it straight. I wonder if WP Central uses office, because even my Windows phone is underlining Movember as misspelled. Doesn't an editor read these before posting? So funny how often this happens too. Kinda like it though.

November is Movember Month on WpCentral, not mispelled or a mistake..

I guess you didn't get the joke. Movember as in Mobile.There's even a hyperlink to the article where they first use the word.

Nope didn't get it... Still kinda don't. But I'm new here relative to how long its been around. Not new to WP, just the site.

Also I'm viewing from the app, not the site so I can't see the link. Thanks for filling me in to this obvious and hilarious joke...

"Movember as in mobile"?? More like, "as in moustaches"

You got it all wrong dude, it has nothing to do with mobile at all - this is nothing new. http://dk.movember.com/en/

Excuse me? Movember is a fund raising campaign for male health issues. The word is even linked, for crying out loud.

Movember is called such for the men that grow facial hair in support of prostate cancer. No errors :)

Who suppports prostate cancer?! :D

Haha yeah... It does sound pro-prostate cancer :P "support" should be taken as meaning "raising funding & awareness". It's for male mental health too.

Man this whole hound the editor game for typos or irregularities is getting tiring, I hate seeing almost every thread ruined by such posts. For God's sake get a life!


And grow a beard for Movember!

*moustache. Beards are not allowed

I love Daniel Rubino(Editor in chief), don't get me wrong, but seeing a professional site constantly mess up is upsetting to read. George Ponder wrote one a couple days ago seemed like he wrote it while wasted drunk... Its sad because I would love their job and get early access to new gear and even free gear, and then tell the world what I think about it, but I don't get to, and I have to continue to pay for an app and try to read such silly mistakes. Sorry if it upsets you I'll try and stem my pointing it out, though I usually don't.

It upsets me because it is pointless, nothing good or productive is going to emerge from such behaviour. Sure, tech journalists such as Daniel and George have the enviable opportunity to play with tech and give their opinion on it. Sure, we'll see some typos and mistakes here and there, it happens. There are those of us with grad and law degrees who need editors to skim through our writing before a document or publication is pushed through. These are English major writing editors, not newspaper/media editors - not the same! WPCentral's staff have one job as far as I am concerned, to convey their opinions on a product I am evaluating in as a nuanced and sincere manner as possible. In my opinion, they have not diverged from that objective.

It is both good and productive. It helps to keep the site looking professional so there are less/no people complaining about writing errors, making everything better. Placating to poor editing is lazy. If they can't afford a proper editor than getting one for free in the comments section should be welcome, so long as the comments aren't snarky or demeaning to the editors themselves.

I feel when your (not you personally) first comment on an article contributes to nothing involving the discussion and is merely just there to point out a misspelling or something that clearly doesn't take away from comprehending the article, its totally meant to be snarky and demeaning. I don't think anyone here is suggesting poor editing needs is to be accepted. Just that at the end of the day, there are more productive ways of pointing this stuff out. More importantly, this is a site about phones. Its not about Shakespeare. Its not about solving global warming or curing cancer. Its about phones. No need to be uptight about whether someone uses the right there, their or they're. I personally look for a site, such as WP Central, to provide the latest news on whatever product or service they focus on and to do it with some level of accuracy and respect. For the most part, these guys (and probably gals too) accomplish that here.

It's only snarky if it's snarky ;) I think it's totally fine to say "FYI these words are incorrect", but I hate it when it's "gawd you have a spelling mistake, you guys are rubbish, you never get things right, this is an outrage!!". It's even more hilarious when the person correcting doesn't have a clue i.e. Movember, or words spelled in English that have a different spelling in the US dialect i.e. colour, humour, centre, realise etc

Apparently they're still taking preorders at $699. I still feel it's a bit high, and $799 is just ridiculous. It'll probably show up on ebay in a week below $600 anyway :P

I contacted two Harvey Norman stores in the Melbourne area yesterday (3.11.2012) and both stores said that they were not taking pre-orders at $699 (AUD) any more. Apparently they will be retailing the handsets for $819 (AUD). One of the people I spoke to was willing to negotiate due to my wanting to purchase multiple handsets (friends + myself) however based on the prices I've seen on EU and USA importing them will save over $100 (AUD) per handset.

Wow, $819 is ludicrous! Fortunately a lot of people sell them on ebay in the first few weeks after release due to free contract upgrades and no desire to switch from their current phone. That's how I picked up my Telstra HD7... RRP $768, bought for $600 including shipping, 1 week after release

my country price are not yet out..........

Does anyone know whether in australia we will be able to use the mobile payments from the wallet app? (I'm with telstra)

I thought that wasn't going to be available in wallet at first. Isn't that what Microsoft said in the June event?
Windows Central Newsletter
Thank you for signing up to Windows Central. You will receive a verification email shortly.
There was a problem. Please refresh the page and try again.