Think the Australian sky in Forza Horizon 3 looks real? That's because it is the real sky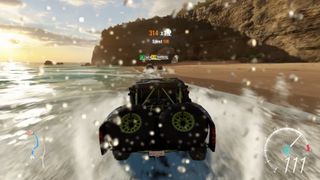 Developer Playground Games decided to photograph the real Australian sky to put in the upcoming open-world racing game Forza Horizon 3, with the help of a 12K HDR (High Dynamic Range) camera.
The UK-based Playground Games took that camera rig to the Australian Outback to take pictures of the real sky. The UK Microsoft blog states (opens in new tab):
The final result is meant to give the game a sky that uses real light more realistically compared to normal skyboxes. It wasn't all relaxing and taking pictures, however. The Australian Outback was also filled with deadly spiders during this shoot:
Forza Horizon 3 is out on September 27 for the Xbox One console and Windows 10 PCs. A free Xbox One demo is already available.
Windows Central Newsletter
Get the best of Windows Central in your inbox, every day!
As an Australian I can confirm both the sky and the animals are beast here. Far more manly than other countries.

That must be the first time I've heard someone claim that the SKY in their country is the manliest.

Yeah, it really is. Slip, slop, slap or die.

Do you have any giant old growth redwoods over looking the pacific.
Humboldt

Of course not, they're not native, they do have Mountain_Ash (Eucalyptus regnans) & Karii's though.

Well, we do have a lot of huge Jarrah, Marri, Karri, and Red Tingle trees... Jarrah wood especially can be very red. The tree heights can be comparable to the redwoods too... the Bicentennial Tree is 75 metres high, and the Gloucester Tree is 72 metres high. Although the tallest California Redwood is 116 metres (in fact the tallest tree in the world). While I can't vouch for the Pacific Ocean, we definitely have these trees overlooking the Indian Ocean (down near Margaret River)

There's also multiple leads of MA getting very high in the early days of logging (making them as tall or taller than the tallest recorded RW), but some conjecture over their ultimate heights. The tallest "living" ones, don't quite get as high IIRC, & definitely not of the same overall mass as Redwoods. Some of the taller species can be found on the east cost of Australia (i.e. overlooking the Pacific).


I concur. These clowns are just fortunate they didn't run into any Drop Bears or Hoop Snakes.

I also cannot comprehend at how yall celebrate Christmas without snow, and winter.

Easy, by the pool with a beer in one hand and a plate of food in the other.

I'm Aussie too! We love our fake Christmas trees from Myers or David Jones. But if you're on a budget, Kmart fugly trees will do. Lol!

Most people don't celebrate Christmas with snow.

It's usually 38-44 C on Christmas day... so we celebrate at the beach, in our backyard pools (very common), or just hiding indoors with the aircon on full blast

You should take a leaf out the New Zealander's books. They beat you at most sports, have even grander landscapes, and yet are incredibly humble about it!

New Zealand is not humble about sport, at least my mates aren't.

Maybe it's just the Elite sportsmen and women that fit the stereotype I have :) I'll soon get to see it for myself. Heading to Aussie for a year and NZ for six months :)

Lols. You didn't have to be so mean dude.

Kill all the spiders please so I can visit

And you could've used any other picture but you chose the absolute worst lol

Neat, what about the rest of the terrain? Is the map of FH3 actual Australian locations, or is it condensed stuff to get its wide environments into one game?

going off the demo it is heavily condensed.. they keep talking about Byron Bay which is 1800km's away from the Great Ocean Road.. http://www.kotaku.com.au/2016/06/forza-horizon-3-is-a-bit-confused-about... Edit: actual locations just not exactly in the right spots..

Yeah, they do this with a lot of games, I'm fine with it.

Spiders....count me out...we would have had 8-Bit skies if it depended on me braving it with spiders.
I was just telling my wife of my plans to nuke our house tomorrow due to a couple of spiders I saw that were shooting the breeze around the house.
Ack!

Snakes.. I don't do snakes... Lol.. Long as a spider does not make it a mission to crawl on me he's good to move on lol

If they're outside, they're fine. If they come inside, they're dead. I don't have a catch and release program in my house for creepy crawlies.

Lols. Having a good laugh reading your comments.

Bunnies? I don't do bunnies. Those disgustingly cute little creatures, sniffing around with their tiny noses. If the bunny comes to my house he will proceed his way to my dinner table.

Lol! My wife is Russian and freaks out over every little spider... even Daddy Longlegs spiders, which are practically everywhere. Today I caught a Huntsman Spider (google it) in a jar... they're fast buggers, quite big, but harmless

The forza team the work u put in for the customer is hands down top notch I won't be hesitation to buy this beautiful game keep up the great work ladies and gentlemen at playground I can only imagine the spiders down there and to spend a summer in the outback speaks volumes about the passion u have for the fans of forza can't wait to play.

Can we have the deadly Australian spiders crawling across the screen now and then while we race?

They aren't deadly, but I've had a sneaky huntsman crawl up the inside of my drivers side window, i freaked the Hell out.

My god, aren't they like 5 inches across? Congratulations on not crashing your car in panic.

Lol yeah, typically they're the size of your hand but apparently the big ones can be up to 30 cm wide (12 inches in retarded units). The problem with the spiders is that they're big, ugly, and FAST. They also have good eyesight and will see you coming... I had one on my kitchen bench, and it was just watching me... like turning to look at me as I walked around trying to find something to catch it in.

lol I actually caught one of those in my house today! They're fast, and creepy as hell... but I don't mind them really

lmao yup this would be me if spiders were in the game. OMG spider!!! Crashes car

All that risky traveling for a 50 dollar game. I give you props, playground games.

I can almost see the sky in those screenshots! Probably matches how much I see it when I'm playing a racing game.

Spiders are the reason I've sworn to not set foot in Australia xD

While it's very common to see spiders (I can see a few in my study right now, all harmless) they never bother you

Since when the 12 apostles are in Byron Bay??? WTH? Posted via the Windows Central App for Android

Yeah, that's a bit of a stretch.

So....this demo is amazing. Can't wait to see this w/ HDR enabled. Looks amazing already. No regrets going with the ultimate editon. Prob going to trade in Horizon 2 for $15 @ best buy this week.

Knowing they almost died in the Australian outback makes me want the game more. lol

I already preordered this game. I loved Horizon 2 and didn't think the graphics could get much better, but looking at the shots of Horizon 3 they proved me wrong. I love the open driving and exploring aspect of this game it is definitly worth the money.

I played the demo and inmediatedly had to buy the game. Can't wait to play it.

Does anyone have an idea why everything in Aussie land wants to kill u? I just don't get it...