Avoid traffic jams or create them with the Windows Phone 8 game Bad Traffic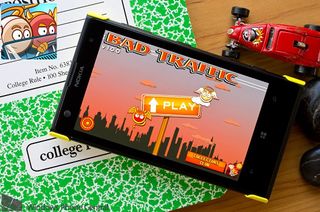 Bad Traffic is a fun game for Windows Phone 8 that deals with roadway traffic management. We have seen similar games before where you try to keep the flow of traffic going to avoid wrecks and nasty delays. Such games are a nice, casual gaming format.
Bad Traffic goes a bit further by offering a second game mode where you try to snarl up traffic, create wrecks and do everything you can to disrupt the orderly flow of traffic. Bad Traffic is a Windows Phone 8 game that caters to a wide range of gamers and has had a bit of success over on iOS (opens in new tab) and Android (opens in new tab) platforms. In the short time we've had with the game, that success should carry over to the Windows Phone platform.
Game Menus
The back-story for Bad Traffic has a Guardian Angel and a Devil's Advocate agreeing that traffic should be a thing of the past. They do however differ in how you should eliminate traffic. The angel prefers to manage traffic flow to get everyone to their destinations without delay and the devil prefers to crash everything in sight. Which side you choose is entirely up to you.
Bad Traffic's Main Menu
The main menu for Bad Traffic has the option to play the game center screen with access to the game's settings in the lower left corner and access to your achievements in the lower right corner. Settings include sound/music levels and pulling up the About screen. Your gaming achievements are represented in the various cars you unlock while you progress through Bad Traffic's levels.
Bad Traffic's Mission Packs
Jumping into game play you are presented with four mission packs. You have two "save" game missions where you are tasked with managing traffic flow and two "crash" game missions where you are tasked with wrecking everything in sight. All totaled, Bad Traffic has 366 levels of play spread out across these four mission packs.
You also have an Endless Play option at the bottom of the missions packs screen. Endless Play is a "save" styled game where you have the option to choose your traffic map layout and you play until you crash.
Game Play
Each level of play for Bad Traffic sets a goal for the number of cars saved or crashed. A progress bar runs across the top of the gaming screen to reflect your progress towards that goal.
Bad Traffic Save Game
Traffic flow enters the gaming screen automatically. The "save" games require you to manage traffic to avoid crashes in the various intersections on the map. You can either swipe at a vehicle to speed it up or tap on it to bring it to a temporary stop. If cars end up colliding as they speed through the intersections, you fail the level.
The opposite is true for the "crash" games. Here you swipe the vehicles to speed up and crash into other cars. While you have a goal to reach for the number of cars crashed, you also have a game clock to worry about in the crash games. You'll need to reach your goal before time runs out or you fail the level.
Bad Traffic Crash Game
As you play either gaming mode, you will earn coins that can be used in Bad Traffic's store. The store has upgrades to existing cars, new cars to unlock, power ups, as well as the option to buy coins via in-app purchase.
Bad Traffic Collector's Club
As mentioned earlier, Bad Traffic has 366 levels of play with 14 different cities and intersections to deal with. All totaled there are 60 different cars that include the cars you can purchase in the game's store and special vehicles such as bulldozers that you cannot speed up, police cars you cannot slow down and armored cars that reward you with extra coins.
Overall Impression
Bad Traffic is a simple, fun gaming option for Windows Phone 8. Graphics are not too shabby and game play challenging enough to keep things from growing stale. Bad Traffic's gaming options can satisfy your need for a time-management puzzle game or for a demolition derby styled game.
Bad Traffic is a nice choice to help you pass short bits of time with and may even hold up to longer gaming sessions. Bad Traffic is a free, ad-supported game for Windows Phone 8 that you can find here (opens in new tab) in the Windows Phone Store.
Windows Central Newsletter
Get the best of Windows Central in in your inbox, every day!
George is the Reviews Editor at Windows Central, concentrating on Windows 10 PC and Mobile apps. He's been a supporter of the platform since the days of Windows CE and uses his current Windows 10 Mobile phone daily to keep up with life and enjoy a game during down time.
Almost a year since this was published on Android and iOS..

And herein lies the fundamental flaw of Windows Phone, 8-12 months behind the rest of the world......

Correct me if I'm wrong, but didn't wp8.1 come out just over a year ago? It was a few months old when this game came out. You can't blame them for not building for a brand new OS.

Who cares? There are already more games than I can play in a lifetime

*Waits for people to say "No Xbox,no buy" xD

Lol,yeah,then no Xbox,no download :P

Idk what's with that Xbox thing? As far as I know it's a console gaming

I really am not against Xboxwp and download Xbox games only for achievements(I have 1800 gamerscore and I don't own an Xbox) but the way some people on WP are rejecting indie games because of no Xbox live branding is very disappointing.New devs are discouraged and then people complain about lack of games on WP.
We can employ these strategies against big companies like gameloft and rovio but NOT against independant and new devs.
Rather we should CONVINCE devs like some people are convincing and recommending roguecode to have his game VALA to be published as an XBL game :)

I hope wp8.1 prevents the malfunctioning on wp. While operating the phone it sometimes vibrates and starts bing or goes to the multitasking window. I don't know if others r facing this problem. Ot might be due to the vibration when we switch back or switch to home screen.

maybe you're accidentaly hitting the back and search keys?

Lol yep that's exactly what he's doing. Turn the phone 180 degrees and you'll hit them less (i.e. So buttons aren't under your dominant hand)

hey i don't know if it will work for u ......did for me.......JUST DISABLE THE SENSITIVE TOUCH............SELECT NORMAL......

This is why it should be acceptable to allow android games to play on WP8

Nokia X FTW! Posted via the WPC App for Android!

GreenCod, if you are reading this please make this game available here in Brazil. I can help with the process.

What is exactly the problem related with Brazil not getting most of the released games?

Different classification / rating system that a lot of developers don't want to bother with

Not exactly that. They can use PEGI or ESRB to publish games in here and Russia. But most of the developers dont know that.

Hello Guilhermo, I was under the impression that the ratings were fairly expensive. However after reading your comment, I did some research on it and it appears that there are other options to get them, so I'l working my way through. It is going to take a few days before I can do an update and make it available to Brazil, but it is going to happen. Thanks for pointing it out, Alain-Daniel

Thanks Alain!! That's the why I always comeback here to ask the developers. Most of the people don't know that.
Is pretty easy to publish games in here!!
If your game doesn't have a PEGI or ESRB certificate I can send you where you can get one instantly.
Ahh, you don't need to upload the whole game to just add a certificate and change the countries of distribution. Just upload the certificate and send exactly the same .xap of the current version and then within 1 hour it will be available here. You can use the same certificate to publish in Russia.
Any doubts regarding the process you can contact me.
I already helped hundreds of developers.

Come on people stop crying...step up like a wp user full of anxiety... XD

I think that joke wont work on this post. sorry

Lol,nice reply Ahmed,I agree.This joke works very well when wpc leak a new phone but not here.Better luck next time fake satya nadella. ;)

Just saw this the other day. Its pretty good, graphics are good quality. I'm glad were starting to see more ports. Yeah there's lag, but what can you expect with a share of less than 10% in the states. The positive sign is that were still getting ports after a year meaning its harder to ignore us even though a year has passed.
Windows Central Newsletter
Thank you for signing up to Windows Central. You will receive a verification email shortly.
There was a problem. Please refresh the page and try again.