Get fresh wallpapers for Microsoft Band with Awesome Band Backgrounds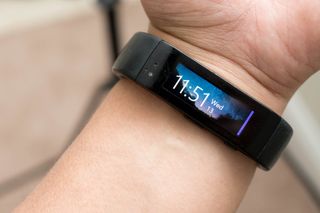 The Microsoft Health app for Windows Phone lets you change the wallpaper and theme color on your Microsoft Band, but you have limited choices. There are only 12 wallpapers and 13 theme colors. If you want more choices, there are third-party apps that can help. A new app that we like is Awesome Band Backgrounds. It includes several photos and you can crop them to your preference. Best of all, it's free. Watch our hands-on video to see it in action.
Awesome Band Backgrounds shows your current wallpaper on top when you open the app. To get started right away, tap the browse button at the bottom. You'll see nature photos by default. You can keep scrolling down because new photos are always added at the end of the list. If you have something else in mind, tap the search options on top. You can change the search terms and the order they are listed.
When you tap the image that you like, you get a preview of how it's going to look like on the Microsoft Band. You have three options. You can add it to favorites, send it to the Band now, or apply crop and filters to the image. We recommend cropping the image before sending it to the Band. The transfer takes a few seconds.
You can also change the Microsoft Band theme colors. There's a color picker to help you choose. Tap the link similar button at the bottom so you can group similar theme colors. The Theme Colors section is a nice added bonus for this app, but we barely use it. We spend most of the time in the images section.
Awesome Band Backgrounds is a great app to discover and add wallpapers to your Microsoft Band, but it isn't perfect. We often get errors when transferring images. When that happens, just restart the app. Give it a try and let us know what you think in the comments!
Windows Central Newsletter
Get the best of Windows Central in in your inbox, every day!
Still waiting for the band here in South Africa,please Microsoft do something about it.

You misspelled 'Wen' .. ;)

Amazon.in ??(India) is already selling it @25k. Also mobilefun.com (India) is selling the same @ 18k.

Priced way to much.. It costs 200dollars in usa around 12k.. :/

Yawn on all these wallpaper Band apps. All I need is Pimp My Band. How about an actually innovative and creative app, like one for tracking running intervals?

Is the band still a worthwhile buy today? Or should one wait until 2.0. Any owners want to share their thoughts?

How would anyone know when there is no Band 2? LOL.

I just bought one and I'm very happy with it. I mainly wanted the GPS tracking for bike rides without the phone. That will still do what it does even if something better comes along.

I really like mine. I bought it because I work in the field and got tired of having to dig in my pocket everytime I get an alert. i can just look at my band and decide if I need to reply. The fitiness side is just an added bonus. Just ask yourself do you need or really want it. I turn it off at night and I get about 2-3 days on charge.

With the updates coming I would still suggest you to buy.. I am happy that I bought...and now since full SDK is available I assume more apps would come..soon...

FYI - due to popular demand, I'm pushing out an update this week to allow for picking any picture from your phone. Initially, I didn't do this because there are plenty of other apps that do.

still giving serious consideration to selling mine let me know if interested it has the extra warranty period
Windows Central Newsletter
Thank you for signing up to Windows Central. You will receive a verification email shortly.
There was a problem. Please refresh the page and try again.