Axiom Verge bringing classic looks, gameplay, and MonoGame to Xbox One this year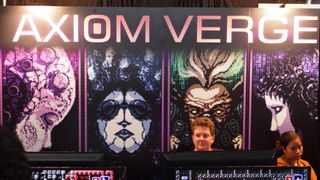 Axiom Verge launched on Steam and PlayStation 4 last year, where gamers quickly fell in love with its old-school Metroid-style gameplay and visuals. The wait for an Xbox One version has been a long one, but at last, it draws near. Read on for our PAX East developer interview and gameplay video where we discuss the Xbox One game, MonoGame for Xbox One, and much more!
Journey to another world
The game begins with a science experiment that somehow goes horribly wrong. Protagonist Trace believes that he is dying, only to wake up in a strange alien world. There a mysterious voice tells him to acquire a gun before an unnamed assailant can find him. Trace has no choice but to arm himself, discover who his friends and enemies are, and begin his search for a way home.
Axiom Verge is a Metroidvania-style game that combines exploration, platforming, and shooting. There are plenty of strong Metroidvanias these days, such as Ori and the Blind Forest: Definitive Edition. But none of them resemble the original Metroid visually like this one. Axiom Verge uses a retro pixel art style that evokes memories of Metroid and other NES games while also offering robust parallax scrolling and enhanced visual effects.
Any Metroidvania game worth its salt offers an assortment of weapons and upgrades that players can use to reach new areas and secrets. Axiom Verge goes above and beyond the call of duty there, with a whopping 23 unique guns for trace to wield against enemies. The most unique is the Address Disruptor, a "glitch gun" that causes enemies and some objects to glitch visually and behave differently. Trace can also acquire a Bionic Commando-style grappling hook, remote controlled drones, and numerous health and weapon upgrades.
Axiom Verge's NES-style visuals might lead one to expect a smaller game along the size of the first Metroid, but in fact, it's one of the larger games of this type. Trace will explore nine vast interconnected areas, each totally distinct and overflowing with secrets to discover. These areas naturally feature screen-filling bosses who guard precious upgrades. Completionists will easily get 20 hours of gameplay from this one, and the separate Speedrun mode offers a fast-paced challenge for those who seek it.
The road to Xbox One
The most amazing thing about Axiom Verge is that Tom Happ developed it completely on his own. We're talking about one of the best games in the genre, absolutely huge and loaded with polish. It took Tom five years to complete Axiom Verge, developing it in his spare time at home. You don't see games of this scale and quality level coming from one-man developers very often.
Tom developed Axiom Verge using XNA, a set of development tools used mostly for Xbox 360 Indie Games and Windows Phone 7 titles. As time went on, Microsoft discontinued the XNA program, making it difficult to bring the game to modern platforms. Thankfully, our old friend Tom Spilman of Sickhead Games was on-hand to help his fellow Tom.
Spilman heads MonoGame(official site), a framework which allows XNA games to run on other platforms. Using MonoGame, Axiom Verge was able to launch on PlayStation 4 last year alongside the Steam version (which used FNA rather than MonoGame). The same framework helped the PlayStation Vita version launch just last week (after copious optimization).
MonoGame is not available on Xbox One just yet, which has kept several XNA-reliant games from reaching Microsoft's latest console. Thankfully, Microsoft and the MonoGame team have chosen to bring MonoGame to Xbox One at last, and Axiom Verge will be the very first game to utilize it. Sickhead Games is handling the game's Xbox One port, which will be identical to the Steam and PlayStation 4 versions.
Axiom Verge (and MonoGame) should arrive on Xbox One later this year. And after Axiom Verge, a flood of XNA games like Chasm (another Metroidvania title we caught at PAX East) will hopefully follow. We'll let you know as soon as it gets a solid release date. If you can't wait, be sure to give the Steam version a try!
Paul Acevedo is the Games Editor at Windows Central. A lifelong gamer, he has written about videogames for over 15 years and reviewed over 350 games for our site. Follow him on Twitter @PaulRAcevedo. Don't hate. Appreciate!
Nice back story. I'll certainly check this out once released.

Hey Paul, would you say this game is trying hard to be exactly like games that have come before it or a totally new experience just using a familiar style?

It's pretty much just trying to be the best Metroidvania it can be, with fun little references here and there to previous games. I can safely say it's one of the best games in the genre.

I think this will scratch those Metroidvania itches a lot of folks have. I look forward to watching someone stream this.

Looking forward to this game

Hope to see many more Monogame in the future

The MonoGame thing is what I like to see Microsoft doing. It goes well with the acqusition of Xamarin and the implementation of Bash in W10. Lowering the par to MS platforms can only help the software growth.

We have alot of MonoGame fans inside of Microsoft and they help the MonoGame project all the time... even going so far as contriubuting code in some cases. It has been great working with them.

Probably my favorite game from last year. So much fun and visually spectacular!

I hope we get to see paul stream this!

Looking forward to this game, very nice!! Love Metroid/Castlevania style games
Windows Central Newsletter
Get the best of Windows Central in in your inbox, every day!
Thank you for signing up to Windows Central. You will receive a verification email shortly.
There was a problem. Please refresh the page and try again.