Millions of students could be without a laptop as they return to school
Laptop shortages will affect millions of students that will attend virtual classes this year.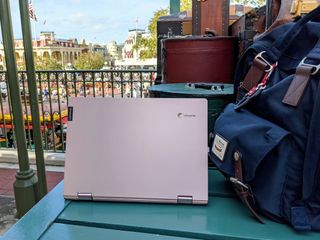 (Image credit: Windows Central)
What you need to know
Laptop shortages will affect millions of students this year.
HP, Lenovo, and Dell reportedly have a shortage of almost 5 million laptops.
Many students will take classes virtually this year due to the current pandemic.
Laptop shortages across the United States could greatly affect schools as classes start up again. Due to hardware delays, laptops might not arrive in time for the start of virtual classes. With the current global pandemic, laptops have become an essential tool for many students, even more so than usual. According to a report by the Associated Press, three major PC manufacturers, Lenovo, HP, and Dell, have a shortage of almost 5 million laptops.
The shortage is a result of several factors. The AP reports that according to interviews with over 24 schools, school districts in 15 states, PC suppliers, and computer companies and analysts, the Trump administration's sanctions on Chinese suppliers exacerbated the shortage.
Tom Baumgarten, a superintendent of the Morongo Unified School District in California, said to the AP, "This is going to be like asking an artist to paint a picture without paint. You can't have a kid do distance learning without a computer." Baumgarten's district has 8,000 students that qualify for free lunch, and most of them need computers for distance learning.
Baumgarten's district had an order for 5,000 Lenovo Chromebooks in July, but that order was "stopped by a government agency because of a component from China that's not allowed here," according to Baumgarten. The district switched to HP hardware, which was initially set to arrive by August 26, the first day of school, but that order has been delayed multiple months. Now, the district only has 4,000 laptops, which is roughly enough for half of its students.
The Morongo Unified School District is an indicative example, which is backed up by several other examples and statistics shared by the AP. The Denver Public Schools district is waiting for 12,500 Lenovo Chromebooks, which were ordered in April and May. That district has managed to obtain some devices, but will reportedly fall about 3,000 devices short, according to Laura Hussain, an IT director for the district.
Lenovo sent a letter to customers in late July, which pointed to "trade controls" as a cause for hardware delays. Matthew Zielinski, president of Lenovo North America, said in the letter, "This delay is a new development and is unrelated to supply constraints previously communicated."
Lenovo did not respond to inquiries from the AP, though a Lenovo official stated that the company had a backlog of more than 3 million Chromebooks, according to Daniel Thigpen from California's Department of Education.
The shortage affects schools and school districts across the country, including Montana, New York, Indiana, Maryland, Ohio, New Hampshire, California, and Alabama, according to the AP.
Tom Quiambao, director of technology for the Tracy Unified School District in Northern California, was told that "HP is short 1.7 million units of laptops" due to production shortages of several components made in China. Quiambao's district has an order of 10,000 HP laptops from July that will take three months to be delivered.
An HP spokesperson stated to the AP, "we are continuing to leverage our global supply chain to meet the changing needs of our customer." Dell had a similar response to the AP, stating, "We can't comment on demand and supply specifically," also adding that it is trying to "to fulfill orders as efficiently as possible.."
This isn't the first we've seen regarding laptop shortages this year. Earlier this month, we covered stock shortages for Chromebooks. Also earlier this month, Apple and T-Mobile committed to offer up to a million students iPads at discounted rates to help them learn virtually.
Windows Central Newsletter
Get the best of Windows Central in your inbox, every day!
News Writer and apps editor
Sean Endicott brings nearly a decade of experience covering Microsoft and Windows news to Windows Central. He joined our team in 2017 as an app reviewer and now heads up our day-to-day news coverage. If you have a news tip or an app to review, hit him up at sean.endicott@futurenet.com (opens in new tab).
Two very easy solutions. Go back to school knowing the risk is almost non-existent for 99.999% of students. Make PCs here so there are no China issues going forward. Life has risks, get back to school.

You forgot, get Trump out of office..

But what of the senior Profs. teaching these students? Aren't they at risk? And I should mention that these old Profs. tend to be enormous bodies of knowledge and experience, many of them spanning several decades of research and teaching. I wouldn't risk them, not at least until there's some kind of cure for the virus.

This is not rocket science, Rick DeSantis. The students can and will carry the virus home to parents, grandparents, people with relevant pre-existing conditions, and others who do NOT have a 0.02 percent chance of dying from the virus. Months ago, epidemiologists predicted a second wave starting in the fall due to a return to classes - and not just in the US. In many places learning from home is the best solution. Also, the idea that it's China's fault that there are shortages is laughable. They did better than us at containing the virus. Strategery and mixed messages from a dangerously incompetent and corrupt White House (surprise!) make things worse.

And @EyeoftheHawke gets dumbest/worst comment of the week. I'm embarrassed you frequent our site, tbh. How does someone six months on not understand (1) Adults teach and run the school (2) Kids go home to their families where older adults are (3) You can't reopen the rest of the economy if kids are running around spreading it, creating hotspots (4) We don't know the damage caused by long term exposure, even if overt symptoms don't manifest e.g. post-COVID fibrosis (6) Inflammatory Syndrome found in kids exposed to COVID. I'm truly pity your ignorance, which is purposeful this late in the pandemic.

"Make PCs here so there are no China issues going forward"

Also, stupid. We don't have the infrastructure, precious metals, place to make the chips, the displays, nor the workforce trained to do that, nor those willing to work for the few dollars they get in China, ergo today's $1,200 Ultrabook is tomorrow's $3,000 one. But go on and explain why companies left the US 3 decades ago under Republicans encouraging "free trade." If anyone should go back to school, it's you. Your grasp on immunology, epidemiology, and macro-economics garners an "F" in real life.

Anyway, been looking at lower end $500-600 laptops all week long. While I havent noticed any shortages, I will say that Ryzen 4000 series has turned into a game changer. Laptops with the Ryzen 4000 series are moving fast, especially in gaming configurations. And with the AMD selling $100-$500 less than underpowered Intel versions, its a win-win for consumers and AMD.

Suddenly the post-PC era ended abrupty. Quite ironic... Why can't all the school work be done on the post-PC phones and tablets?? Lol!!

Honestly at this point I've been wondering that myself. I feel like on avg most ppl, even kids have phones at this point even in poorer areas, but this could be living in a nice area view clouding my view. Anyway, if they're using chromebooks then they should be able to use a phone. Heck they're using zoom of all things at my lil sis school for video meeting

Unfortunately that is not the reality for everyone. I teach in a title 1 school (a high poverty school that receives federal funds to compensate the budget), and many of our students don't have access to any tech and are heavily reliant on after school programs and the public library to use the internet. But those services aren't available anymore (although the library has boosted it wifi to reach its entire parking lot making it a very popular spot) You also need to think of young children (who are less likely to have personal devices) and families with multiple children who may have to share a device meaning they can't always login for synchronous learning.

Maybe the school districts should start looking at laptops running windows instead of chromebooks, yeah, some might be more expensive. Let those that can afford it, get them. Those that can't get the chromebooks.
Then we have software, I am guessing (I don't have school age kids, so I don't know) that applications are mostly web based. Then the argument of IT at school, suck it up and do your part to help. I know when my kids go to school, I would much rather it be on a windows machine instead of a chromebook.