Back to School: Which VR headset is best for the dorm room?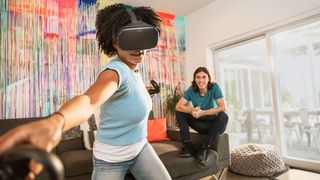 Back to School: Which VR headset is best for the dorm room?
Best answer: The Oculus Quest can't be beat. The VR headset offers users a full six degrees of freedom VR experience without having to be tethered to a computer or needing a lot of room. You can use the headset's boundary mapping system to define your playspace. Plus, Oculus Insight (passthrough) will make sure you don't accidentally knock things over or run into your roommates in the real-world.Let's go back to my dorm: The Oculus Quest ($399 at Amazon)Stay safe: Esimen Quest Travel Case ($34 at Amazon)Use protection: 100 Disposable VR Masks ($25 at Amazon)
The choice is simple
College dorm rooms are pretty tight on space, especially if you find yourself living in a triple or the dreaded quad. When it comes to choosing the perfect VR headset to bring to college, you need to consider the tight quarters you'll be living in during the school year.
You want a headset that won't take up a lot of space and doesn't need a computer. Plus, you want one that won't have a pesky cable for you to get tangled up in, and still be able to deliver a high-quality, six degrees of freedom VR experience. At the same time, the headset should be affordable because college is already expensive. It needs to offer a variety of excellent VR games that you and your friends can spend hours playing, and ways to help you study. The headset should also have a social VR component that lets you stay connected with your friends and family back home.
With all of these checkboxes in mind, the choice is obvious. The Oculus Quest offers all of that and stands out as the perfect VR headset for any college dorm room.
Oculus Quest perks
Facebook's Oculus Quest delivers an incredible full room-scale VR experience in any large open room such as a shared space in the dorms, the campus center, or even outside on the college patio. This is possible without having to be tethered to a pricey computer or any power source. You're able to step, jump, walk physically, and duck in the virtual environment as you battle space aliens in Space Pirate Trainer, freeze time in SUPERHOT VR, or when you're battling Darth Vader in Vader: Immortal.
Because many dorm rooms are on the smaller side, space is limited. If you are restricted to a smaller space, you can configure the playing area for a standing experience vs room scale so your VR experience is limited to a small standing area. You're still able to move your body freely in the VR environment, but you can't physically walk around or step side to side. This comes in handy when you're playing with a group in close quarters.
To prevent you from crashing into your roommates or tripping over someone's backpack, the Quest has passthrough technology that they call Oculus Insight. If you step beyond the designated play area, the forward-facing cameras will activate. This will take you out of the VR experience so that you can see what's happening in the real world.
When it comes to other VR headsets, such as the HTC Vive, they use two outside sensors placed in corners of the room to track the controllers in VR. This can take up precious space. The Oculus Quest uses inside out tracking to track the Quest controllers, so there is no need to set up outside sensors in the room.
The ease of the Oculus Quest
The Oculus Quest has a battery built directly into the headset that when fully charged, will give you just over two and a half hours of game-play. To charge your headset, simply plug it into a USB port or directly into a wall outlet. In about two hours, your headset will be fully charged and ready for your next VR session. When you're done playing, you can put the Quest on your desk or a shelf somewhere in your dorm. Or you can literally throw it into your backpack and take it with you to class, a study group, to a party, or at a local coffee shop.
Everything about the Oculus Quest makes it perfect for the college dorm room. As a standalone VR headset, there is no need to set up external sensors in the corners of the room for hand tracking. Plus, there are no cumbersome cables going from the headset to a computer that you could trip over. The Oculus Store has tons of VR games that you and your college friends can enjoy. As a bonus, you can use the Quest to stay connected with friends and family back at home. When it comes to getting serious about education, the Oculus Store offers a lot of great educational VR experiences.
It's compact, it's affordable, it's tetherless six degrees of freedom, and it's a lot of fun. Pizza not included.
VR in the dorms
Questing through college!

The Oculus Quest is the best VR headset for the college dorm room. Lots of great VR experiences available in the Oculus Quest store, and when not in use, it takes up space about the size of a shoebox. Switching from room scale to standing means you can play in close quarters.
Stay safe
Bring your Quest with you!

The Oculus Quest is a great way to bring VR to the dorm room, but you need a good case to keep your headset safe. The Esiman travel case will keep your headset and controllers together. It will keep it safe from getting bumped around while in your backpack or in the dorm when not in use.
Use protection
100ct Disposable VR Masks
Prevent eye infections!

These non-woven fabric eye masks will ensure you and your friends are safe from getting an eye infection while using your Oculus Quest. The durable fabric mask is soft, breathable, and works easily with your Oculus Quest VR headset.
Get the Windows Central Newsletter
All the latest news, reviews, and guides for Windows and Xbox diehards.
Bobby Carlton is a contributing writer for Mobile Nations who lives in Upstate NY and has covered events such as SXSW, CES, Tribeca Film Festival, Learning, TechLearn, Comic Con, and countless other conferences that may have the latest in VR and AR news. He's obsessed with finding the perfect backpack (it's currently the WANDRD HEXAD Carryall Travel 40L Duffel!), absolutely loves black coffee, and always willing to talk Star Wars. Follow him on Twitter at @bcarlton727. {.end}