Classic CRPGs 'Icewind Dale' and 'Baldur's Gate' heading to Xbox
Your favorite RPGs are back and better than ever.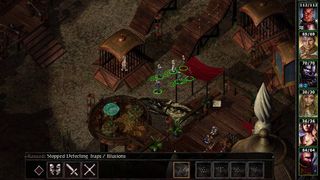 What you need to know
Larian Studios recently teased Baldur's Gate 3.
Baldur's Gate, Planetscape, Icewind Dale, and Neverwinter Nights are coming to modern consoles.
Each game will come with all DLC and expansions this fall.
The Dungeons & Dragons resurgence has done wonders for the popularity of tabletop role-playing games, and now that success is bridging the gap to modern consoles. It's sometimes hard to justify enhancing decades-old video games, but Skybound and Beamdog have teamed up to do just that to bring Baldur's Gate, Planetscape: Torment, Icewind Dale, and Neverwinter Nights to PlayStation 4, Xbox One, and Nintendo Switch.
The Baldur's Gate: Enhanced Pack, Icewind Dale, and Planetscape: Torment: Enhanced will hit store shelves first starting on September 24, 2019 in North America. Neverwinter Nights will hit the market on December 3, 2019 in North America. They will release in other territories three days after their initial North American releases, respectively.
Each will release digitally and at physical retail for $50 and contain the following according to Skybound:
The Baldur's Gate: Enhanced Edition Pack: Celebrating the series' 20th anniversary, the original Baldur's Gate: Enhanced Edition and its sequel, Baldur's Gate II: Enhanced Edition, return with all DLC and restored quest content, as well as the Baldur's Gate: Siege of Dragonspear expansion, featuring new original content developed by Beamdog to bridge the two games.
Planescape: Torment: Enhanced Edition / Icewind Dale Enhanced Edition: Two must-play games and all their DLC in one package – the chilling Icewind Dale: Enhanced Edition, plus its expansions, and the enhanced edition of 1999's RPG of the Year, Planescape: Torment.
Neverwinter Nights: Enhanced Edition: The 2002 Computer RPG of the Year and all its DLC deliver 10 standalone D&D-based adventures featuring co-op and online multiplayer.
According to Beamdog, these titles will be upgraded with "native support for high-resolution widescreen displays, controls optimized for console controllers, new standalone content, new characters and classes, new voice sets, expanded character creation options, improved multiplayer functionality, redesigns of the UI and UX, bug fixes, balance changes and more."
This announcements comes amid rumors that Baldur's Gate 3 is in the works from Divinity: Original Sin developer Larian Studios. The company had put up an image on its website teasing the number three, and while many believed this to be a reference to a possible Divinity: Origin Sin III, fans were quick to discover that the HTML code hints that it is actually related to Baldur's Gate 3, which would be officially licensed by Dungeons & Dragons makers Wizards of the Coast.
Baldur's Gate 3 has not been confirmed, but you can officially start the hype train to E3.
Classic adventures
Baldur's Gate: Enhanced Pack
Back to Sword Coast

It's been over 20 years since Baldur's Gate first released from BioWare and now it's coming back to consoles looking better than ever thanks to Skybound and Beamdog.
Hell awaits
Planetscape: Toment and Icewind Dale: Enhanced Edition
Become the Nameless One

What's better than one game? Two. This pack gives you the enhanced editions of Planetscape: Torment and Icewind Dale, featuring new content and restored quests cut from the original Planetscape.
Magic and wonder
Neverwinter Nights: Enhanced Edition
Your D&D fantasies come to life

Choose your race, class, and attributes as you go on a classic adventure following Dungeons & Dragons' 3rd Edition rules. No matter who you become, you're in for a great time.
Excellent and affordable Xbox accessories
Up your Xbox experience with one (or all) of these budget accessories, all of which are approved by the gamers of Windows Central.
PowerA Play & Charge Kit for Xbox One (opens in new tab) ($15 at Amazon)
This charging kit keeps your Xbox One wireless controllers juiced up, and it offers batteries for two controllers. At just $15, this is hands-down our favorite budget charging companion.
ElecGear 4 Port USB Xbox One S Hub (opens in new tab) ($19 at Amazon)
This brilliant little USB splitter hub attaches perfectly to the side of your Xbox One S console. It's ideal for use with chargers, controllers, headsets, and more.
Controller Gear stand (opens in new tab) ($13 at Amazon)
Proudly display your Xbox gamepads with this stylish and functional stand. The licensed design is minimalist and black, and it has a hidden storage compartment, making the price of $13 a real steal.
Windows Central Newsletter
Get the best of Windows Central in your inbox, every day!
Jennifer Locke has been playing video games nearly her entire life, and is very happy Xbox is growing a stronger first-party portfolio. You can find her obsessing over Star Wars and other geeky things on Twitter @JenLocke95.
I hope they are going to greatly enhance the graphics. BG1 is one of my favourites of all time and I bought it on Gog about 6 months ago to give it another go. But the graphics were intolerable. Go or the eyes Boo, go for the eyes!

I didn't like Icewind Dale or Neverwinter Nights much, they were too linear for my liking. Baldur's Gate though, hell yeah.

As an aside, it's Planescape: Torment. Arguably the best D and D setting and I would love a new game with modern technology that existed in that universe.

I would have been happy with Dark Alliance being made backwards compatible...