Bandsider is the new Microsoft Band social app for Windows 10 PC and Mobile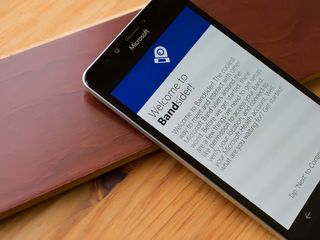 Microsoft Band owners who also have a Windows 10 or Windows 10 Mobile device can connect them to each other with the newly-launched Bandsider app. The app, from developer Liquid Daffodil, works with both versions of the fitness wearable.
Here's a quick look at the app's features:
Send and receive messages directly to and from your Band with other Microsoft Band users!
Use all sorts of helpful tools like Hydration Alerts, Tile Tweaks, and Locators!
View maps and general locations of other Microsoft Band users around the world!
Copy and paste entire themes from other user's devices!
Participate in Challenges & Competitions with other Band users in your local area, region, or even the entire world!
Get Tips & Tricks on using the full potential of your Microsoft Band!
Log your Microsoft Health Summaries to earn badges and challenges!
Customize your Band with over 1,500 custom themes!
Add handle tools directly to your Band, like checking your current location!
..and so much more!
The Bandsider app does require that users install it first on their Windows 10 or Windows 10 Mobile device that is paired with their Microsoft Band. After that's done, the app can be installed on up to nine more devices. Bandsider currently costs $1.99 from the Windows Store but the price will be going up later this week or next week to $2.99 when the app is updated with its Challenges & Competitions feature, so you might want to get it now at its lower price.
Download Bandsider from the Windows Store (opens in new tab)
Windows Central Newsletter
Get the best of Windows Central in your inbox, every day!
Sweet! Just wish I could have it for my WP8.1 Lumia 1020 device... Waiting patiently for the official upgrade to W10M

I'm waiting with my Lumia 640 xl too.
Can I ask you something?Can you tell me if your MP of your camera really matter?I mean you have a 41 MP are much better than a 13-16-20 or it's more details? Posted from my phone
Keep Calm Because P.A.O.K. You Are

The more the pixels the more the details.

Ex-1020 owner, current 950XL owner. For day-to-day camera use, I'm preferring the speed of the 950XL over the megapixel madness of the 1020. Used to miss heaps of shots due to the slooow performance of the 1020. Now, there's the occasional photo that I want to zoom and crop on the 950XL, that I know would zoom and crop better on the 1020 due to the sheer number of pixels. As for post-this-to-Instagram image quality ... I'm not really noticing much difference. If I wanted to make a poster print, I'd probably prefer the 1020.

I'm exactly the same, except I have a Lumia 950 now rather than the 950 XL. Couldn't disagree on any of those points.

With the newer updates has the post shot processing speed increased?

I *think* so ... but it seems a bit random. Sometimes the phone appears to hang if I try jumping straight to the gallery after taking a photo, but for the most part it works, and there's little delay. I'm thinking it *might* depend on the settings ... I usually get the post-shot processing message if I take a photo with the flash manually switched off, but not if the flash is set to automatic and it's actually used. I can definitely take photos quicker on the 950XL than I could on the 1020 ... I just can't always view them quicker.

This supports both bands?!

Yes, Band 1 and 2 and on any Winds 10 device.

Which of the features listed in the article appear on the phone and which appear on the Band? For example, you can't view maps on the Band can you? That's only on the phone app, right?

Yes, Although Bandsider does add some cool functionality directly to your Band, it is still limited by what the Band can do on the actual Band UI.

I won't be getting this since my band was stolen This comment was posted on Windows Central for Windows 10 UWP.

This is a cheesy name. Posted from down vote central.

I lucked out. I had $2 left in my Microsoft money I got from Bing rewards - Sent From Mars

Why not integrate this in with Microsoft Health? Seems like they are trying to compete with fitbit, but they make it more complicated.

developer Liquid Daffodil

Microsoft did not develop this...

If you have no friends or friends with Bands (the only good kind) yeah, then most social apps will be useless. Get some friends!

"Ha!" "Ouch..." "Burn...." "Nice one Dan" There, I believe I got all the responses taken care of.

Lol!!!! Omg!!!! Dude you had me rolling with this one!!!! Co-workers looked at me like I was crazy for laughing out loud. Posted from Windows Central for Windows 10
Using My Beastly 1520

Soon? You'll have friends. Posted via the Windows Central App for Android! (Nexus 5x)

First they need to figure out how to get Windows 10 mobile 14283.1000 to play nice with the band

Mines world perfect om my unlocked dual sim I had issues with my att branded until I hard reset, and syncs perfect on my band

No need to be antisocial, should have an app for ios and android users too.

Just downloaded the app, and then spent 30 minutes to figure out how to pair my win10 laptop with my MS band, but without any success :/ So now I have to wait for my L920 to get the update. If*

Norbert, If you email the support email address for Liquid Daffodil in the app listing we can help you do this…it's a bit of a pain, however we've had to do it a number of times. We'd love to help!

It can be done in many ways. Let me copy paste the Guide form my UWP Band game tutorial:
"Microsoft Band must be paired to this device. If it's the device that you usually keep paired with your Microsoft Band (like your phone) then you don't need to take further actions." "If you want to play this game on a device to which the Band is usually not paired (e.g. you use your Band with your phone but you want to play on your PC or tablet) you'll have to follow these steps:" "1-COMPLETELY Turn off bluetooth on the device you want to disconnect form" "2-If the device you want to connect to remembers your microsoft Band REMOVE it from the list of Paired devices" "3-On your Band go to Bluetooth settings and click on Pairing" "4-Pair the device with the Band by accepting the pin number" "5-(Optional) only for full Windows 10 devices you should disable power saving settings for your Generic Bluetooth radio, you can find it in the Device Management panel." "6-Start playing! And remember that if two devices paired with the Band have Bluetooth turned on they will make the game disconnect!" And while I'm at it let me promote the game a bit :) , it's called "Horror Fists For Band"

Do you have other apps under a different publisher account? I'm sure I've seen your other apps listed under Paolo Ferrazza too

No my developer account is Nemo Labs: Anti Theft Band Alarms, Horror Fists For Band, Sex Tranier For Band, Sort My Stuff ! . 3 apps for band (I started out of curiosity when the first band SDK was released by MS and I liked it), 1 general purpose Utilities app. You may have seen them in the app spotlight on this forum though and I post with my name on this forum.

Thank you all for the support. Will try fixing it tomorrow!

I've been a beta tester for this and the developers are awesome. I mean, I already knew they were awesome with Fan Band!
They seem committed to making this even bigger and better. Get it now! :)

You can guarantee that the app will be of better quality than the bloody band! On third one now! Even third replacement is blistering on batt cover! Pi$$ poor. I'd love to buy this app, but it would be no good until MS can get the quality of the band of merchantable quality, fit for purpose and whatever else I can find to add to the email to trading standards!

Are you rocking a v1 or a v2?

This link is not active, please inform the webmaster. If you are the webmaster please contact your local TradeDoubler Support. TradeDoubler

Hey guys ! Where I can find info about the activities supported by the Band(s) ? (Specially the Band 1, which I am considering to buy.)

@FHilarlo If you can, go for band 2, much better fit (I upgraded from band 1) better looking and more confortable. And firmware still updated (not band 1 anymore). Main difference between band 1 and 2:
- price
- better screen (curved OLED and slightly bigger on 2)
- Gorilla screen (band 1 had a lot of scratch and needed a screen protector)
- Smart vibrating alarm (with repeating for once, workdays, week end etc)
- display time when you rotate / lift your arm (band 1 only "on/off" all the time).
- GPS power saver (battery saving for 4+ hours GPS tracking, for marathon, long walk /bike).
- Auto pause (when you stop running at a traffic light for instance)
- Music control from band (windows phone only?), play , pause, track name, next/previous, volume up/down
- more features to come via firmware upgrade (not anymore for band 1). Main activities ("tiles") you can turn on/off on the band
- Fitness: run (or walk), bike, golf, exercices (log only), guided workout, sleep (with smart alarm on band2)
- "smart watch" feature: Cortana voice control + keyboard (windowns phone), notification, sms, emails, calendar, facebook, facebook messenger and an other notification your phone can receive. The guided workout is a pretty good feature for fitness. https://www.microsoft.com/Microsoft-band/en-us/support/health-and-exerci... From the Microsoft health web dashboard, you can chose from predefined exercices (beginner to advanced, per duration, per type of activities etc) and/or can even create your own combination of exercices (ie chose from a vast choice of exercices (with video showing you how to do it), chose the number of rep, distance, for each etc)... you can save and share your favorites. I created my own from the training plan of the gym... This covers most "cardio" activities (running, walking, rowing, cycling, X trainer etc) and strengh (all upper and lower body with weight, resistance machine or no equipement (your own body weight)). Once done, you sync with your phone (launching the app) and upload the exercice to your band... During the exercices, the band will guide you and record what you are doing, ie number of push up for instance etc). I have been using the band as my main watch since the launch of band1 and never looked back... Initially purchased for its "smart watch", GPS and HR features, it encourage me to get more into fitness and lost weight and gain stamina by the same process... if you are into the "social" fitness aspect, there are some alternative to fitbit which support the band, for instance www.inkin.com Band 2: Highly recommended... Tony

I will probably upgrade to the band 2. Mainly because just few days ago, my band 1 wouldn't turn on anymore. I just woke up, and nothing. I've had it since last august, and it didn't even last a year.

I never thought of the idea of paying for a social media app... I'll pass.

Is there a trial version? Time-limited trial would be nice.

Where is that QR code reader gone in WM10?

I have this one pinged to my Start screen: Scan - QR Code and Barcode Reader https://www.windowscentral.com/e?link=https2F%2Fclick.linksynergy.co... Posted from Windows Central for Windows 10

Same here - shame this is missing from Cortana.

downloading now - ive always wanted some fitbit like competition apps this looks promising !

Mine doesn't start just says no connection available any ideas

Looking over the screen shots it seems like something Microsoft should have included in the Microsoft Health app. Maybe thats what the creators are hoping is that Microsoft buys them and integrates it, who knows.