Bang Bang Monsters, keep the sheep safe with this Windows Phone arcade game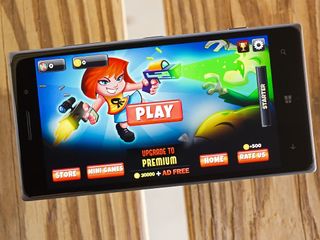 Bang Bang Monsters is a Windows Phone arcade game where you must protect your herd of sheep from an alien invasion. You play the role of a farm girl, who is armed to the hilt with an assortment of nasty weapons who must take out a wide assortment of alien monsters who are intent on devouring her sheep.
The game has five gaming modes, two mini-games, six bosses to smash, and over fifteen gaming achievements to reach. Graphics are good, game play challenging and Bang, Bang Monsters makes a nice first impression. The game is available for low-memory devices.
Bang Bang Monsters has a simple main menu with options to play the game, visit the gaming store, play the mini-games, a home button (more on this in a second) and a link to rate the game in the Windows Phone Store.
The home button will send you to another menu that offers access to your gaming achievements, game settings, your player profile (game stats), online leaderboards, the gaming store and a weapons list. Settings in the Home Menu cover any special abilities you unlock from the game's store.
Speaking of which, the game store offers purchase options for special weapons, abilities, spin cards for mini-games and for keys to unlock gaming modes. Purchases can be made through coins you earn during game play or through real world cash.
Game Play
The goal of Bang Bang Monsters is to protect your herd of sheep from an alien invasion. You have a wide assortment of weapons at your disposal that range from a handgun to a plasma rifle.
Bang Bang Monsters has five gaming modes. Three of which are available with the free version and three additional modes that can be unlocked through in-app purchases. The included gaming modes are:
Challenge Pack: This is a standard game that includes over fifty levels of play where you have to protect your sheep. Each level progressively becomes more challenging.
Party: This mode resembles more of a tower defense game where you choose five weapons types to remotely place around the gaming field to protect your sheep.
Survival Mode: See how long you can last against endless waves of alien invaders.
The additional gaming modes include a hardcore mode, a local multiplayer mode and an additional challenge pack.
Game mechanics are simple. In the gaming modes where you have a character to control, you swipe up/down at the screen to move the character up and down, tap the screen to fire your weapon and swipe left/right at the screen to change your weapons.
In the Party mode, you select five weapons types at the beginning of the game to use in defense of your sheep. They will be displayed at the bottom of the screen and when tapped, you can place them on the gaming screen to defend your sheep. The weapons fire automatically as aliens come into range, much like you would find in your traditional tower defense games.
In all the gaming modes, the aliens will enter the gaming screen at various spots across the screen from your sheep. As you blast them into smithereens, some aliens drop ammo supplies that can be collected by tapping on them. At times bonus weapons or coins will fall from the top of the screen that can also be collected by tapping the screen.
Some aliens require multiple hits to go down, they will vary in speed and some will even shoot back. If your character gets hit too many times (a health meter sits in the left corner of the game screen) the game will end. Should an alien get past your defenses, they will gobble up the sheep in front of them. Run out of sheep and the game ends.
Ammo is limited (hence the need to collect spare ammo from dead aliens) and should you run out of ammo and have additional weapons in your pocket, you can swipe left or right to change your weapons. You can also change weapons should you need something in your arsenal with a little more punch.
Mini-Games
There are two mini-games currently available with Bang Bang Monsters. One is a matching game where you have to find all the matching cards and a spinning wheel game of chance. Both games afford you the opportunity to win bonus coins. The spinning wheel game does require a spin card to play that can be earned during game play or purchased in the gaming store. On top of the mini-games, to help keep Bang Bang Monsters fresh the game is updated regularly to add additional levels, game modes and characters.
Overall Impression
If you like tower-defense styled games, Bang Bang Monsters is a fun variation on the genre. Graphics are nice, game play is a little on the slow side but challenging and the mini-games can help boost your coin count.
I did find that it took a little time to get used to the movement mechanics. You are inclined to swipe on the character to move them up or down the screen but you can swipe anywhere to prompt the movement. You also may be inclined to shoot at the ammo clips or bonus items that appear on the screen to collect them. Just remember to tap these items to collect them.
Overall, there's not much to complain about with Bang Bang Monsters. I found it to be an entertaining Windows Phone gaming option to pass the time with. Bang Bang Monsters only has a few reviews in the Windows Phone Store that rates the game at 4.5 Stars. I would lean more towards 4 Stars but won't argue too much over the half star difference.
George is the Reviews Editor at Windows Central, concentrating on Windows 10 PC and Mobile apps. He's been a supporter of the platform since the days of Windows CE and uses his current Windows 10 Mobile phone daily to keep up with life and enjoy a game during down time.
A movie name in Bollywood

Hope this is not another pay to win game...

Unrelated: Does anyone else have a bug in their WP8.1 Denim where you open a random app (Facebook, Poki, Files, Reading List, Skype etc.) but the app does not close itself after you exit it? And you have to long press the back button to switch to task mode and manually shut it down. Been there for a long time (before Denim, but after 8.1) for me and I've never seen it mentioned.

That's how the WinRT apps supposed to work.. The back button won't exit the app. Instead it will be suspended in the background.

Is not a bug, is how WP8.1 compiled apps works now. Much better this way.

Yes thats not a bug.. Some kind of apps has that feature which makes it to run in background even when we press the back button.. I think u r new to windows phone...

Tired of these games. I want some big games. Xcom, real racing 3, shadowgun, NBA 2k15

Even bioshock . Available on ios. And premium games should definitely come to windows except ad based freemiums. Somebody please keep emailing those 2k games , ea, madfingergames developers.

Congratulations to all 3 year old wcentral readers out there! =D

It look like Plant VS Zombies but with a cartonish chick instead of plants.

n with the ads on d top :D

Yes, Plant vs Zombies was the game that it immediately reminded of.

Bang Bang Monsters: Christmas Edition now available in Windows Phone Store. http://goo.gl/dBpTCw
Windows Central Newsletter
Get the best of Windows Central in in your inbox, every day!
Thank you for signing up to Windows Central. You will receive a verification email shortly.
There was a problem. Please refresh the page and try again.