'Basket Ballmer' sees the ex-Microsoft CEO aim for the hoop, literally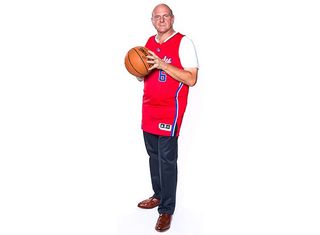 As the owner of the LA Clippers, Steve Ballmer is now focusing his attention on bringing the Larry O'Brien trophy to Los Angeles. Bloomberg Businessweek is running a feature on the executive that offers a glimpse into his life after Microsoft, and his passion for basketball.
Ballmer admits that there is a lot of work to be done before the Clippers can achieve success:
Ballmer has already mentioned that he was veering players away from using iPads to a Windows-based tablet, and is looking to further integrate technology into the team's training sessions.
For the feature story, head on over to the link below. It's an interesting read, and comes with a great cover photo:
What do you guys think of the image above? Got any interesting comments? Do your thing below.
Source: Businessweek; Via: The Verge
Windows Central Newsletter
Get the best of Windows Central in your inbox, every day!
Harish Jonnalagadda is a Senior Editor overseeing Asia for Android Central, Windows Central's sister site. When not reviewing phones, he's testing PC hardware, including video cards, motherboards, gaming accessories, and keyboards.
I always thought Ballmer was lame.

He's found his thing. Can't hate him for that.

He looks ridiculous with that overly long shirt. Why is it so long?? Looks like a creepy old man wearing a woman's dress with pants below.

Because its deandre jordans jersey. He's 7'0.

Seriously?
I thought a chef is going to make something incredible with the pumpkin in his hands.

Basketball jerseys are like that. They are supposed to be tucked into the shorts.

ooohhhh look he is so funny I can't imagine Ballmer with basketball that's ridiculous

If he is the technological advisor for the team, the team should give him advice on how to wear this shirt!

Unfortunately for Steve that does not look photoshopped!

L.A.M.E. = LOVED AND MADLY ENTHUSIASTIC

Basketball! Basketball! BASKETBALL! The man is excited about his team and Rich! Can't ask for a better owner. Clippers! Clippers! CLIPPERS! I'm not even a Clippers fan and I'm excited to see how they do.

Such a strange man. That's why he's great, though!

He looks bad, but at least he's promoting Microsoft..lol

Are my eyes deceiving me or has he lost weight or is it the long clothes?

yes YES YES!!! ...ahem...

I feel like more people on here are starting to like the Clippers just because of Ballmer. If that is true, REALLY? :-/

LOL at that stock photo! Go head B! Live the dream man, if I had own a team money and the opportunity presented itself, I own that team.

I don't think this guy can do anything right. But for Clippers, I guess he's the lesser of two losers.