Steve Ballmer wants to dump iPads for Windows devices for his new LA Clippers team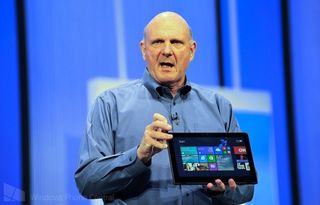 Former Microsoft CEO Steve Ballmer acquired the Los Angeles Clippers NBA basketball team in August, but he's still a big promoter of his old company. In a chat with Reuters, Ballmer confirms that he wants his players and coaches to use Windows products.
Ballmer related a recent conversation he had with LA Clippers head coach Doc Rivers, stating, "It's one of the first things he said to me: 'We are probably going to get rid of these iPads, aren't we?' And I said, 'Yeah, we probably are.' But I promised we would do it during the off season." We would bet that Surface tablets would be number one on Ballmer's wish list for his new team, which he acquired for $2 billion.
Ballmer departed Microsoft as CEO in February, and left its board of directors in August, but he still owns four percent of the company's stock that's currently worth $15.7 billion. In today's article he seemed to agree that Microsoft might have made some mistakes in its mobile devices strategy while he was head of the company, saying, "And do I wish a higher percentage of today's mobile devices were ours and we had birthed that category? Yes, of course I do."
What do you think of Ballmer still serving as a champion of Microsoft even after his departure?
Source: Reuters
Windows Central Newsletter
Get the best of Windows Central in in your inbox, every day!
I'm glad Doc Rivers understands that this guy breaths & lives Microsoft.

I knew something good would come out of this.

Good old Balmer. Allegiances always get my respect.

Ballmer indeed and probably will always his company! Kudos! Shows the passion.

This company is his heart and soul, he'll always pull for Microsoft...

Duh. Ballmer's hands would burn like Dracula touching a cross.

Lol!!!! You're right about that!

Hah! It was almost like that for me. Just using Safari on my iPad 3 and my iPhone 4s was making me die a little each day. I sold the iPad and gave away the iPhone when the Surface RT and Nokia Lumia 920.

LOL! so true. ballmer's to ipad is superman to kryptonite.

Well he still owns stock so it makes sense to use the products Posted via Windows Phone Central App

Of course, but at the end of the day it's about the best device (and price). All too many people buy iPads because they are cool; without really weighing up the pros and cons of the device and whether it can do everything they need. Most times I'd say a Windows device would be the more productive and useful option. It is still a little early for a mass adoption of Windows in favour of iPads though, the Surface Pro 3 is amazing and all, but it is expensive. Once there's a Surface with Windows 9 (merged RT/WP not full Windows) that undercuts the iPad by a couple of hundred dollars people looking to upgrade should go the MS route.

I work for a VERY large company I wont name. They went all in on iPads solely based on popularity. It has been nothing short of a disaster. You might as well be trying to perform the same tasks on a iPod.

and I bet ya one stupid douch hippy exec made that decision because he placed his own *blind hippy and brand loyalty* ahead of your company's actual needs and requirements making your company spend unnecessary company funds on the iCrap.

Tell us how you really feel. Don't hold back.

This happens. I work for a SMB (about 90 employees total) so our investment was much smaller, but we bought a bunch of iPads too. I work in IT so I get the complaints all the time like :"I can't multitask" or "spreadsheets don't work well on this". I tried pushing for SP3's or even SP2's. And fast forward a little bit and we've already purchased a few SP3's and are "testing them out"

That happened to me while providing IT support for for a small company. I brought my Ssurface Pro every day there. They were ao impressed they wanted to get it and replace their iPads...except the iPads were laser engraved *facepalm*

Funny that's made me chuckle

I work for a huge WW company and an arm of our company went google docs and email. Let's just say they are going Office 365 like the rest of us. In other news a user brought a Surface 3 in the work and I got a ton of work orders from the higher ups that week. I mean if you travel a ton I can't imagine a better product then the Surface 3.


Heading these stories brings a tear to my eye. My company had to gone to iPad. With custom applications it is great but a Surface could have done everything we need right out of the box.

ipads may work for retail stores for POS purposes, but if a large corporationt that chooses ipads are in for a rude awakening, the ipad is not a productive machine, it is a consumption machine. Any company looking for mobile should go with surfaces.

Sadly, at my WW co, "mobile" is code for iOS. We could do all our in-house mobile app work faster and less expensively (coding, devices, and post-rollout support) if the people with the purse would pull the iBlinders off. A proof of concept would be easy; ensuring office politics don't turn on me as a result of what would likely be viewed as an unauthorized project is not.

Can you suggest a few good articles summarizing the benefits, especially in code development and possibly MAM? Thanks!

The school system in which I teach went all in with iPads as well...then we all learned that they are not nearly as useful as they were envisioned to be. And I'm glad about that. lol

My school went all in on chrome books and Google docs-_- lets just say I hate my life.

I own a small but very busy computer business, where I build desktops and repair pc's.
I bought 2 Surface 2's one for my business and 1 for my wife which she is a nurse and goes to school and she loves it for the office to do her school work, and she loves the fact that her work on office show's across all her devices including her 1520. I use mine for office to print out receipts, and open PDF files, place orders from my suppliers.
I love it best purchase ever.
My wife has a friend that's a nurse, she had a laptop with 8.1, bought a iPad gave her laptop to her then boyfriend. Now she found out she can't do her school work.on her iPad, she wants another PC back. Gonna talk her into a surface.
I'm selling the Surface 2 all 3 32 GB, 64Gb, 64 GB W/LTE AT&T same price as MSFT.
Glad to see Steve is right on top of things. WTG Steve YOU ROCK :D.

Lol... Well how many of his team members have a working iPhone since the lovely update to the recent iOS update. Now we has a Microsoft basketball team pushing windows devices... Good call Steve!!!

Right. Because MS has never had a train wreck of an OS update. Please.

Should have stayed as CEO.

Dude he has messed up Microsoft too. Though he loves Microsoft. If possible he can still do the rest of the marketing for Microsoft

Difference with him was, he would have given WP and Windows/Surface equal footing with other platforms. Nadella is on record as saying WP marketshare doesn't matter. Ballmer felt differently, just his execution was poor initially but got better before he left. From conversations I've had with MS employees at my work WP is not seen favorably in some quarters in Redmond and one day could be out with the new focus on the competition.

Ballmer your a windows fanatic.love your enthusiastic attitude towards windows.

Just wish some of that would rub off on Satya "Windows last" Nadella.

If anything Satya Nadella revamping Windows to a new level integrating the Windows platform into everything, phones, tablets, PC, Xbox, etc. While still making it mobile and cloud-friendly.

Seemed likely. If the Surface Pro can work for the NFL, I'm sure they can find a way to use it in the NBA.

Maybe the NFL will get their announcers on board so Microsoft won't spend millions and have their devices still called "iPads."

...enjoys Nutella? I'm not sure where your post of solely just one person's name was going so I added to it! :P

one thing you could always say about balmer was that he really loved being at microsoft and did what he thought was going to make them succeed plus he's just so full of energy i wish i was on what he has

He's all about that Bill Gates money

It's in his blood. Good call!

Surface > iPad so it makes sense to me. Also like others have said, his heart and soul are with Microsoft.

A good move regardless of who it is. Ipads are crap in comparison.

Ok. So we have NFL and an NBA team supporting Microsoft. Wotwot!!!

NFL is paid to use Surface, its Microsoft advertising the Surface. Good strategy, but I'm sure the NFL will go with who pays more now that they know its revenue potential. Apple may not want to associate with the NFL right now, but Samsung, they'll steal anything.

The NFL paid Microsoft $400 million for surface.

You've got it backwards, I believe. Pretty sure Microsoft paid the NFL $400 million, also known as 4/25 the cost of Minecraft.

I was thinking about this in the morning Microsoft choose nfl for surface they could have partnered with clippers. And now this news I superb

Lol still a loyal cookie. Satya can learn from his passion.

Microsoft still has the scope to be market leader in tablet market with full windows 8.1 coz. IPad is expensive. Android tabs are useless. And full windows 8.1 tablets can win the game.

And the Pro 3 isn't expensive?

SP3 isn't the only windows tablet you know.

if you compare it to other windows pcs like ultrabooks, and other windows tablets, yes it's expensive. but compared with iPad (because this article it's about how Surface will replace ipads) then no, because what you can do in one thing vs the other, and being the price not so different, then no. it's not expensive compared with an ipad.

My man "Ballin" Ballmer. Microsoft all the way.

Which means the current shares of Microsoft are worth around $395.5 billion. That's VERY HUGE.

This year the market capitalization of google more of Microsoft but profit of Microsoft is more. Just imagine how Microsoft makes money with enterprises. And if windows 9 is a hit then its a huge blow to google again. Threshold.

The threshold is real y'all

Microsoft is the one and only company capable of delivering perfect products in all aspects. Users just need to adapt to it. No question of any Google, Apple or Sony, then. They all just deserve to be merged into Microsoft.

Sorry that isn't true. wp is not perfect nor is windows. While they both are very good, they are far from perfect in all aspects. Posted via Windows Phone Central App

Wait, even though he said it, was Doc for our against getting rid of iPads?

Well, it's not like that matters. Ballmer is the boss, if he says the Team will use Surface tablets, the team will use them, period. Lol

It matters in the sense of if Doc (a damn good coach) wants to get rid of them then he could influence other coaches as well

That's not really the way it is. . He may dictate to the staff, but can't do anything about the players using them, unless specifically stated in their contracts. That would fall under endorsements which the players have control of. Posted via Windows Phone Central App

Doc tells the Mavs coach in a friendly conversation that he thinks the Surface is a little faster and helps him draw up plays faster. The coach informs Mark Cuban.... You know Cuban is spending that money to swap them out. All it takes is word of mouth from a buddy to get the train going

He just needs to draw plays on it. The pen on the SP3 is better than any of the capacitive pens available for the ipad. They'll show it to him in the offseason and I'm sure he will be fine using it.

Miss you Steve MS isn't the same without you

I am no Ballmer but I love Microsoft as much as he does. I should have at least helped a lot of people switch to windows and I am proud of it..

I really like your attitude.. I also love Microsoft and try to introduce Microsoft to the other peoples.

Same here. I'm a Microsoft fan since windows 3.1. I hate when somebody talks against Microsoft or its products.

That's why we are the Wippys (wpfans, wippys sounds cool for a wpfan)

Espically when its people using apple products. Went down that road once and it was a horrible user experience.

Great to see continued support unlike Sinofsky.

Good move Ballmer, good move...

If only we can get Ironman and Jarvis to be powered by windows 9.... Maybe the next step :P

That made me giggle. I love it!!

Maybe he will stomp on all those stupid talking sports heads who have been calling the NFL Surface machines iPads. Give the man a chair, ala Bobby Knight.

Now Doc can draw up plays effectively on the Surface Pro 3.

Awesome... It's Microsoft NBA team..

Steve Ballmer - the man, who so many users here abused and looked down upon - still pitching for Microsoft. v/s Nokia - the company so many loved as if it it was your girlfriend - didn't hesitate for a bit to go and bed iOS and Android with its map services after the breakup.

WP is NOT Nokia's responsibility any more, nor should it ever have been. If Microsoft can't be bothered to support WP properly, why the hell should anyone else? The sooner MS realise this... And actual act on it, the better for everyone. Lead by example ffs.

Awesome news!! That's what we need! Nice to see Ballmer still on team Microsoft lol. I was hoping he wouldn't get sucked in by the fake hollywood blindly use apple mentality. If he can pull this off it will be some nice brand recognition for Windows.

He owns 4% of the stocks.. Of course he will promote Microsoft.

I love this !!! Just wish the Blazers would do the same thing I live in Portland I love Microsoft and the blazers just don't understand why Paul Allen is not on board

Great call... Especially since that great commercial for the NFL and Surface came out.

No thanks.. Lumia + ipad + my win8.1 pc are perfect for me

ROFL. A strange move if it were anyone else, but it's Steve. As long as he doesn't pass around Rosaries, I suppose it is also a safe move. This is a win for the team, clearly /wink. This is also good indirect of promotion - if team members and staff are shown using these products. I really miss Ballmer, not because Satella is any sort of problem. I just appreciated his Howard Dean craziness.

He is the looser comparing to Steve Jobs and Apple.

"Looser"? Looser than what?

That Microsoft doesn't drop the first tablet, e.g. the original Surface, before Apple drop it to the public.

Good that he realised his mistake....

Could always give the players Windows Phones, too. :P

Great business ❤ move, I love Ballmer, developer, developers, developers

Awesome sell all of those crappy apple products and buy nice surface pro's for everyone :D

Okay for now, but the whole NBA should switch too.

i knew this was gonna happen. and i love this move. he should promote windows to the fullest on his NBA journey. including xbox one

promote windows phone ,windows, surface, xbox one. awesome!

Not a surprise considering he ultimately signed off on the Surface project. Unfortunately it (and Windows Phone) caused him to lose his job.

The whole NBA should move to SURFACE..
NFL already did it...

Ballmer that Billion dollar Trojan horse. Yes!!

Good. Ballmer will always stay as one of my fav MS CEOs, unless Satya really does something to improve WP and the WP market share.

Nice! I like thanks idea a lot

wasn't this obvious? Ballmer it's the largest and greatest MS shareholder... I am sure, it was expected, also being really close to MS, and ex-CEO and all, he can get them cheaper, get better deal than anyone else. so yeah, I always thought Ballmer would do this, and I expect to see more MS stuff around Clippers. people also received well, his presence as new owner when he was officially presented to people, on a monday and on august. so I really can see if the Clippers fans using Microsoft products and not iphones. who knows about that, but it would be a nice thing if Ballmer can win people over MS products being happy owning a NBA team and all.

Hell yeah! What else was expected??

If its good enough for the ISEA (international space exploration agency) why not Steve.

Go Clips! LOL. Nah, Lakers all day.

Developers, developers developers, developers developers

Cooool, with the surface pro 3, all their in-game needs will be met..

This is really good. Maybe it will help get windows os get more apps

Ahhhh... Soon to be The Official Device Of The NBA!!!

Respect to him! Much better CEO than the current twit at Microsoft now.

Looks like a good deal to me. Trade in your itoys for a real tablet.

Great stuff!! Keep it up ;)

It annoys me to no end people buy apple products because of marketing spin apple hasn't innovated in years Microsoft has been coming out with new great ideas/products but honestly whoever is marketing their products needs to be shot the surface, windows phone xbox one all fantastic but the general public don't see that and it upsets because I know they are great I use them and even the tech community seem to only Care if its apple or Samsung

Apple hasn't innovated since Woz left the company. Everything they show off as their innovations was done by someone else before. Apple's greateness is picking the right time to build these products (they wait for the technology to be mature enough and for others to make the mistakes) and marketing (Jobs was probably the best PR/marketing person in tech, ever...)

That might make it hard to get superstars to join the team

He should install an XBox One in their dugouts(?) and players should only Play Dance Central Spotlight on it... and Forza and and... :D

Steve you used an iPAD ! Common Steve, Surface Pro is a better tablet / laptop !
Windows Central Newsletter
Thank you for signing up to Windows Central. You will receive a verification email shortly.
There was a problem. Please refresh the page and try again.