Steve Ballmer wants to dump iPads for Windows devices for his new LA Clippers team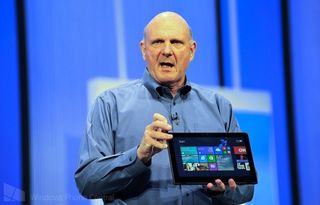 Former Microsoft CEO Steve Ballmer acquired the Los Angeles Clippers NBA basketball team in August, but he's still a big promoter of his old company. In a chat with Reuters, Ballmer confirms that he wants his players and coaches to use Windows products.
Ballmer related a recent conversation he had with LA Clippers head coach Doc Rivers, stating, "It's one of the first things he said to me: 'We are probably going to get rid of these iPads, aren't we?' And I said, 'Yeah, we probably are.' But I promised we would do it during the off season." We would bet that Surface tablets would be number one on Ballmer's wish list for his new team, which he acquired for $2 billion.
Ballmer departed Microsoft as CEO in February, and left its board of directors in August, but he still owns four percent of the company's stock that's currently worth $15.7 billion. In today's article he seemed to agree that Microsoft might have made some mistakes in its mobile devices strategy while he was head of the company, saying, "And do I wish a higher percentage of today's mobile devices were ours and we had birthed that category? Yes, of course I do."
What do you think of Ballmer still serving as a champion of Microsoft even after his departure?
Source: Reuters
Get the Windows Central Newsletter
All the latest news, reviews, and guides for Windows and Xbox diehards.