BBC Podcast Lounge 1.4 Update - Exclusive Video Preview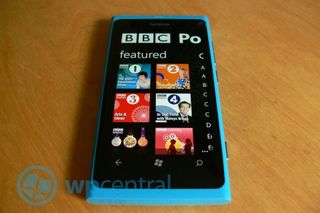 During last night's WPUG meet in central London, we got a chance to catch up with Richard from Igneous Software. BBC Podcast lounge is a must-have app for those that want to catch up on all the amazing and free content from Auntie Beeb. Richard was able to give me a quick walkthrough of the latest update that is currently in testing.
The current app is great but with this update, Richard looks to be taking a logical and very welcome next step. From 1.4 onwards users will be able to subscribe to podcasts. Great news, even better is that it offers options to keep up to 3 podcasts of each. That is very similar to the options presented on the Zune desktop client. Whilst the Zune music hub in Windows Phone is great, it's not possible to subscribe to podcasts or even browse and download manually. The only way to get podcasts on your device through Zune is to first connect to the computer, subscribe to the podcast and then sync with your phone, once that's done it will grab them. It's a far from convenient solution, something better needed to be found.
For the latest version of the app, it will be possible to not only subscribe but you won't need to be in the app for the downloads to complete, they are now going to run in the background on a schedule. The schedule will depend on a few things and in Richards own words it will follow these rules.
It will be opportunistic – running when the following conditions are met:-

External Power Connected
Battery over 90% full
Valid Wi-Fi connected
Screen locked
No active call in progress
Personally, I'm an avid fan of the BBC content, the podcast lounge wraps up all this content into a nice, easily navigable package. I look forward to trying the new update as I often forget to subscribe to things. If you haven't got the Podcast lounge for yourself, what are you waiting for? You can download the Podcast Lounge from the Marketplace
Get the Windows Central Newsletter
All the latest news, reviews, and guides for Windows and Xbox diehards.