BBC releases official Top Gear app for Windows Phone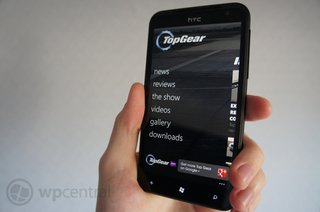 The BBC, responsible for a a number of entertainment sources, has released an official Top Gear app for Windows Phone. Should you be a fan of the motor series you'll want to check out this beauty. The app sports an intuitive interface, which is rich in Metro goodness. So what can one do when using the Top Gear app?
From checking out the latest news and reviews, users can check out videos and galleries for a multimedia experience. Clips from the popular TV show can be viewed while reading up on the latest rants and opinions from the trio of driving action. As well as the usual integrated services, those who use the app are able to check out behind the scene exclusives from the team, not to mention previews of upcoming Top Gear related news / media.
When viewing videos, the multimedia can be downloaded and saved locally on the Windows Phone for journeys with little signal, or to save the pennies by preventing the data allowance being hit.
You can download the Top Gear app from the Marketplace for free. Thanks everyone who tipped us!
Rich Edmonds is Senior Editor of PC hardware at Windows Central, covering everything related to PC components and NAS. He's been involved in technology for more than a decade and knows a thing or two about the magic inside a PC chassis. You can follow him over on Twitter at @RichEdmonds.
My 14 yr old son has been waiting for this. With all the stuff on TV in the US I love that a UK car show is his favorite.

yeah that's awesome. I'm the same way.. born n raised here in the good ol' USA and I just love this show! the US version just doesn't have the same charm as the original despite better production values.

I wouldn't be sure on TG:US spending more money, these three alone (without the cost of the actual show) are in the top 10 paid tv 'personalities' over here.

Yeah the BBC version absolutely destroys the us show. Those guys are like three pieces of wood together. The worst. Im so so so happy we got this app!!!!!!!=)=)=)=)

Good to see BBC commit a bit to the platform. I hope we see an official news app around the corner.

I really wish people would stop asking for an official BBC news app considering the quality of the one in the marketplace is so good that it might as well be official, but just because it has the word "third party" in it there are a lot of goons who won't go near it. Hell, I wish BBC would just approach the dev and ask to put the word "official" onto it just to shut people up.

yes! thank you. our '3rd party' BBC News apps is one of the best on the platform and a lot better than the official ones on others

Firstly, chill, I'm also a consumer and have the right to ask for products. Secondly, as good as the third party app is (I use it too), an official app would likely offer a lot of additional functionality that is of use to many mobile BBC readers. Comment, watch news clips, access specific shows and segments, etc. For WP to succeed, it needs the official apps as they'll likely offer the more optimal user experience (not always, but it seems the WP CNN, TIME, etc. apps are doing pretty well). That said, I hope BBC does contact the 3rd party dev to support the project, it might even save on time and some of the groundwork.

Wow, really ? Another must have app. I love this show.

Wow, a great memorial day weekend present from the BBC. Never thought I'd say that ...

What can I say... This app is a Top Gear top tip! :)

At last!!! A none Nokia exclusive we can all enjoy :)

Finally! Something that I'm interested in! I like cars, motorcycles, and music production. Now we need some music production tools from companies like Akai, Albleton, and Boss.

I was so surprised to see this app!! Sweet!

Great app but with lots of limitation. you can't search for a previous show. apart from the one available on the app.

Yes! This just made my day.

Nice, but very little content.

Nice, my favourite TV show now has its own app!

Nice, hopefully more content, including past shows, will get added in the future.

this app is AWWWWWESOME!

i never used to watch top gear, but now i will thanks to this app

Best show ever! Can't wait for updates for this app! :D

this should include clarkson's twitter feed cuz the dude is hilarious

Brilliant! No more Youtube videos of TG in reverse image.

Get more on Google+? Really, this is Windows Phone not Android... I'm not even sure WP7 has a G+ app (feel free to correct me if I'm wrong here, I don't use G+ though, prefer Microsoft services and Facebook). Still, nice to see one of my favourite shows get an app for WP7. Beats the heck outta Fifth Gear (anyone seen that one on Five?) - not seen the US version but the UK BBC version, with that trio, is awesome!

Google is reportedly developing a Google+ app for Windows Phone, but whether it is a standalone app or as part of a wider project including other Google apps (i.e. YouTube, Voice, Maps, Drive, etc) - who knows. But if I was a business strategist at Google, I would certainly push my apps and services on WP given that a vast majority use at least 1-2 of my services daily on their PCs. I'd be plain stupid to ignore Windows RT tablets.

Awesome app, used it through a entire graduation ceremony yesterday.

I would like to get in touch with the team who developed this.
Any idea, please? Thanks a lot!

Now if they could only release *all* of their seasons on BluRay. I'd love to get the season where they drive from Miami to New Orleans (Season 10 or 9, I think). Easily one of the funniest things my wife and I have seen on TV in the last five years. Can't even get it from Amazon UK :(

Techiedude
Windows Central Newsletter
Thank you for signing up to Windows Central. You will receive a verification email shortly.
There was a problem. Please refresh the page and try again.