BBC Sport app makes its Windows Phone debut for coverage of football, rugby and more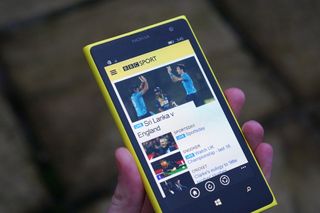 The BBC has launched a number of apps for Windows Phone in the past such as iPlayer, but the British broadcaster is back with a new entry. BBC Sport is now available in the Windows Phone Store, offering users a way to access tons of sports news from the UK and around the world.
Sports fans should take a look at this app's features:
Home screen displaying the top stories across the world of sport
Sections for UK nations and global events
Live tile showing top sports headlines
Comprehensive football news, analysis, live scores, tables, match stats and text commentaries – plus the gossip column
Dedicated indexes for dozens of sports, including football, F1, cricket, rugby union, rugby league, tennis and golf
Share stories and results with your friends and followers
Hopefully, this development will be followed by an official BBC News app at some point. Some of you may remember that a third-party developer made a well-regarded Windows Phone BBC News app in 2011. That app was removed from the Windows Phone Store in 2013 thanks to pressure from the BBC.
Downloaded the app? Let us know your thoughts in the comments.
Blimey. Next thing Auntie will release an iPlayer app that actually works! Shame it's missing live radio and alerts that are present in the IOS version, but at least the BBC are showing a bit of love to us Windows Phone proles (whilst Apple users get showered in jewels, natch).

Aye. It's a shame it's a web wrapper but hey; at least it's something!

If people can stop posting "No VLC updates/news" on every article in WinCentral, that'd be great

Yes there is: http://www.videolan.org/news.html

Zzzz lol. Good for sport billies I guess.

Was so excited, didn't work for L1520!

Does this app gives news in notification.It would be great if it does that. Posted via the Windows Central App

Nothing to do with the BBC but here you go: http://www.videolan.org/news.html

Installed OK for me an seo. Bit it's just a wrapper, don't waste your time. But I suppose it's the thought that counts. Edit: Just remembered I have Region set to UK for Cortana, that's probably why it installed.

WOW they've decided to create a webwrapper again

Yep, my excitement was curtailed somewhat when I realised it was just a web wrapper.

Cricket is there
So deserves a download (y)

Not available in Malaysia!

Prefer the 1st BBC Sorts Channels app, much better than this one.

Who can forget Lawrence Gripper and his fantastic 3rd party BBC News app!!

I still use it today, it's still the best bbc app there has been for WP.

Isn't this an old news? I mean, I saw the same news with the same title dews says back on Windows Central I guess..

It was posted yesterday on Windows Central but it got taken down.

Yep, I thought I was going insane read this post yesterday then couldn't find it today. WindowsCentral shouldn't just delete/hide posts once they've been made its very amateurish. If there is a problem they should just UPDATE the post after its written.

Mobile web wrapper. Still, it's better than nothing. The BBC really need to get the weather app ported, it's a very good app on Android (and I assume IOS). Would love to see it on WP. Posted via the Windows Central App for Android

Surprising development, but so disappointing it's just a web-wrapper.

I prefer Bing apps. But it's good to see more and more apps come to Windows phone

Is this an official app? It didn't look it. Edit: Gosh, it is. I'd confused it with another. Thank you BBC for bestowing us with this great gift wrapped in web.

I won't even be bothering downloading it

I was super excited, but its not for US region. and getting more frustrated, after knowing its only a web wrapper. :/

Cant download it on my Lumia 925 in Sweden

Not available in Greece as well. And what is going on with vlc?

Still waiting for the BBC iPlayer app for the Xbox One, channels 4 and 5 managed this months ago.

According to a Q&A thing on their website, they're "aiming to launch new BBC iPlayer on Xbox One by the end of 2014". They best hurry up!

... And indeed they heard you and released it yesterday!

That was bit freaky to be honest! Was released hours after my comment!

Ironically, given the app's colour, it's about as impressive as yellow snow!
My 'live' tile appears to be dead!!! I can get the same webwrap app via WebApps app WITH a live tile.


Oh and I can't leave a review either, that's a master stroke!

The live tile works for me... maybe give it a while. It has the logo on one side and flips to show the latest headline on the other side, on a blue background. Kinda ugly.

Cheers fella, I've retained the app but not on desktop to see how future updates go.
Sticking with my SkySports app for now, at least it allows me to live tile a direct footy page shortcut.

The native Sky Sports app is infinitely better than this wrapper app, but annoyingly the live tile never updates.

Actually mine has started over the last few days without an update, which is weird.
It did this morning when I turned wifi on.


(B)ritish (B)roadcasting (C)orporation - which is why you won't be able to use it in India, Sweden, Kenya, etc ;)

Cheers pal, I was just about to post this very point, and you saved me the effort ;) That first B is for British. If you are not in Britain, you can't get this app.

Got it, now I have to wait for a Kenyan version

Would be nice if they got iplayer to play longer than 10 minutes before stuttering to death, its unusable

If its not available in your region just change region, download it, then change back, works with all my apps

Fb messenger update now in the air!!!

Downloaded it even though I'm not into sport just to encourage them to do the bbc news app?

Not available for 512mb RAM devices

Works fine on my Lumia 630. It's probably WP 8.1 only.

A state run organisation using our money but not providing similar services on each platform. Can it be labelled as discrimination?


I've had a shortcut to the BBC Sport website on my Start screen for months. This doesn't look any better than what I already have.

No, FOOT ball . As in the foot is used to move the ball. The clue is in the name. It is not Wrap Yourself In Body Armour Like A Bunch Of Jessies and Carry Ball.

For all you moaners, the BBC Sport App on iOS and Android are "web wrapper" apps as well, because they are built with the PhoneGap HTML5 environment. There's no such thing as a "native" BBC Sport app. Using HTML5 and then wrapping it is the only way the BBC could ever hope to do cross platform development.

What's the point. An app that just takes up memory when exactly the same information is presented in exactly the same way in the browser. Pointless.

Did this article debut yesterday and was pulled?

Ok, if you can't find the app in the app store (UK), like I couldn't, search for BBC iPlayer, select it, swipe right twice and select "More from Media Applications Technologies" - The official BBC Sport app will then be shown in the list to download. Here it is on the Windows Phone app site: http://www.windowsphone.com/en-gb/store/app/bbc-sport/af6b7f50-d8f4-48c6-bf25-1c844668b97d For any "web wrapper blah blah" moaners; the app seems exactly the same as it was on my old iPhone, and my girlfriends Android, it's just the way the BBC does them, and it works. Well. Hoping for an update to the app in the near future to support transparent tile and of course waiting patiently for an official BBC News app.

Crap, not available in my region. Posted via the Windows Phone Central App for Android

The BBC are not showing us much love with this which is not entirely unexpected. Opened the app with some entusiasm, saw that Snooker was available to watch live (second link on the front screen of the app), clicked to watch live and was presented with "Your device is not supported". Great effort by the BBC here... as usual.

Sadly you're right. The BBC address the lack of video in their blog here, announcing the Windows Phone app: http://www.bbc.co.uk/blogs/internet/posts/BBC-Sport-app-on-Windows-phone Perhaps the WC writer could update the article with some info from the BBC blog. The increased number of visitors on Windows Phone devices is encouraging reading.

That BBC article mentions that video is not available at launch, hopefully at some point in the near future then... I can spell enthusiasm, pls ignore my earlier error :) Good news that they are getting an ever higher number of vistors using Windows Phone devices.

Downloaded the app just to show the BBC the support. Maybe if lots of people do the same they might start properly developing apps for windows?? :D

Doesn't play live videos on the Lumia 920 just says device not supported

I know I'm a little bit offtopic, but I just can't figure out why NBA left their WP app?
I just can't find and good basketball app. I know that Bing Sport is ok, but I miss highlight videos soooo much...

I was going to dl it to encourage the bbc but they don't want people in America reading their website! Consider my mind boggled, at least we have SkySports.

I get a not available for my device message when I try to download. I've tried switching regions from USA to south Africa. No difference. I'm using a 920, any advice?

Only available in the UK... So neither USA or SA regions will help...

Says the app is not available for my device (L520)

Yes, a news app is a very missed app from our store. I love it's design in ios, so would love to see it on WP.

When I try to watch a streamed video using the BBC sports app or on the BBC website I get device not currently supported. I've emailed the BBC over this issue. I have the latest updates installed BBC Iplayer works fine.
Windows Central Newsletter
Thank you for signing up to Windows Central. You will receive a verification email shortly.
There was a problem. Please refresh the page and try again.