Beam streaming is now live on the Xbox Insider Alpha ring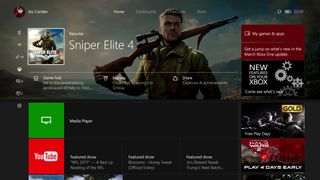 Xbox Insiders are getting their first taste of native Beam streaming today. Xbox's Brad Rossetti announced that Beam streaming is being enabled for Alpha ring users today, allowing them to start streaming to the service natively from their Xbox One consoles.
According to Rosetti's Reddit post, the feature was already included as part of the 1703.170206-2328 build that recently rolled out, so you shouldn't have to download another build unless you have yet to update. If you're having trouble getting the Broadcasting feature to show up on the Home Screen, however, you may have to hard reset your console. To get started streaming, there are a few steps Rosetti has outlined that you'll need to go through to get started:
Navigate to https://beam.pro in your browser, and select the Windows icon next to REGISTER to sign in with your
Microsoft account (this will create a Beam account and link it to your Gamertag).
On your Xbox One, launch a game.
While the game is running, launch the Guide and navigate to the Broadcast tab (located above the Settings tab). Select "Broadcast your game".
Accept the Terms of Service, and you will be directed to the Broadcast Controls page. From here you can configure numerous settings, including microphone, camera, camera position, and chat. You can also change the title of your broadcast.
Once you've configured your broadcast, select "Start broadcast" to broadcast to Beam. You can verify your broadcast is live by navigating to the web address on the Broadcast tab in the Guide (ie. beam.pro/BroHammersley).
Of course, there are also some known issues to be aware of now that Beam streaming is in testing. Here's a look:
Turning on the Camera before starting a broadcast may cause the broadcast to fail and need to be restarted.
In your live broadcast on https://beam.pro, you may sometimes encounter static followed by an error when stopping and starting your broadcast Workaround: Reload the web page.
Sometimes selecting Accept on the Terms and Conditions can take a long time.
Pausing and resuming a broadcast sometimes causes the audio and video to become out of sync.
Sometimes opening and closing the Broadcast tab in the Guide can cause an error. Workaround: Hard reset the console (hold down the power button on the front of the console for 5 seconds until it fully powers down, then power it back on).
You may be unable to broadcast certain games.
Dan Thorp-Lancaster is the former Editor-in-Chief of Windows Central. He began working with Windows Central, Android Central, and iMore as a news writer in 2014 and is obsessed with tech of all sorts. You can follow Dan on Twitter @DthorpL and Instagram @heyitsdtl.
as soon as i can i want to test this :D

update.system is acting odd. if you have issues power down your router and your xbox. give it about 5 min to do its thing. seamed to come back for now i can moved around the screen again. was realy weird. :S i thought my device was bricked for a min there. hope it works ..

All this Xbox news... Maybe MS should expand it's Surface Lineup into at least two distinct high end classes. Productivity, and Consumer oriented, and beyond.. Xbox is just too valuable to not use to boost mobile, and it shouldn't be linked to the current model of ultra productive Surface models... MS needs to split it's high end into three distinct sections. Maybe four, maybe 5.
1. Productivity of the highest end hardware
2. Consumption devices of the highest end
3. Highest end Audio/Visual Production devices.
4. High end mobile gaming devices.
5. Segment busting Mobile devices.
6. Ultra high end Surface AV surround system, audio playback, and speaker system devices.
**************
Surface should have it's own store, be it's own brand, and "use" MS services for power... Highest quality accessories. Surface IOT, and AR/VR devices. And, at the center of you living room should be a segment defining, W10 powered, 70" Surface "TV" with the first ever Xbox streaming capabilities built right in. MS. listen.

well man you are completely off topic. surface isn't about takeing over the market if you listen to what they said its about distinctivly makeing a device that others are not. dont need to copy every company that already makes a gameing laptop. i dont think surface should have its own brand. and i dont think that microsoft should make surface at all but i understand why they did. to convince other oem's to step up the game.

I wouldn't say "completely" off subject. lol
Well, I definitely agree with the fact that anything labeled "Surface" should be segment defining... But, I'm not gonna agree with the fact that MS shouldn't expand Surface into more areas, including Xbox just because "what they say"... No, MS has proven to not be like the average OEM, and very capable of innovating, which is what I expect they would do with every product that I mentioned.. All category defining. Look outside the box, man.

you are 100% off topic. This article is about Xbox Updates in regards to the Windows 10 Creators Update. There is nothing in this title listed as "Surface" want to talk surface my advice is try out the forums. http://forums.windowscentral.com I am sure someone there would read your post and reply :D

You're bored today, swixxlerssssz. 😂😂😂.. Last time I checked this was WPHONECentral, so BAM👊........
Wait a minute...🤔

it can be but please keep your comments related to the article topic. :D im sure 90% of users of this website would agree

I've been here for years; thanks for the advice... I usually do.. This time an XBOX article inspired me.. So, I went for it❗🌈🌈🌈.. Calm down, swizzzlersze. 😂😂😂... Hey, it's FRIDAY!!! Cheer up, man!

Inspirations a funky thing. Happy Friday.

And what if my beam account is NOT the same as my xbox account? Would certainly not have to use one account for pc and one for xbox...

you can have a different beam user if you want but if your account is not linked to your microsoft account it wont stream :)

You should be able to link your account. Sign into your existing Beam account, and then somewhere there should be an account setting for linking your Microsoft account, which will automatically associate your Gamertag with the appropriate Beam account.

Done that now, and somehow no matter what I do the broadcast tab doesn't show up, and no updates. And I'm certain I'm in the Alpha ring due to the amount of feedback and stuff I submit :O Anyhow. Might hardreset the console once again and hope that it'll show up. Or maybe Forza 6 isn't compatible yet? :O

Just about to tip this as I noticed the quest. Broadcast tab did not show up initially. Looking forward to trying it out. Hard reset fixed it.

im finding hard resets extreamly buggy. my xbox isn't picking up the dns settings imediatly. its an odd day.

Are your games still there after the hard reset or do you have to re-download them? This is going to suck if i have to download the games all over again. I've just spent the past 2 weeks filling up most of my 1tb internal drive and my download speeds are not the greatest.

Sorry, poor choice of words. Not a total factory reset, just a proper power down. I should have made it clear. Your games will still be there. I have my system set to "always on", so the resets are not full resets, and the system never shuts off fully. Sometimes, I like to turn off for a little while, and let it do a proper shut down, just seems to keep it fresher.

Just tried, actually damned effortless. Hope we get a proper app for viewing, for phone too.

truthfylly i doubt we will with wp at less then 1% i think its being abandond.

Does anyone know if you can stream to Beam and Twitch at the same time? Or did they make it so you can only stream to one or the other?

you cant. not from what i can tell .

You can't through the console. You really need an external capture card and PC for each other service you want to stream too, Plus it'll kill your upstream. Unless there's some service that can do it for you with servers. But then trying to keep an eye on more than one chat feed will be a nightmare.

It's a challenge restream.io. Multistreams and has a great chat app that covers everything

Is anybody here witnessing any issues with the xbox insider hub???

ive seen the odd isue. but i just power down restart xbox seams to fix it for me.

Audio and video seem to out of sync. Rewatched a stream from this morning and there was a 3 second delay. Watched it live a bit ago and it was still off.
Windows Central Newsletter
Thank you for signing up to Windows Central. You will receive a verification email shortly.
There was a problem. Please refresh the page and try again.