Behind Nokia's SmartStart support program for Windows Phone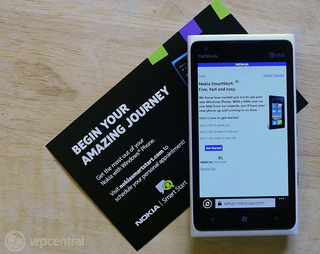 By now Nokia's commitment to the Windows Phone OS should be well established. What has made their role so vital to Microsoft is not just the hardware they've created (4 phones in 12 months) but the support they're providing to the platform from all directions.
Whether it's original OEM apps, exclusive titles, developer support tools, mapping data, dispersing thousands of free Lumias to devs or their promotions, Nokia has gone beyond their competitors in many ways.
One of those is one that may not be too familiar with Windows Phone Central readers but is just as impressive: Nokia's SmartStart program.
What's SmartStart? We get a behind the scenes glimpse of Nokia's growing support system for new Lumia owners and share what's coming next…
The need for support
When a customer buys a new smartphone presumably they have many questions. In fact we take it for granted that people will just "figure out" how to get their phones setup, know what Live ID is, how Facebook Chat works, etc.
In reality though, Nokia is assuming that many people who buy the Lumia 710 (T-Mobile) or Luima 900 (AT&T) are new to the smartphone world and will need help. The question is who will help them? The carrier? Online support? Friends?
To answer that question, Nokia decided to setup their own help center but there's a twist: you don't call them, they call you. That's SmartStart.
How it works
When a customer buys a Nokia phone, ideally the service rep at the store will tell them about the SmartStart program or they can find material referencing it in the phone's packaging.
From there, the customer can go to Nokia's website (https://setup.nokiausa.com/) and schedule a free session with a trained rep. The scheduling allows Nokia to call the customer at their convenience and focus only on what they want to talk about.
For instance, say you want to learn how to do setup email or you're concerned with productivity—from the site you can select those topics and the Nokia representative will then be prepared to walk you through the setup and usage of your phone.
It's free, session time is unlimited and you can schedule multiple sessions (should you have more questions later on).
So why is this a good thing?
The ability to control one's message is key and having properly trained support staff is important to that goal. Though AT&T and T-Mobile staff may know a bit about Windows Phone, as our audience can attest, knowledge and service varies from person to person.
By going this route, Nokia can control how information is presented, accuracy and customer satisfaction. It also takes away work from the carriers, saving them time and money.
Think about that for a second: Nokia has gone to T-Mobile and AT&T and basically told them "we'll handle product support for our devices, don't worry about it". It's no wonder the carriers have been a fan of the program as it lightens their load.
In fact, we're told that the carriers are starting to schedule these SmartStart sessions for you over the phone should you call them first, weaving a nice support system together.
Future plans for SmartStart and early success
From survey data collected after SmartStart sessions, users gave the program an 86% average satisfaction rating. In scoring on specific categories from 1 to 5, users gave an satisfaction average of 4.6 which strongly suggests that customers are really enjoying the help from Nokia.
The program launched in the US with T-Mobile and then AT&T but has since expanded both in language support (they've added Spanish) and regions (Mexico and Canada both offer the program now too). The goal though is to global with the service and Nokia is fine tuning the program and learning from the US market on how best to do that.
The SmartStart app for Windows Phone coming soon
Nokia's SmartStart Windows Phone app coming in 4 weeks
Though users can call or use the web service to schedule a SmartStart session, it makes sense to have an app to facilitate the process. We've learned that in about one month's time, we can expect an official SmartStart app in the Nokia Collection market to fulfill that role.
The app is a simple scheduler as you can see from our screenshots above. You pick the time, phone number to be called at and topics you want to talk about and the information is then sent to Nokia.
Eventually, Nokia would like to have this app "baked" into the ROM so users won't have to download it separately.
Final thoughts
Though many users on this site are more than familiar with smartphones and Windows Phone 7, Nokia's SmartStart program seems like a brilliant strategy: it saves the carriers money and takes some of their work away, it keeps customers happy by making sure they understand their phone and it's good for Nokia since their competition doesn't offer anything comparable.
In short, it's yet another unique service and support structure that Nokia offers, making them a "premium" Windows Phone partner akin to how Apple supports their products via their "Genius bar".
Will it win over converts and make the difference in the long run? It's too early to tell but from our glimpse behind the curtain, we would much rather have Nokia offering this program than not.
For more info on Nokia's SmartStart head to their website: https://setup.nokiausa.com/
Windows Central Newsletter
Get the best of Windows Central in in your inbox, every day!
Daniel Rubino is the Editor-in-chief of Windows Central, head reviewer, podcast co-host, and analyst. He has been covering Microsoft since 2007 when this site was called WMExperts (and later Windows Phone Central). His interests include Windows, laptops, next-gen computing, and for some reason, watches. Before all this tech stuff, he worked on a Ph.D. in linguistics, watched people sleep (for medical purposes!), and ran the projectors at movie theaters because it was fun.
Nice article. That was educative. Thanks :)

It's a great program. I noticed it when I got my Lumia 900 and the flyer in the box. I hit the web site and scheduled a session to talk about internet sharing. The call came in on time and the person on the phone was fully vsersed in this feature. He even offered help with the configuration of my PC's wierelss adpater to complete the connection.

I didn't know about this but a pretty smart move for Nokia, they should really push this into public awareness as im sure they could pick up some of the older generation who have kept away from the Smartphone Market for fear they are too complicated.

This is what you call dedication to the products and service that you sell. So many other companies, not just phone companies, take away alot from this pro-active gesture.

Great customer support Nokia. This is the kind of feature that builds customer loyalty.

They are all in on WP for sure. Outstanding!

Awesome service. Truly a class apart!!

I actually used this when I first got the phone not knowing what it was. I just let them talk and played dumb. It was fantastic. I was truly impressed and surprised more people weren't talking about it.

Nokia is a class act. If Sprint had nokia I would not only buy one, but one for my wife and family. It is too bad Sprint comes up short on WP7. If ATT provided service in my area I would even switch.



Dido on everything but the ATT switch.

ATT is better than sprint in every way, except the price.

Is this coming to other countries too? Or will this remain US only?
(Wondering from the Netherlands if this is coming there too as this might be a nice marketing tool too)

At this Rate Nokia CS is gona surpase Apple's . :P
this is cool for sure.

I went into an iStore the other day with my girlfriend. While the people that helped us were very nice, the service was weird and slow. You enter the store and a guy in a blue shirt starts talking in your direction while doing something with an iPad, but not giving you eye contact. If you figure out he was talking to you, you then need to set up an appointment to do anything. You have to give the guy your name and email address and they give you an appointment. All she wanted to do was get a new iPod. They don't even have a checkout area. It is impossible to simply go there, pick out the iCrap you want, and buy it.

We were both not impressed with Apple customer service. It took freaking forever, too.

lol , ouch ,
well the call center, i hink is a little better then that . but that soudns horrible , lol

That's why I avoid sales associates at all cost. No disrespect to anyone on here who is one. But whether it be the Apple Store, Best Buy, Gamestop or wherever, I usually know why I'm there, what I'm getting, where to get it and whatever else I need to know. We have the internet now and your bound to know someone who has the product you're looking for. You can find that info somewhere.

That is great idea. Now that builds loyalty

That is SUCH a dealbreaker for me - don't get me wrong, I know how to navigate through a phone feature/menu or two but there are LOTS of people who are sold phones and don't utilize all the beneficial features that was probably mentioned to help them commit to getting the phone in the first place!!
Stellar stuff from Nokia - I've been through 29 different phones over a period of 5 years (in terms of trial and error, there was a LOT of errors) this is by far the best device i've owned in terms of ownership satisfaction (brand, Nokia's efforts and implementation etc)
I was seriously gonna be using the Lumia 900 I have as a stop gap for the upcoming BlackBerry 10 devices however i KNOW RIM wouldn't match Nokia's level of customer care quite like how Nokia are doing with SmartStart

Nice article and well done nokia! A huge company that actually cares.... Just brilliant

Want to get the 900 Lumina....but is it a good music phone...how good does it sound with the headphones. PleäPlease let me know I want to get one by memorial day . Thanks sooo much.

Excellent. The purity and purity HD are excellent too. A must buy.

This is great news, more companies should do stuff like this, but I'm glad it's Nokia.

Love it!! I think that is very good of Nokia, I love how they are still struggling but they do everything they can to help the consumer which obv in turn will hopefully bring them noire revenue as more people should buy their phones, good love Nokia.

Would be great for my mom, if she wasn't stuck with the Trophy on Verizon.

And THAT's why I'm a Nokia fan from my Nokia E51i to my Lumia 710. They don't just make quality phones, they support it.

Im really disappointed with this lumia 900... Im returning it for the Samsung focus 2.. They can do better than this..
The lumia 900 I got has the rattle problem plus the screen is so saturated.. Its true what the att rep said.... Get the titan 2!!!!!.. Real talk

This is awesome! I work for att and we were kind of made to use the device. At first alot of us were annoyed a d hated the phone now especially me , im starting to love it and il be using smart start at work! awesome Nokia
Windows Central Newsletter
Thank you for signing up to Windows Central. You will receive a verification email shortly.
There was a problem. Please refresh the page and try again.