Bell documents show Samsung ATIV S release set for December 14th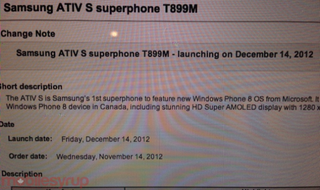 With delays already having been heavily discussed, it's looking as though things might be getting a little bit brighter for the Samsung ATIV S in Canada. A snapshot of some internal documents has now turned up and reveal Bell Mobility has apparently set a release date of December 14th.
This follows the recent confrmation coming out of Austria where the device has been spotted on store shelves and ready for sale. Needless to say, we'll be following up with Bell retailers come December 14th to see if we can get our hands on one.
Source: MobileSyrup
Most people who have waited for this already bought another wp

Not me. I'll wait until it lands on Tmobile

Hot dog yes! At least to see if it beats the 8X.

And ill keep waiting for a Red Lumia 920 to be available in Canada.

Funny how that works. Where I live (US), red 920s were pretty easy to find. I haven't looked in the last week or so, though.

Yep, or in my case, gonna buy the HTC 8x unlocked for 250ish from virgin Mobil Canada.

I still haven't bought a new WP8 device either. I won't get the Ativ S but I'll go look at it in the stores when it's released.

Looking forward to this phone on Verizon. Good thing my upgrade is mid January so I might have some options.

Hoping TELUS launches it around that time too... It is kinda nice to see Bell to get on the WP bandwagon. They had literally no Mango devices before so the turn around is nice. Now they offer the Ativ S, 8X and 8S (through Virgin).

I, too, was waiting for the Samsung ATIV S. I had a hard time deciding between it or the Lumia 920. I wanted the ATIV S for its 4.8 AMOLED screen and expanded storage option, and the Lumia 920 for its camera and the fact that Nokia was the only OEM to aggressively support Windows Phone. If Nokia had supported expanded storage in the 920, I would've dropped Samsung in a heartbeat. But after finding out that Samsung was dawdling too much, the choice in phone selection was clear. I'm on the Lumia 920. Still wish for expanded storage. Hope Nokia's still around for WP9 and they put that feature in.

Lol really? My cousin just got his 8X today. I better tell him about this

Hope you have better luck than me. Last time I asked at the local Bell store if they had any of the new WP devices in, I was met with confused looks and told "they don't make those anymore".

Which is crazy because here in the US if you walk in to a att store everyone is wearing windows t-shirts and the whole store is filled with windows phone banners and of course they have dedicated corner for iPhone

Anyone else thing Samsung are only releasing a WP8 device to appease MS in some patent dispute? They don't seem to be in a rush to get this out...
Windows Central Newsletter
Thank you for signing up to Windows Central. You will receive a verification email shortly.
There was a problem. Please refresh the page and try again.