Bell Media to broadcast new Star Trek series in Canada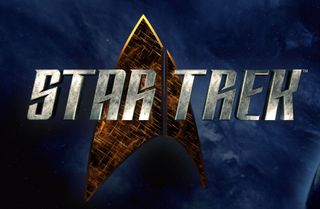 While the new Star Trek series from CBS will stream on the company's All Access service in the U.S. and Netflix in most of the rest of the world, Bell Media will be the official exclusive distributor of the series in Canada. Bell will have the right to show the series both online and on television.
Bell says that the show will launch on CTV in Canada on the same night as the U.S. premiere, with subsequent episodes broadcasting initially on the Bell-owned Space network in English, and Z in French. The episodes will then be available exclusively on Bell's CraveTV streaming service.
In addition to the new Star Trek series, Bell has also acquired the rights to the past episodes of every other Star Trek series.
Press release:
New CBS STAR TREK Television Series to Live Long and Prosper in Canada with Bell Media
– Bell Media lands exclusive rights in Canada – – Each episode of the new STAR TREK to be available in Canada day and date with the U.S. – – Bell Media also licenses all 727 episodes of the STAR TREK television library –
LOS ANGELES and TORONTO, July 18, 2016 /CNW/ - CBS Studios International and Bell Media today announced a licensing agreement for the new STAR TREK television series in Canada. With Bell Media's acquisition of the exclusive linear television and subscription video on demand (SVOD) rights in English and French in Canada, each episode of the new STAR TREK series will be available simultaneously with its release in the U.S.
Bell Media has also licensed all 727 existing episodes of the STAR TREK television library – which includes STAR TREK: THE ORIGINAL SERIES, STAR TREK: THE NEXT GENERATION, STAR TREK: DEEP SPACE NINE, STAR TREK: VOYAGER, and STAR TREK: ENTERPRISE.
The rollout for the new STAR TREK series in Canada will mirror the launch in the U.S. The first episode will premiere on Canada's most watched broadcast network, CTV, on the same night as CBS. All remaining episodes will initially be televised on Bell Media's cable networks, Space (in English) and Z (in French), and then later exclusively on CraveTV™, Bell Media's streaming video-on-demand service.
The STAR TREK television library will return to Space (in English) and debut on Cinépop (in French), and will also be found among CraveTV's leading lineup of premium television series.
The all-new STAR TREK will begin production in Toronto this September for its January 2017 premiere. The iconic and influential global franchise will return to television for the first time since 2005 with a new ship, new characters and new missions, while embracing the same ideology and hope for the future that inspired a generation.
"We are extremely pleased to significantly expand our partnership with Bell," said Armando Nuñez, President and CEO, CBS Studios International. "Canadian fans will now be able to 'beam up' CBS's highly anticipated new series, as well as all past episodes of the show's vast library. Bell Media's premium linear and digital platforms will be a great home for our new series, as STAR TREK celebrates its 50th anniversary."
"Our acquisition of the new STAR TREK series delivers a unique and exclusive opportunity for Canadian advertisers to engage with this blockbuster new drama in a meaningful way," said Mary Ann Turcke, President, Bell Media. "We are delighted to welcome STAR TREK back to Bell Media and amplify this iconic franchise through our multiple leading brands. With a high-profile premiere on CTV, a permanent base on Space – the long-time home of the series in Canada – and premium positioning on CraveTV – it's 'mission accomplished' for Canadian STAR TREK fans."
In the U.S., the new STAR TREK will launch with a special premiere episode on the CBS Television Network in January 2017. The premiere episode and all subsequent episodes will then be available in the United States exclusively on CBS All Access, the Network's digital subscription video on demand and live streaming service.
As previously announced, the new STAR TREK marks the first original series developed for U.S. distribution on CBS All Access, which provides American viewers thousands of episodes of CBS's current and past seasons on demand, plus the ability to stream their local CBS Television station live for $5.99 per month.
Alex Kurtzman and Bryan Fuller are co-creators and executive producers for the new STAR TREK, based on Gene Roddenberry's original series. Fuller launched his career writing for Star Trek: Deep Space Nine and Star Trek: Voyager. Kurtzman is co-writer and producer of the blockbuster films Star Trek and Star Trek Into Darkness.
The series is produced by CBS Television Studios in association with Kurtzman's Secret Hideout, Fuller's Living Dead Guy Productions, and Roddenberry Entertainment. Alex Kurtzman, Bryan Fuller, Heather Kadin, Gretchen Berg & Aaron Harberts, Rod Roddenberry, and Trevor Roth will serve as executive producers.
About CBS Studios International: CBS Studios International is the leading supplier of programming to the international television marketplace, licensing to more than 200 markets in more than 30 languages across multiple media platforms. The Studio participates in international channel ventures, currently comprised of 18 channels in 24 languages across more than 100 territories, reaching more than 70 million households worldwide. CBS Studios International also exports a diverse lineup of formats for local production around the world. The division distributes content from CBS Television Studios, CBS Television Distribution, Showtime, CBS News, CBS Films and a library of more than 70,000 hours of programming. CBS Studios International is a division of CBS Corporation.
About Bell Media: With passion and an unrelenting commitment to excellence, Bell Media creates content and builds brands that entertain, inform, engage, and inspire audiences through the platforms of their choice. Bell Media is Canada's premier multimedia company with leading assets in television, radio, out-of-home advertising, and digital media. Bell Media owns 30 local television stations led by CTV, Canada's #1 television network; 34 specialty channels, including TSN and RDS, Canada's most-watched specialty channels in English and French; and four pay TV services, including The Movie Network and Super Écran. Bell Media is also Canada's largest radio broadcaster, with 106 licensed radio stations in 54 markets across Canada. Bell Media owns Astral Out of Home, one of Canada's most dynamic and innovative out-of-home advertising companies with a network of more than 30,000 advertising faces in British Columbia, Alberta, Ontario, Québec, and Nova Scotia. Bell Media also operates more than 200 websites; delivers TV Everywhere with premium subscription on-demand streaming service CraveTV, as well as its innovative GO video streaming services including CTV GO, Discovery GO, TMN GO, and TSN GO; operates multi-channel network Much Digital Studios; holds an equity stake in digital startup Hubub; is partners in Cirque du Soleil Media, a joint venture with Cirque du Soleil; and owns Dome Productions Inc., a multi-platform production company. Bell Media is part of BCE Inc. (TSX, NYSE: BCE), Canada's largest communications company. For more on Bell Media, please visit www.bellmedia.ca.
Get the Windows Central Newsletter
All the latest news, reviews, and guides for Windows and Xbox diehards.