Best 3D-printed models of August 2019
We showcase the amazing models you make each month.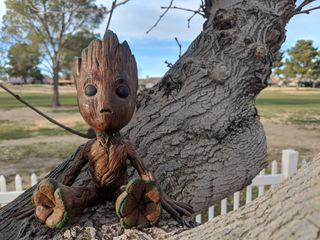 The 3D printing community is amazing. Not only are there people from every walk of life ready to help anyone get better at the hobby, but there are also talented designers churning out inspired models for us to print. One of my favorite things to do in my spare time is to look around the web and find some of the best models that people have printed and ask them how they managed such beautiful work.
I think this kind of talent needs to be showcased, so each month I will be showing off some of the best prints I've seen from around the 'net. Each entry will have a link to the person who printed the model, and, where possible, the person who designed it and the printer they printed it on. Hopefully, these designs will inspire you to push yourself, and maybe seek these community members out.
Model of the month
Why you can trust Windows Central Our expert reviewers spend hours testing and comparing products and services so you can choose the best for you. Find out more about how we test.
This section is dedicated to the very best model that I have seen in the community for this month. The winner can revel in the knowledge that they are Windows Central's Model of the month!
Model by Garrett Kearney
Godzilla, printed by Mark Rhodes
Sometimes it's hard to decide which is more impressive, the model or the print and paint of the model. This model of Godzilla is a brilliant sculpt, no doubt about it, and it is a personal favorite of mine, but the print and paintwork on this is a step beyond.
Mark Rhodes didn't just print Godzilla, he brought it to life using resins to create waves, a smoke machine to give breath and clever use of Arduino to bring raw power and light to Godzilla eyes. Just take a look at the detail in the waves around Godzilla's tail. Extraordinary.
I've never really seen a print like this so small and yet so very mighty. While the Peopoly Moai SLA printer Mark used has a lot to do with the quality, this diorama is a testament not only to Mark's and Garrett Kearney's skill but to how much can truly be done with know-how and elbow grease.
The Moai is a full SLA printer that shoots fricking laser beams to make the most precise models I've seen. Mark clearly made his sit up and dance to make this Godzilla.
More fantastic models
There are so many great models out there we couldn't just stop at one. Let's celebrate some of the very best models and printing people around!
Model by Fotis Mint
Azog, printed by Tom Jackson
Filament Frenzy, a.k.a., Tom Jackson, is something of an institution in the 3D printing community. The things he can make even the cheapest machines do is nothing short of miraculous. Well, he says the machines are stock but Tom casts spells on slicers to make them work better than mere mortals can produce.
This print, designed by the ever-amazing Fotis Mint and printed in Fillamentum PLA is fantastic. The layer lines are perfectly spaced and none of the details have been lost. It is mind-blowing that this came from a printer as cheap as the Artillery Sidewinder that Tom used here. I would struggle to get this quality from a machine three times as expensive.
Tom calls this printer a "beast" and it's easy to see why when it prints like this with no modifications
Model by Zane Rogers
Artifact 4, printed by Fuse3d
Fuse3D proves that even FDM printing can look injection molded if you know what you are doing. The paintwork on this model gives it that antique look which I love. I've even used it myself.
It looks like he painted the model green then used gold Rub n Buff to highlight the raised parts. A beautiful print of a cool-looking model. I've never used a Craftbot before, but if this is the level of quality they produce, it may be worth looking into.
The Craftbot 3 is a powerhouse 3D printer with independent dual extruders, meaning you can print two models simultaneously!
Model by Nick Markellov
Mushroom Lamp, printed by Joe Prints
This is the first print I have seen from Joe Prints but it looks like he's done an excellent job. The mixture of the rainbow filament from SUNLU and that pure ivory for the stalk is beautiful to behold.
To my eye, it looks like this model is designed to print with no supports. There is a smoothness to the model that suggests it, and it helps keep that organic, natural shape. This model can even have an LED light put in the center to make it glow!
Joe didn't mention the printer he used but this rainbow PLA that was used for the mushroom cap is worth picking up!
Model by Kijai Design
Ceporah Tower, printed by Kijai Designs
It's not often that the modeler is also the printer of the model but Kijai Design, also known as Jukka,, likes to be a little bit different in everything he does. Based off one of the buildings in The Elder Scrolls: Online, this tower is a multi-part print, printed on the ever-reliable Prusa MK3, that almost looks like it is carved from sandstone. Jukka even made sure to hollow the towers so you could light them from the inside.
I love this model, and it's another example of how you can design prints to need no support and still be a thing of flowing beauty. Supports make things ugly, supportless is beautiful.
Jukka uses the MK3 in all of his time-lapses, and you can see that it is a practically perfect machine. I love it, and if you need a first printer, or 100 printers, the Prusa is the right choice.
Manufacturer of the month
Each month I am also going to highlight one of the many manufacturers out there that have done something or made something that has caught the community's imaginations. A lot of the companies in 3D printing land love the community and want to give back. I think that's worth celebrating.
Model by Zane Rogers
Fillamentum
Fillamentum is a European manufacturer of some of the most daring filaments around. You only have to look at how many of these top models are made of their PLA to know they make amazing products.
Sold here in the U.S. by our friends at MatterHackers, Fillamentum just released this gorgeous "Wizards Voodoo," which I want to call purple but that doesn't seem to do it justice.
Fillamentum is a brand that has earned its place as a community favorite and you should grab a roll of this glorious color today.
Fillamentum Wizards Voodoo
When I think of the color of magic, this is what I see. Pick some up today, you won't regret it.
Be a part of the action
This entire article is to showcase what is great about the 3D printing community but I can't do it without your help. If you see amazing prints anywhere on the web, or you have made something magical yourself, drop a link in the comments below or tag either @windowscentral or @keridel on Twitter and we will check them out.
I'm also thinking we need a Hashtag. #WCModelOfTheMonth might work, although that's a little wordy. Help me out in the comments.
Get the Windows Central Newsletter
All the latest news, reviews, and guides for Windows and Xbox diehards.
James built his first PC when he was 13 and has never looked back. He can be found on Windows Central, usually in the corner where all the 3D printers are, or huddled around the Xbox playing the latest games.