Best Buy offering black Lumia 822 in-store for $50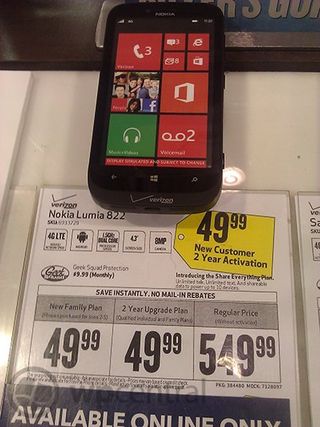 Best Buy is offering the Verizon Lumia 822 (a version of the Lumia 820) to new customers at just $49.99 when taken out with a 2 year plan. The price undercuts Verizon's own pricing at $150 with a $50 MIR (mail-in rebate). The retailer currently has the same handset priced at $99 online, but in-store (as can be seen above) the Windows Phone can be picked up for $50 off.
Should you visit the Best Buy website, both Lumia 822 Windows Phones (in black and white) are listed with the former variant only available in-store and the latter 'coming soon'. While everyone is attempting to fight over what stock is left at retailers, our reader informed us that this particular Best Buy store was also running low on available units.
Thanks, Eric, for the tip and photo!
Rich Edmonds is Senior Editor of PC hardware at Windows Central, covering everything related to PC components and NAS. He's been involved in technology for more than a decade and knows a thing or two about the magic inside a PC chassis. You can follow him over on Twitter at @RichEdmonds.
VZW is selling off contract for $449 per website, but BB is selling for $549? Am I seeing that right?

That's pretty par for the course for them. I've heard they'll price match, though.

I just walked out of Best Buy with an 822, never took my credit card out, no charge. Price matched WalMart's offer and got it FREE with 2 year upgrade, transferred my step-son's upgrade (for his 4 year old flip phone - LOL) to my Trophy and got the 822.
http://wireless.walmart.com/eCommerce/SpecialOffer.aspx?cid=36575_a3d517...

Free at WalMart, though.
http://wireless.walmart.com/eCommerce/SpecialOffer.aspx?cid=36575_d731a1c1fcac400180821a0c87efd1a8

*not actually free as requires 2 yr AT&T contract

I'm pretty sure it doesn't require ANY ATT contract.

The 8X appears for $100 for Verizon.

Why does the picture have the android guy in it?? Is this pic a fake??

good catch...yea wtf. However, I'm pretty sure this has happened before with WP products

Yep, all too often... Once is too often...

Woah! Never noticed that! Good catch!

Walmart Wireless has the 822 for FREE. I just ordered one. Will let you know the eta when I get it.


Can i get it in white from there?!

Oddly enough, I didn't get a choice of colors. The only one that was available was black, which is what I wanted anyway. But I did not see any other options.

I am mixing up my 800 series...but is the 820 the ONLY one with exchangable plates? 822 and 810 don't offer it?

That's correct I believe the 822 doesn't offer, however, I think 810 does offer

Newegg.com has the 822 for $49.99 as well. BUT it states "will ship when available". Not sure how long that will be though.

After an hour placing the order with Walmart, they tell me it's not available and can't give me an ETA. I'm going to leave the order on hold to see if it ships anyway. Free is free and it doesn't get any better than that. If it doesn't ship in the next week, I'll cancel and get it elsewhere.

Walk into Best Buy, tell them to look it up on wireless.walmart.com (click the Windows Phones in the slide show at the top - I walked in with it queued up on my phone), and price match it. I just walked out with a freebie like that.

I spotted a grave mistake in the information leaflet, why does it show Andy + Android OS and not WP8?

Oh oh...I'll field this one: The answer is Best Buy are idiots and personally speaking, I can't wait until they fold as a company. /rant

U look like a troubled customer...lol

ATT is also offering the Lumia 820 for $49 and honestly, after looking at the L920, L820, and the HTC 8X, I'd prefer the L920 and suprisingly the 820 over the 8X. The 8X just doesn't feel as good in the hand like people claimed it was designed for; I am however getting the 8x on verizon for work as I perfer its design over the 822 (Looks too much like the One X with its rounded corners to me)

It also looks like you can get it for $50 as an existing customer ("two year upgrade plan").

Must be a regional thing if this isnt fake. I've called every best buy within 20 miles and they all have it at 99

I went into a Best Buy store last night, with WalMart's online price queued up in my phone, to price match, and also pulled up this article in the wpcentral app. They said it was $99, and the $49 must be regional. They didn't have a display model, but had 2 in stock. Sat there and did all the paperwork, since they would match WalMart's price of FREE, and when they rang it up, it came up at the $49.99 price, and all 3 guys standing around were shocked. But they adjusted it, and I walked out with it free.

Across the bottom of the photo it also says "Available Online Only", but this whole thread is about the phone being $49.99 in the store but $99 online. Is the "online" reference related to something different?

I want a white Lumia 822 or a blue HTC 8X. Which is better?! I think the 8X has a much superior camera but otherwise, even the lower rez screen of the 822 is gorgeous.

Check one out in store if u can, the 8x is thin and really feels good

Called all my Best Buy's found one. Printed off Walmart FREE 822 page. Took it in. Verified. Walked out with no cost! :)
Windows Central Newsletter
Thank you for signing up to Windows Central. You will receive a verification email shortly.
There was a problem. Please refresh the page and try again.