Best Fractal Design PC Cases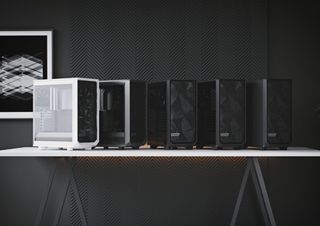 (Image credit: Fractal Design)
If you're building your own PC, one of the biggest decisions you have to make is picking the right PC case. Fractal Design makes some of the best PC cases out there, and you can find one for every type of build. However, Fractal Design offers a ton of options, so picking the best one for you can be tough. Here are our picks for the best Fractal Design PC cases you can buy.
(opens in new tab)
Silent and cool

Known as the finest case Fractal Design makes, the Define R6 is the case to go for for a quiet build. It also has a great airflow system and comes with some solid dust filters. The design is quite muted though, and might not be for everyone. The case packs in a ton of features, however, with great radiator and AIO cooling support, and a mid-tower form factor with plenty of room for all your hardware.
(opens in new tab)
Full tower champ

The Fractal Design Meshify C is a full-tower case with a ton of room for customization. It's got a great design, with a mix of tempered glass and mesh. The Meshify C is for those looking for a huge case with a ton of features packed in, all while carrying a price tag that isn't too high. If you want a full-tower PC case from Fractal Design, look no further.
(opens in new tab)
Compact but convenient

The Fractal Design Define 7 is the new entry in the Define series. It comes with a nice design that keeps the understated look you see in the Define R6 with a brushed metal-textured front panel. The case also has a great storage layout and solid airflow. While we prefer the R6, the Define 7's looks may be a better fit for you if you prefer the look.
(opens in new tab)
Fractal Design Meshify 2 Compact
Small but great

When it comes to compact cases, it can be tough to pick the right one. The Fractal Design Meshify 2 Compact is one of the newest cases from the company, and it brings the goodness of the Meshify design in a compact case. The case has a fully removable top panel for better access, as well as a full-length power supply shroud to counter the pitfalls of the compact design.
(opens in new tab)
Fractal Design Define Nano S
Best ITX case

The Fractal Design Define Nano S is the best ITX case that the company makes. Just like the Define 7, Fractal Design has made a lot of effort to get around the disadvantages of the form factor with this one. The Define Nano S can take full-sized components and has an ATX-like layout. The case also gets sound dampening, making it a good fit for a quiet ITX build.
Picking the right Fractal Design PC case
Why you can trust Windows Central Our expert reviewers spend hours testing and comparing products and services so you can choose the best for you. Find out more about how we test.
Picking PC cases can be tough, but it's easier if you know what you want. Fractal Design makes some great cases, and this list has the top options they have for your own PC build. Fractal Design cases all also offer multiple variants under the same product line, so you can get different versions of the cases listed above, set apart by the inclusion or shade of tempered glass panels.
If you're looking for the best balance, the Fractal Design Define R6 is the case to pick. It is feature-packed, runs quiet, and comes with a whole lot of cooling features. If you want to go compact, Fractal Design has the Meshify 2 Compact, and for ITX builds, the Define Nano S.
If you're still looking at other brands, you might want to check our rundown of the best PC cases out there. You might also want to go all out and get a PC case desk. If you're still undecided about the other components of your PC build, take a look at our choices for the best CPUs and the best GPUs. Good luck on your PC building journey!
Windows Central Newsletter
Thank you for signing up to Windows Central. You will receive a verification email shortly.
There was a problem. Please refresh the page and try again.