NZXT H1 review: This compact PC case earned our highest rating
Just what can you cram into a small PC case? A lot.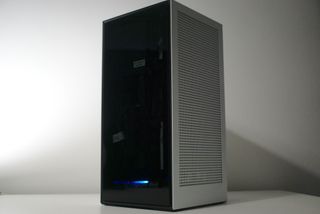 (Image credit: Rich Edmonds / Windows Central)
NZXT produces some premium PC cases within the H family. There's the small, yet flexible H210 for Mini-ITX boards on one end, and there's the monstrous H710 that can hold full ATX boards, countless drives, and even a custom water-cooling loop. The H210 just wasn't compact enough, though, so the company set off to create something rather special.
With Black Friday upon us, it's a great time to save big on electronics, including PC cases. The H1 is a killer compact chassis for unique PC builds and we expect it to receive some form of discount.
$350Bottom line: With NZXT design on a micro scale, the H1 is a PC case worth building in.
For
Gorgeous design
Fits most GPUs
Small footprint
Good airflow
Easy to build in
Against
Cabling is fiddly at rear
Can't use horizontally
Must take off rear panel to disable PSU
Limited modding
NZXT H1 specs
Swipe to scroll horizontally
Category
NZXT H1
Motherboards
Mini-ITX
I/O
1x USB 3.1 Gen 2 Type-C
1x USB 3.1 Gen 1 Type-A
1x Headset Audio Jack
Expansion
2x PCI
2x 2.5-inch

PSU
650W SFX 80Plus Gold
AIO
NZXT 140mm
Fans
Left-side: 1x 140mm
Filters
Side panels
Radiators
Left-side: 140mm
Clearance
GPU: 305 x 128 mm
265 x 145 mm
Weight
6.53 kg
Dimensions
187 x 388 x 188 mm
Materials
SGCC Steel, Tempered Glass
Warranty
Case + AIO: Three years
PSU: 10 years
The NZXT H1 is unique and gorgeous
Image 1 of 4
Video game consoles continue to get smaller, while the PC traditionally boasts considerably more performance (depending on configuration), and the trade-off made by going with enhanced visuals is often a rather large box to house all the gear required to make it all happen. Some PC cases — like the be quiet! Dark Base Pro 900 Rev. 2 — can be massive compared to an Xbox or PlayStation.
PC component vendors aren't satisfied with this situation, which is why you can find Mini-ITX motherboards and cases that allow for more compact builds. The NZXT H1 is one such chassis, measuring in at just 187 x 388 x 188 mm. The H1 follows this rule but allows for the install of most desktop-class GPUs.
The H1 shares many design elements with other NZXT cases in that it's available in a few colors, makes use of perforated grid grills for airflow, has a tinted tempered glass front panel and bare top panel with nothing but a power button, USB ports, and a headphone/microphone combo 3.5mm jack.
The two side panels act as air intakes and are filtered as such. There are plenty of holes punched into the metal frame, allowing for air to be pulled in by the AIO on one side and the GPU (if installed) on the other. The exhaust air is handled through the rear panel, again sporting a perforated grill design but without dust filtering.
NZXT received some criticism with the H510 Elite for its restricted airflow. This has been an issue case makers have had to combat along the road to more unique designs, but the H1 has ample entry points for air to go through, which is incredibly important for a Mini-ITX build.
The overall design of the H1 is stunning. NZXT opted not to include any RGB lighting for the H1, likely due to the fact the module required to power all the colors would take up valuable space needed by other components. It's possible to add an LED strip if your motherboard has RGB headers, but don't expect a light show out of the box.
This leaves the case looking subtle, but the dimensions demand attention. You could install it in other areas of the home, aside from the office and it wouldn't look more out of place than a set-top box, console or home server — so long as you don't mind it being vertical since there's no way to use the H1 horizontally.
The entire case is toolless, meaning you don't need tools to open it up, resulting in a clean finish. Cabling is routed underneath and out the rear so placing the H1 on your desk will allow for some seriously effective cable management without a mess running from the rear of the PC. This isn't perfect, however, and to gain access to the cables and ports on your motherboard, you need to tilt the H1.
It's not the smallest, most compact Mini-ITX case on the market, measuring in at 187 x 388 x 188 mm, but that's not the goal here. NZXT wanted to create an even smaller H210i and the H1 is the result.
A compact system builder's paradise
Building inside the NZXT H1 is relatively straightforward. Firstly, the front tempered and rear metal panels are removed by unclipping them from the main chassis. Then the single piece of metal that comprises the two sides and top can slide up and off the rails. Then you have open access to all corners of the case.
Allowing one to tinker in all directions makes the H1 easy to build a system in. There's a sizeable bay area for the GPU, allowing you to install a card up to 305mm long. This should fit all cards aside from the bulkiest of coolers, like you'd find on ZOTAC AMP! Extreme GPUs. I attempted to install a GTX 1070, and I failed, but only by a little. Check out our best graphics card picks if you're looking at an upgrade along with a new case.
The GPU is connected to the motherboard using a pre-installed riser cable, which seems to be better quality than those bundled with other cases — ahem, Thermaltake. Pulling in cool air from the vents, this position will work for both blower and open-air GPUs.
The pre-installed PSU is located at the top, alongside two 2.5-inch drive bays. This power unit is an SFX NZXT 650W model with an 80Plus Gold rating. It's a decent PSU that's capable of supplying stable and reliable power to the rest of the components. You can switch it out for another SFX PSU, just be sure the cables will reach.
Speaking of reach, in order to get a clear shot of the motherboard tray, the AOI cooler radiator needs to move, which can be achieved by removing two screws and using the hinge mechanism to pull it out. The AIO itself is from NZXT and has a 140mm fan already installed and ready to go. This should be able to handle even Intel Core i9 and AMD Ryzen 9 processors.
Installing the motherboard works like you'd expect, accompanied by plugging in all connections to the top panel I/O, the PSU, and other components. It's worth installing your CPU and RAM prior to securing the motherboard to the backplate — as you should with any PC build.
Image 1 of 3
An issue once the motherboard is installed is available space for RAM modules and other components. Have some fancy Corsair Vengeance RGB RAM? It won't fit once you've closed everything up, due to how much room the AIO radiator and 140mm fan requires, forcing the motherboard to bend out of shape, so be aware before installing your components.
Once everything is in place, it's time to reattach the side and top panels, followed by the tempered glass and rear panel. Then the PC is essentially built. Plugging in all necessary cabling allowed me to keep the testing area clutter-free, thanks to the routing out the bottom rear of the H1.
Firing up the NZXT H1, you'd expect to hear some noise, but the single 140mm fan on the radiator is very quiet. The PSU also runs near silently, and as long as you have an inaudible GPU, the H1 barely makes a sound. Pushing the system (and I'm talking AMD Ryzen 9 3900X performance) ramps up the single fan and the bundled NZXT blower can get into jet engine territory fast.
But that's basically a CPU stress test. In real-world environments and with effective fan control using CAM software from NZXT or the motherboard BIOS, it's not too bad at all. What impressed me most were the temperature readings. Idle, the Ryzen 9 3900X sits at a comfortable 30C (86F), while in-game you're only looking at around 53C (118F) playing Grand Theft Auto V. Stress tests pushed the CPU to hit 68C (154F), though the cooling solution was more than able to keep up, and it blows air across the motherboard. The ambient temperature was 20C (68F).
Even with more powerful processors, the AIO cooler supplied by NZXT is good enough and you could even swap out the bundled blower for an aftermarket solution, should you have a personal preference on 140mm fans and know you could reduce the sound output slightly. As a mini PC, the H1 works for low-power builds as well as high-end, enthusiast gaming rigs.
That's pretty impressive and makes this one versatile mini-ITX case.
What you might dislike about the NZXT H1
This is an excellent PC case, but I have a few minor complaints. Firstly, the cabling setup is great in the rear, but it means you need to tilt the unit slightly to gain access to the motherboard ports. This can be tiresome if the H1 is placed somewhere that limits access.
It's also not possible to use the NZXT H1 horizontally, something allowed by other mini-ITX cases. In order to disable the PSU — if you happen to be going away on vacation — the rear panel needs to be removed to gain access to the PSU power switch. It's not a big issue, but it would have been nice to have the button beneath the case itself.
Finally, modders or system builders who have big plans will want to look elsewhere. There's simply not enough room to fit a custom water-cooling loop, unless you use a low profile GPU and manage to cram everything inside. For most PC owners, this is a non-issue, but it's still something to bear in mind.
So should you buy the NZXT H1?
Mini-ITX cases often come with compromises, but the NZXT H1 doesn't hold back. It has an exquisite design, a full tempered glass front panel, enough space for larger GPUs, and it can even cope with Intel Core i9 and AMD Ryzen 9 performance levels. This makes it one impressive mini-ITX case.
It's also a blast to build a PC within, and the toolless panels allow for quick changes and access without hunting for the screwdriver. If you don't want a Mini-ITX case that looks like a boring slab of metal or a DVD player, the H1 from NZXT should be on your shortlist.
You may find the $350 price a little daunting, but remember that this includes a reliable 650W PSU and impressive AIO cooler.
Exquisite design
A small but powerful chassis

This is one of the best mini-ITX cases for people seeking a foundation to build a sleek-looking, yet capable machine.
Get the Windows Central Newsletter
All the latest news, reviews, and guides for Windows and Xbox diehards.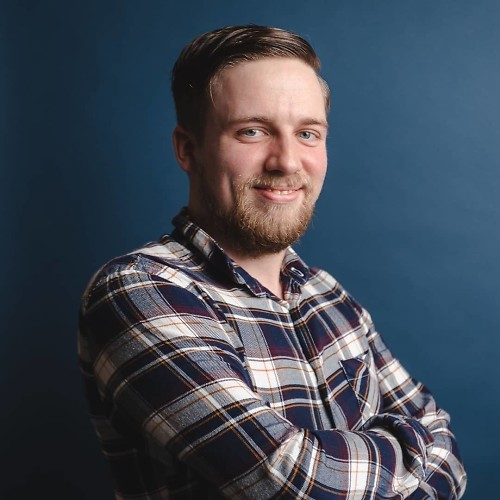 Rich Edmonds was formerly a Senior Editor of PC hardware at Windows Central, covering everything related to PC components and NAS. He's been involved in technology for more than a decade and knows a thing or two about the magic inside a PC chassis. You can follow him on Twitter at @RichEdmonds.