Best Linksys routers in 2022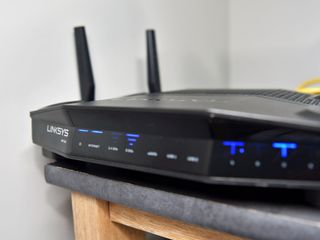 (Image credit: Windows Central)
The best Wi-Fi routers are quickly forgotten. They fade into the background and do their job without fault, sometimes for years with no maintenance. For this to come together, it needs to be fast enough for today as well as next year, support as many devices as you'll ever want to connect, and to be expandable if your space or needs change. The best Linksys router you can buy is the WRT3200ACM. It has a great balance of features out of the box with support for open source software if you want to customize your router.
Best overall: Linksys WRT3200ACM
Why you can trust Windows Central Our expert reviewers spend hours testing and comparing products and services so you can choose the best for you. Find out more about how we test.
Linksys WRT3200ACM
Solid speeds with custom software support
Reasons to buy
+
Solid AC3200 speeds
+
Easy expansion with 4 Ethernet ports
+
Supports MU-MIMO
+
Supports custom firmware
Reasons to avoid
-
Large size
-
2.4GHz performance can suffer at long distances
The Linksys WRT3200ACM looks like a blast from the past with its blue and black housing calling back to Linksys equipment of the past. Even so, this router has a more aggressive and angular appearance, with four antennas delivering its AC3200 speeds to devices. The speed is delivered at up to 600Mbps on the 2.4GHz band and up to 2600Mbps on the 5GHz band. This will be more than enough speed for most standard browsing, streaming, and gaming on several devices, like the HP Pavilion Aero 13.
This router has one gigabit Ethernet port in and four gigabit Ethernet ports to get wireless devices connected. Also, on the back is a USB 3.0 port, as well as a combo USB 2.0 and eSATA port for a quick network storage option.
The most exciting feature of this router is the ability to use custom software. While there are plenty of routers that can have custom software loaded without official support, it is nice to see Linksys openly supporting the option. OpenWRT, for example, can add in additional security features as well as continuing to get updates even after Linksys has stopped putting them out.
Best value: Linksys EA6350-4B
Linksys EA6350-4B
Cheap Wi-Fi 5 with Gigabit Ethernet
Reasons to buy
+
4 Gigabit Ethernet ports for easy wired connections
+
Quick and easy setup with Linksys app
+
Alexa Wi-Fi controls available
Reasons to avoid
-
AC1200 speeds are starting to feel slow at this price
-
No MU-MIMO support
When it comes to value, everyone's needs are different, but for most people looking to save one Wi-Fi, the Linksys EA6350-4B delivers adequate speeds at AC1200 with four Ethernet ports on the back. This router isn't a great choice for someone with Gigabit internet due to its 5GHz speeds maxing out at 867Mbps, but for most people, it will be more than enough. Not only that, but all the Ethernet ports support Gigabit speed. There's also a USB 3.1 port on the front for easy access.
This router is relatively compact and should be easy to blend into your entertainment center or computer area. It also has mounting points on the bottom and fully adjustable antennas so it can be easily wall-mounted without compromise. This is a solid little router that will keep quite a few people happy without having to spend anything on features you won't use.
Best value Wi-Fi 6: Linksys MR7350
Linksys MR 7350
Entry Wi-Fi 6 with mesh expansion
Reasons to buy
+
AX1800 speeds are solid for most people
+
4 gigabit Ethernet ports for easy expansion
+
Velop mesh support for easy expansion
Reasons to avoid
-
Dual-band not the best for mesh networks
Linksys is jumping into Wi-Fi 6 routing with the MR7350, which is capable of AX1800 speeds in a nondescript black housing. The dual-band wireless speed is delivered at up to 1201Mbps at 5GHz and 574Mbps at 2.4GHz. There are four gigabit Ethernet ports around the back flanked by two adjustable antennas. There is also a USB 3.0 port on the back for easy network storage.
Simultaneous dual-band connectivity keeps speeds high even when using both bands, which is necessary for the MR7350's full Velop mesh support. This router can connect to and be the foundation of a Linksys Velop mesh. It can either be added as another node for an existing Velop network or work on its own with Velop expansion as an option down the line.
If you don't have Wi-Fi 6 devices yet, don't worry. Wi-Fi 6 routers like MR7350 work flawlessly with older Wi-Fi generations.
Best gaming: Linksys WRT32XB
Linksys WRT32XB
A killer prioritization engine
Reasons to buy
+
Fast AC3200 speeds
+
MU-MIMO
+
USB 3.0 and eSATA storage expansion
+
4 Ethernet ports for easy expansion
Reasons to avoid
-
No mesh option
-
No link aggregation or multi-gig Ethernet
Boasting the intense-sounding Killer Prioritization Engine to keep pings low and consistent in games, the Linksys WRT32XB is a powerful gaming router with a focus on Xbox gaming. That's not to say this router can't be helpful to other consoles or PC gaming; you can set all of that up in the software menus geared towards gamers.
AC3200 Wi-Fi speeds are more than enough for most users and are fast enough to allow 4K video streams. While streaming, prioritization in the software will keep game traffic running consistently, which is more important for gaming. Still, it's nice to have a fast router at the ready if you play something like Sea of Thieves and find a 6GB update waiting for you when you want to play a quick game with friends.
With an aggressive stance and an all-black housing, this router will fit in nicely with other gaming hardware, and the strip of lights on the front will reassuringly display your connection statuses on every connection. Finally, a USB 3.0 port, along with an eSATA/USB combo port, allows for an easy and cheap network drive. ESATA is an aging standard having been dethroned by USB 3.1, but it is still one of the fastest ways to attach a drive.
Best starter mesh: Linksys Velop tri-band WHW0303
Linksys Velop tri-band WHW0303
A mesh with options
Reasons to buy
+
MU-MIMO support for lots of devices
+
Easy expansion with any Velop node
+
Small and slim size makes nodes easy to place
+
Tri-band
Reasons to avoid
-
A little pricey
-
Only 2 Ethernet ports limit wired devices
-
No USB ports
Velop is a feature-rich and robust mesh system from Linksys. While competition is heating up in this category, Linksys shows off its history and experience with compact and attractive units available in both white and black plastic. This can be great for helping these mesh routers blend into every room that needs a Wi-Fi boost.
This kit brings Wi-Fi 5 speeds, which should be more than enough for streaming HD video or browsing the web. If you need to upgrade, you can pick up a Wi-Fi 6 version, but this package will be more than enough for most people. Each unit is capable of AC2200 speeds (867Mbps on each 5GHz band and 400Mbps on the 2.4GHz) with a tri-band setup.
Supporting MU-MIMO for better handling of a lot of Wi-Fi connected devices, this is an excellent option for someone who needs a consistent and widespread Wi-Fi network. You give up some wired connectivity compared to a more traditional router with only two Ethernet ports on each unit, with one dedicated to the uplink on the main unit. For a mostly Wi-Fi network, this is a great fit.
Best mesh upgrade: Linksys Velop MX5
Linksys Velop MX5
The fastest Velop mesh router
Reasons to buy
+
Fast AX5300 tri-band Wi-Fi
+
4 Ethernet ports for easy wired connectivity
+
Sleek appearance helps it blend in
Reasons to avoid
-
Device is large at 9.6 inches tall
The Linksys Velop MX5 is a solid mesh router that can work on its own thanks to four Ethernet ports and fast AX5300 tri-band Wi-Fi 6 connectivity. The 2.4GHz band can deliver up to 1147Mbps, one 5GHz band delivers up to 2402Mbps, and the last 5GHz band delivers up to 1733Mbps. Four Gigabit Ethernet ports make getting all of your devices connected, including devices you'd rather keep wired, such as a gaming PC or console.
Unlike some other mesh systems, the MX5 uses a dynamic backhaul for its mesh connection, meaning that all three bands can be utilized if you either don't have other nodes or use a wired backhaul. Speaking of backhauls, all Velop routers are compatible so that you can expand your mesh with more MX5 units, Linksys' Wi-Fi 6 routers, and older Velop mesh routers.
The housing is matte white with cooling vents on the top. A WPS button is located on the bottom next to a power switch, which could be challenging to reach once the router is set up. There is a USB 3.0 port on the back located above the Ethernet ports.
Bottom line
Linksys doesn't offer a lot of modern, future-looking router options, like Wi-Fi 6. Its lineup could use to improve to catch up to its competitors who continuously make the best routers out there. As internet speeds increase and people's devices demand faster connections, Linksys will have to adapt.
The Velop mesh routers, particularly the MX5, provide an excellent mesh option that is competitive in speed and price to a lot of routers in its price range. And products like the Linksys WRT32XB, make it clear that Linksys' biggest strength is competitive pricing. If you're looking something in the mid-range for a fair price, these are some of the best routers out there.
And if you want to go a step above, Linksys has a growing list of Wi-Fi 6 routers for those who want it. But for most people, the WRT3200ACM can deliver enough speed for most people with Wi-Fi 5 and supports just about any feature an enthusiast could want with easy open-source software support.
Get the Windows Central Newsletter
All the latest news, reviews, and guides for Windows and Xbox diehards.