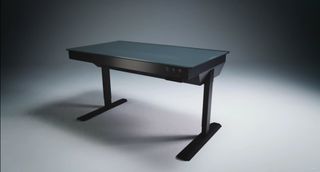 (Image credit: LIAN LI)
If you want to go all out while building your own PC, a PC case desk is a great potential investment. While PC case desks can cost a pretty penny, they're doing the work of a PC case, and a desk, so it's not a tough call to make. The issue is the lack of options and the hassle that building a custom PC case desk can be. However, there are a few great options available. If you're looking to integrate your PC build into your desk, here are the best PC case desks out there.
The best money can buy

If you don't mind spending the hefty price tag, the Lian Li DK-05F is the go-to PC case desk to buy. It's a motorized height-adjustable desk and has a switchable glass top that can switch between transparent and opaque with the touch of a button. Additionally, you can install two different systems inside it, and has support for water cooling. It also has a fully-equipped front panel complete with fan and RGB controllers.
Single system champ

The LIAN LI DK-04F carries over most of the goodness from its sibling, the DK-05F, except that it's designed for a single system. It also has a loaded front panel and switchable glass. While you do get the height adjustability, the DK-04F is a bit smaller in size than the 05F, and also carries a lower price tag. If you like the 05F but want a single-system desk, then this is the one for you.
Desk not included

The GTEPC Extreme is a new entrant in the space and comes from an Estonian brand. It's not a whole desk by itself, but rather a case that can be installed into a desk to convert the desk into a PC case desk. It has support for a single system, comes with an aluminum body and a tempered glass top, and an interesting GPU layout, which requires riser cables. It ships from Estonia, however, and can be quite costly due to the shipping costs, and the fact that it will need a desk for the assembly.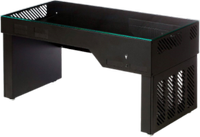 Big and heavy

The Hydra Desk is one of the earlier PC case desks in the market. It comes in at a lower price tag, while still supporting two systems, as well as water cooling, with the option to position the radiators in the right leg. It's an aluminum desk with an 8mm thick tempered glass top and promises a quick assembly. The one downside of the Hydra Desk is that it is hard to find in stock right now.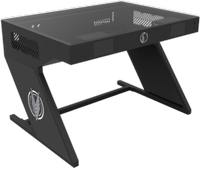 Z-shaped PC desk case

The Vector VD01 is another early entrant in the space that has become increasingly tough to find these days. It's a Z-shaped desk case with a powder-coated finish on an aluminum frame for the chassis, and hollow steel for the base. It also has an 8mm tempered glass top. If you can get your hands on one, it deserves consideration.
Navigating the waters of PC case desks
Why you can trust Windows Central Our expert reviewers spend hours testing and comparing products and services so you can choose the best for you. Find out more about how we test.
As you might have noticed, PC case desks are not really mainstream, which is why there are so few choices and availability issues. However, if you're sure about wanting one, you might want to look at building a PC case desk, especially if you find any of these options limiting for your use cases. If you want to abandon the idea of a PC case desk, you can take the conventional way and make your choice from our list of the best PC cases out there.
If you don't want to custom build one, then this list has pretty much all the options you can pick from right now. The best option is the LIAN LI DK-05F, packing in nearly as many features as one could need. It comes with ample room for two systems, water cooling, and a switchable glass that is a really cool feature addition. For a single-system setup, you can go with the LIAN LI DK-04F.
Make sure you fully check out the specifications and other details before making the jump. If you're still a little lost with your PC building adventure, then you might want to check out our choices for the best processor for your PC and the best graphics card. Good luck!
Get the Windows Central Newsletter
All the latest news, reviews, and guides for Windows and Xbox diehards.