Best Privacy Screens for Surface Book 2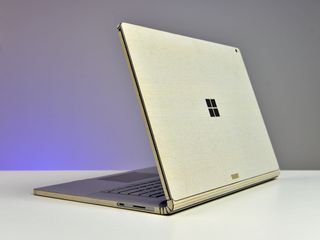 Human curiosity is a natural trait. However, as the old saying goes "curiosity killed the cat and information made him fat." Technology has enabled us to have the freedom to work from wherever we are, but it can come at the cost of our privacy since our screens are out for the world to see. Privacy screens offer a level of protection for those of us who work on commutes or planes. It works as a filter, obscuring the view from anything that isn't directly in front of it. With the release of the new Surface Book 2 in different model sizes, it's important to get the right size screen for your new Surface book!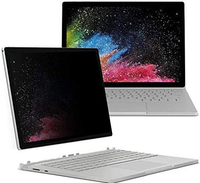 (opens in new tab)
Easy On/Off Removable Privacy Screen Filter for Microsoft Surface Book 2 (opens in new tab)

Convenient Removal

GecoCare is a great option for those who will be regularly taking their privacy screen on and off because it features reusable silicon that can renew its adhesive. It also comes with its own little pouch for carrying when it's not in use and has a lifetime guarantee.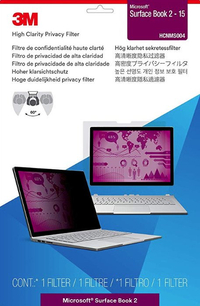 (opens in new tab)
3M Privacy Filters High Clarity for Microsoft Surface Book 2, 15 Inch (opens in new tab)

3M Privacy Screens

It's possible that the name 3M rings a bell. If it does, you would probably already know it's the trusted brand for a lot of multinational companies around the globe who want to protect their employees' laptops while on the move. 3M's commercial screen protectors bring the same legacy to your screen.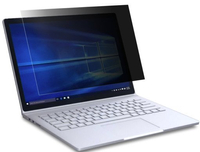 (opens in new tab)
4Vu™ Privacy Screen for Microsoft Surface™ Book 13.5' and Surface™ Book 2 13.5' (opens in new tab)

Unique Features

What the 4Vu brings to the Surface Book 2 is some additional features. It has reversible sides, so you can choose between a glossy or matte surface depending on your preference. Regardless of which side you choose, the screen reduces blue light and screen glare for a more comfortable viewing experience. It's a perfect companion for anybody who engages in extensive typing sessions.
You have plenty of options if you're in the market for a privacy screen. That being said, it's hard not to recommend the 3M Privacy Filters (opens in new tab) for their legacy of privacy protection over the years. They're the top choice for screen privacy by many multinational corporations all over the globe and an easy recommendation for those looking to add an extra level of privacy to their device.
Windows Central Newsletter
Get the best of Windows Central in in your inbox, every day!
Windows Central Newsletter
Thank you for signing up to Windows Central. You will receive a verification email shortly.
There was a problem. Please refresh the page and try again.