Best USB-C Adapters and Hubs for Surface Pro X in 2022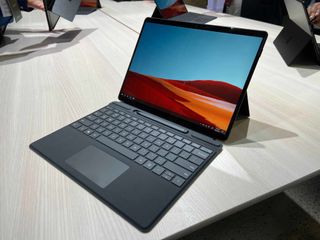 (Image credit: Daniel Rubino/Windows Central)
The Surface Pro X comes equipped with two USB-C ports, Surface Connect, and a Nano-SIM slot for LTE connectivity. If that collection doesn't seem up to the task of connecting all your favorite peripherals, we've rounded up a bunch of portable hubs and adapters that will add connectivity without compromising the mobility of your Pro X.
If we're making some suggestions
Why you can trust Windows Central Our expert reviewers spend hours testing and comparing products and services so you can choose the best for you. Find out more about how we test.
All of these hubs and adapters for the Pro X make more portable alternatives to full-size docking stations, and you should be able to find something that suits your needs. If you're still wondering which one makes the most sense, we can offer some further recommendations.
The VAVA 9-in-1 adapter (opens in new tab) is a relatively pricey choice compared to other options on the list. Still, it brings outstanding connectivity that fills in the gaps left by the Pro X. You get a 3.5mm audio port for connecting headphones or speakers without Bluetooth, and an Ethernet port allows for far faster-wired internet. UHS-I SD card and microSD card readers let you connect removable storage to the Pro X, and three USB-A ports (two 3.0 and one 2.0) give you options for older accessories and thumb drives. An HDMI port offers video out, and you can even connect a USB-C power adapter to send power back to the Pro X.
The adapter is made of an aluminum alloy for added durability, and the host cable running back to the Pro X measures six inches (15.2cm) so you're not feeling cramped with it plugged in.
If you're looking to take advantage of the 4K display support offered by the Pro X, something like the Cable Matters 4K USB-C hub (opens in new tab) will do the trick. You can connect dual 4K displays from the same USB-C hub with up to a 60Hz refresh rate in each. While this was previously possible with other adapters, there should be far less latency here to the point that it's not noticeable.