Best wireless headsets for home and office 2023
Find the best wireless headset for freedom around your desk!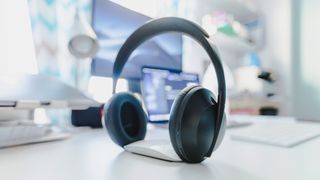 (Image credit: Piotr Cichosz via Unsplash)
Adding a wireless headset to your office supplies will increase productivity immensely. You can wander around your office while making important phone calls and collaborating on projects. You never have to miss out. A good headset can be helpful while working from home, where you might need one to block out the noise around you or one that can travel with you. That's why we recommend the iJoy premium rechargeable wireless headphones. This headset allows you to connect with two Bluetooth devices as you travel from appointment to appointment. Take a peek at the list of our top favorites when it comes to the best wireless headsets for the office and home.
iJoy Logo Stealth Wireless Headphones
A comfortable headset
Reasons to buy
+
Noise-canceling features
+
Feature a five-button control panel
+
Comfortable to wear
Reasons to avoid
-
Notifications are frequent when battery is low
Whether your office is on the road or in your home, this headset is an excellent choice. This headset features comfortable padding that fits perfectly around the contours of your ears. The compact and noise-canceling design combined with the bass response and extended frequency range makes this headset excellent for use in the workplace.
Considering convenience, this wireless headset features a five-button control system including play-pause, answer-end call, volume up, volume down, and equalizer. This makes switching between audio files and phone calls a breeze.
Friencity Wireless Headset with Microphone
Bluetooth headset made from skin-friendly padding
Reasons to buy
+
Ability to connect and toggle between two Bluetooth smartphones
+
Has a 33-foot range
+
Has a 15-hour battery life
+
Great for use in the car
Reasons to avoid
-
Instruction manual can be difficult to follow
This product is a versatile and comfortable headset designed for extended wear and durability. This headset has noise-canceling features and Bluetooth compatibility, making it great for call centers and sales offices.
This lightweight headset features a soft earpad and a flexible headband for increased comfort on your head. The padding is made from soft, skin-friendly materials that mold to your ears and head's natural contours. Wearing this 0.10-pound headset for your entire workday is effortless.
This headset has 5.0 CSR Bluetooth Technology and excellent bass and sound. Great for use while driving, users can easily pair this headset with any smartphone, radio, smartwatch, tablet, and more. It can also be programmed to toggle between two smartphones to ensure you never miss a call. If you step out to fill up on gas, this wireless headset offers a clear connection for up to 33 feet. However, connecting this headset to your devices can be difficult as the instruction manual is not the most straightforward.
This device also comes prepared for long hours with long-lasting battery life. In fact, after only 2 hours of charge, you can enjoy up to 15 hours of continuous talking time with around 200 hours when left on standby. To charge, place the headset on the included magnetic charging base.
Plantronics savi 8220 Wireless Headset
Wireless headset with secure line
Reasons to buy
+
Toggle between three devices
+
DECT security certified
+
Roam up to 590 feet
+
Noise-canceling features
Reasons to avoid
-
Customizing settings can be complicated
-
Expensive
-
Slightly heavy
This Plantronics headset is a brilliant addition to any home or corporate office. This headset weighs a comfortable 1.7 pounds, making it easy to wear for long periods. However, it's slightly more substantial than other options on this list. This versatile device also comes equipped with prime audio settings, making it an excellent choice for individuals who manage multiple lines and overseas calls.
If your business requires you to switch between communicating from your PC to your desk phone to your smartphone, the Plantronics Savi 8200 Series wireless DECT headset system may be what you need. This headset can toggle between all three of your devices in an instant. You no longer need a separate headset for your desk landline, mobile phone, or PC.
This headset takes confidentiality and security extremely seriously. It is DECT security certified and includes eight security measures to ensure your calls remain secure. Some of the precautions taken are authentication, subscription, verification, and encryption. The added noise-canceling control feature also makes hearing your clients a breeze.
With this headset, you can roam up to 590 feet away from your desk. You can customize settings such as language and notification preferences on your headset through the Plantronics Hub on your desktop. However, some customers mention that the process of customizing can be pretty complicated.
Jabra Evolve 65 UC Stereo Wireless Headset
Wireless headset for your home office
Reasons to buy
+
Lightweight
+
Indicator light informs others that you're on a call
+
Noise-canceling features for you and your caller
+
Roam up to 100 feet away from Bluetooth device
Reasons to avoid
-
Battery life drops over time
This headset promotes its convenience. Not only does it inform the members of your household that you're on a call through its built-in indicator light, but this headset also comes equipped with a USB power cord so you can quickly charge it through your PC. Weighing only 0.64 ounces, this headset is also an excellent choice for comfort.
One full charge of the battery can give you up to 14 hours of uninterrupted talk time and 15 days of standby time. However, some customers note that the battery life of a full charge tends to drop over time. Another great feature is that you can pair this device with up to eight different devices. This means that you can toggle between calls from your phone, work phone, and other devices easily.
If you're an individual who enjoys pacing around the office while closing deals, this Jabra headset may be what you're looking for. This headset allows you to pace up to 100 feet away from the Bluetooth device. That is the length of one very long hallway.
Filtering out unwanted noise has never been easier. This headset provides noise-cancellation features to both you and your caller, ensuring that you have a crystal-clear conversation. You won't have to worry about losing a potential lead due to static during your sales call.
Plantronics Voyager Focus UC Headset
The last headset you'll need
Reasons to buy
+
Noise-canceling features
+
12-14 hours of battery life
+
Roam range of up to 98 feet
+
Comfortable
Reasons to avoid
-
Not as durable as expected
This Plantronics product is a noise-canceling wireless headset that is excellent for any office. This headset weighs in at a light 5.4 ounces. The frame is plastic, while the earmuffs exhibit a comfortable and soft faux leather material. Some customers note that although they enjoy the many features, the manufacturing is less durable than other headsets.
If you work in a busy and loud environment, this Plantronics wireless headset may be just what you need, as it comes with noise-canceling features. Once you put these comfortable headphones on, they will instantly reduce all of the distracting sounds buzzing through your office. You can remain focused and productive regardless of what is happening around you.
Perhaps, you are someone who likes to pace while you close sales or share ideas. With this wireless headset, you can wander up to 98 feet away from your desk. You aren't restricted to the confinements of your cubicle. This is great for encouraging you to get some extra movement throughout the day so you're not putting unnecessary stress on your body due to a sedentary career.
These headphones have an easy-to-access mute button. Don't worry if you forget to unmute yourself, as these headphones will alert you with a reminder. Included with this headset is one lithium battery that customers have mentioned can last up to 12-14 hours on a single charge.
Comfortable working from home or at the office
Why you can trust Windows Central Our expert reviewers spend hours testing and comparing products and services so you can choose the best for you. Find out more about how we test.
Finding the best wireless headset for your home and office that is compatible with your career or business demands is critical. Investing in headphones that make it easier to do your job will immensely boost productivity in your office. Perhaps you require the ability to seamlessly toggle between multiple devices to give the most to your clients, or maybe you need powerful noise-canceling features to edit videos and media for your career. Some gaming headsets are compatible but might not be appropriate for the environment.
Whatever the need, we recommend the iJoy premium rechargeable wireless headphones as one of the best for the office. This model features crisp and clear sound during conversations with your receiver while canceling any busy ambient noise. It also allows you to wander with your Bluetooth device so you can grab the files and information you need to close your sale and seal the deal.
Get the Windows Central Newsletter
All the latest news, reviews, and guides for Windows and Xbox diehards.
Camille Sanghera is a UX writer and copywriter for global brands as well as an author of self-help books. Although she has lived and traveled internationally, Camille is originally from British Columbia, Canada. She merges over 10 years of writing experience with a love of words to bring authenticity and human connection to every project. When not writing, Camille can be found exploring nature with her dog, sketching to music, or laughing with loved ones.
You can chat with Camille on Instagram at @projectpvo.