B&H starts selling the Lumia 435 in the U.S. for $99.99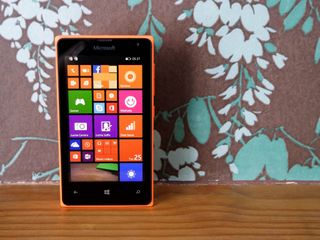 U.S. retailer B&H has commenced sales of the unlocked Lumia 435 for $99.99. The retailer joins NewEgg in offering the entry-level device in the US.
B&H is offering the Lumia 435 in black, white and bright orange color variations. The device itself comes with a 4-inch 800 x 480 display, 1.2GHz dual-core Snapdragon 200 CPU, 1GB RAM, 8GB internal memory, microSD card slot, 2MP fixed focus camera at the back, VGA front shooter, Wi-Fi 802.11 b/g/n, Bluetooth 4.0 and a 1,560mAh battery. In terms of software, you get Windows Phone 8.1 with the Lumia Denim firmware out of the box.
Check out our video review to know what you're getting with the device:
Buy Lumia 435 from B&H (opens in new tab)
WRONG PRICING STRATEGY. AGAIN!!!
******
For this phone the price point at launch must be 50 max. Then dropping to 35-40 (manufacturing cost).
******
That's how you gain market share. 100 bucks for this phone is complete joke (like Joe B). I am astonished that no one got the sack at WP top managers. Bring fresh faces with new ideas. Show the loyal users / market that you care.

Find me another unlocked phone with what this has to offer... Oh that's right, you can't. It's not a charity, it's a business. While I would agree that they have dropped the ball in some areas, this is not one of them.

Blu Jr. Dual Sim. Not the same exact specs, but close enough. $79.99.

fixed focus 2.0 mp ... no thanx

I'm sure the price will drop soon.

I wonder how these low low end devices perform. I mean my "mid ranger" l730 "resumes" on every app except messages and settings.

Tell me about it. I hate those dreaded dots on my 1020. If nothing else, this might just force me to jump ship. Microsoft, what did you do!?

I get the dots on my Lumia 1520 as well. I think its related to how the OS handles multitasking (or lack thereof).

I'm jumping ship too if W10 doesn't address the multitasking issue. My htc explorer handled multitasking quite well even though it had a 440mb ram and a 600mhz processor. I really thought l730 would be an upgrade, for a phone I got for around 350$ it's starting to look like a rip off

W10 builds seems to put a black splash screen instead, according to a poster, i.e., they removed the message. Hoping it gets better because it makes me freaking mad everytime!!!

The saddest part is when u lock your phone on an app and 2seconds later when you unlock it, it gives you resumes and restarts the app. Sure android is laggy(budget ones) but cmon this is worse

Exactly.. I mean at the least the OS should handle the app right under the lock screen. Even Symbian multitasked better..

This is very poor from Microsoft. They got the basics very much wrong with W8.1 (I have never used W8.0). And to think I could have gotten htc m8 for the same price :(

8.0 didn't have this issue. 8.1 was when it was introduced and they better fix it in W10. My 1020 has become super laggy and resume screens are what I spend most of my time on now.

I literally look away from my phone while those dots are doing rounds on my screen. W10 better offer 8.0 like smooth experience - gosh, I don't even remember what that was like!

Exactly! When you unlock and slowly peek under the lock screen, you can see the dots kicking in. WPC app is the only decent behaving app, guess it's still Silverlight and not WinRT, that's why.

I noticed that the wcentral app resumes the least of all of my apps

I found a solution for 8.1 with little bit of compromise. I know this solution is not for everybody but a very effective solution Solution:- In the battery saver settings use "Always limit functionality". Now go under battery saver Usage set the individual apps to always work in background even when battery saver mode is on. Now open multiple apps and you should be able to switch between apps without any resuming screen. The biggest advantage is that apps keep their state and hence don't go in tombstate mode. For eg. I have a candy crush game running and half way through my level. Now even if I came back 12 hours later (making that app active or by restarting the game) I can still continue where I left. If I don't use the battery saver mode then my candy crush doesn't last for more than half an hours before restarting when made active again. So that lock screen resuming and app restarting won't happen with this setting (at least I think). I still need more testing.But my initial results have been fantastic. I would encourage you guys here to please try for atleast 2 days and share your thoughts. Compromise so far:- This way I can get the push notifications to work (like skype, whatsapp will deliver messgaes as long as you have enabled the app to run in background when in battery saver mode ) just like it does normally but the tile updates are not happening

I'm trying your approach. Especially, with apps like Skype, Music, MixRadio, Twitter, etc. Although, I still see some resuming, it doesn't appear too bad. You might be on to something here.

This is fixed in W10. Screen is completely gone

Gone as in... zero delay in resuming or no message? Also, is this for app under lock screen or all of them? I also heard the back button now closes the app instead of putting it in background (like Skype does).

I bet they're not too different from your 730, they problem is in the OS not the phone.. Sometimes I wonder what does 'suspended' and 'tombstoned' mean.. Posted via the Windows Central App for Android

My l735 hardly has this issue, it only shows resuming if I close out an app and in that case it takes like a second to open, switching using the back key to show all open apps has no delays it just jumps right into them

This is one of the many reasons I am starting to look at other phones. Literally everything I used to like about WP is gone. I see no reason anymore for anyone to stay with it...but I am holding out to see if WP solves anything, which doesn't look good.

Not much slower, cuz the supposed midrange 730 and 830 use Snapdragon 400 chips who's CPU cores are the same as the snapdragon 200. Lumia 435's chip version is only dual core however so that may make it a bit slower than the ones that use quad core 200 chips.

Yeah but what carriers would it work for..? I feel like they should offer these free with prepaid at the 7-11 and boot those good awful Android phones! =/

I think it works with AT&T and maybe T-Mobile. Though it's not an LTE phone so it ain't grabbing that.

This phone is a piece of shit, my old Lumia 920 got better specs and i can find one for less than $100 !! The 435 its double under lower end phone...

Hey man, look at my brother in the face and call him a piece of shit because this would be all he would need... Not everybody has to have the greatest of all time everything on their phones man, okay??? GEEZ!!!

When it comes down to it it's just a phone with PC capabilities. Also do they want the phone to wipe their butt too? Sheesh people nowadays. I agree MediaCastleX.

Well find a Lumia 920 to your brother why buying a phone with low specs when you can find a better at the same price who do better in everything ??? GEEZ!!! Well yes if my phone could wipe my ass i will become more ecologic and stop using and spending money for paper

I think Lumia 920 is the perfect weight :) If i wanted feather light phone, i go to fisher price.

I agree with vartanarsen the 920 is a good and indestructible phone and the low light picture are amazing !! Anyway more heavy a phone of this size is the better quality he is, and this is for every electronic thing because the components use are good quality, iv got and old Sony trinitron 32" 1994 in my garage and you need to be 2 if you want to carry it because damn its heavy but this tv got 21 years old and work like new, there is a Svideo and vga in the rear panel i have plug a computer on it and use it with Mitchell 1 and alldata !!! Anyway i dont really care about the weight since i have a Lumia 1520... My point is you can find a far better phone than the 435 for less than $99

This may come as a shock to idiots like you Sebastien, but despite all your judgements about what is best for everyone, people will buy this phone. Shockingly, they won't listen to you. I know. Don't beat yourself up over it. Do, however, find yourself something more important to care about.

Oh i dont care peoples buy whatever they want dude, at first it was just my opinion, but if you treat peoples with opinion of idiot then do yourself a favor and buy this phone and then after a good try you will ask yourself "am i the biggest idiot ever?" !!

Sigh... Another low end phone. Rocking a "Blu Life Pure" Android phone until a flagship WP comes out. Love my 1020 but it's slow and the resuming is awful....

As always when I see a budget WP, I just don't understand why people looking for a budget phone look to Android. Try running Android with those specs and you're in for a horrible experience...

I would expect a gold body soon.

The 532 would be more popular.

I agree but I don't understand why the 435 is available but not the 532.

The 435 is smaller lighter and it's new. Only reservation is the 532 is better.

Meanwhile B&H has nice app for Android. WP? Not a chance.

What the hell us networks will this work on at hspa/4g speeds?

the pricing and naming of lumia devices are all over the place now. it's so confusing. the low end is especially messy. i kinda wish ms could just have notable phone series like every other manufacturer.

This is more expensive than a Lumia 530 over here (which are less than a hundred bucks).

MS website says 3G is 900/2100. Loooks like this phone will run on Edge only for AT&T

I got a free 635 with Xbox Music that has 512MB ram. Other than the memory difference, what's better 635 or 435?

635 is LTE 635 has Snapdragon 400 vs Snapdragon 200 for 435 635 has 4 core CPU vs 435 I don't know

How many junk phones can MS release? Over/under is at 200 derivative lumia 400-600 series in 2015.
Windows Central Newsletter
Thank you for signing up to Windows Central. You will receive a verification email shortly.
There was a problem. Please refresh the page and try again.