Bing brings daily quizzes to its home page for everyone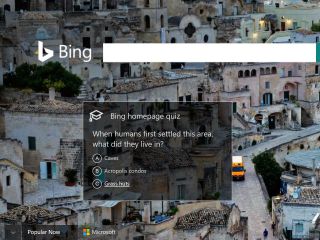 Microsoft has been testing a daily quiz on its Bing home page for the past month or so, and will officially launch the feature in about a month.
In a blog post, Microsoft says:
Microsoft says that since it introduced the quiz on the Bing home page it has seen a 65% increase in users engaging with the cap icon compared to the home page's normal hotspots:
Microsoft previously launched a weekly trends quiz in its Popular Now news carousel, and recently started testing polls for current events and trending topics.
Windows Central Newsletter
Get the best of Windows Central in your inbox, every day!
I didn't realize that this wasn't generally available yet. The first time I saw the new quiz, I was a little disappointed as I liked all the little things you could learn from the hotspots. However, I now find the quiz more engaging and you still get the interesting tidbits from the questions. The only issue I have with it is that most of the time the answer to the first question can be figured out by simply hovering over the info box for the image. This makes the first question pretty pointless.

I still don't understand why MS doesn't optimize Bing for other countries. It's a good looking browser, but if I search something in my language the results are inaccurate and useless.

Does anyone here searches in Bing?

All the time. I find it as fruitful as any other search, and I enjoy the daily picture. It's even my desktop background.

Yes. But bing doesn't give much link as google. But bing result is crisp..and to the point.

I used to like the little squares on the daily image in 7.8. They went west, which was a pity. This engagement brings some of that back.

Been enjoying this for the past month,

What the hindrance is there to bring a simple quiz section for worldwide? I'm not seeing this in India.