Bing Audio music matching expands to 14 new countries - get your groove on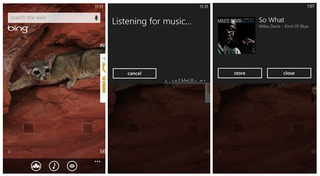 Last week we reported that unconfirmed rumors on Reddit had hinted that Microsoft might be expanding it's Bing Audio music matching service. Today, the company announced that it would in fact be expanding the service into 14 new countries around the world. The music matching service is a great alternative to applications like Shazam, as it comes pre-bundled into the Windows Phone operating system.
New countries to receive the surface include Argentina, Austria, Belgium, Brazil, Denmark, Finland, Ireland, Mexico, Netherlands, New Zealand, Norway, Portugal, Sweden, and Switzerland. The update will take some time to roll out, but once you find it available – hit the search key, then the music note to start identifying music playing around you.
Bing Audio will list any music you have matched into your history and if you have an Xbox Music subscription you can stream the new song with one click.
What do you use for music matching on your phone - does anyone prefer to use Shazam over Bing Audio?
Source: Windows Phone Blog
Windows Central Newsletter
Get the best of Windows Central in your inbox, every day!
On the screen shot I see three buttons, but I miss the first one..? What does that do?

Local Scout. It provides info on businesses near your location. Good for restaurants and things of the like.

Thanks! So this is region based probably? I'm from the Netherlands and don't see it.

You have to enable locations in Bing app for it to show up

And it needs to be launched in your region.

Yeah I got the locations enabled, it is the region problem..

It is only currently available in the US and UK I believe.

Australia have it too, but not New Zealand.

If you set your search language to UK it will show up

I want a better MP3 experience on my WP/Win8.
/rant

I never use Bing Music. Shazam is my app of choice for that.

While Bing Music doesn't have lyrics, I find it more accurate than Shazam.

"new countries to receive the surface" ? Think there is a slight error there Michael, should be Bing Audio matching service ;)

Still no love for Russia.

...or Poland, though this doesn't stop them to be proud of high sales share of Windows Phone here... But to keep this share they should not forget to develop their services quickly in those countries that currently trusted to their OS.

BTW: I have only visual search for QR codes ("the eye" icon) in Bing in Poland, what's the purpose of this "little castle" icon that can be seen on the left side of the first screenshot?

Local Scout. For finding all your nearby places like restaurants,shopping etc etc

I have no Bing search at all. If I tap search button it opens bing.com in browser.

I was using Bing up until this new shazaam update came out. Now I'm trying shazaam again, well see how that goes, it's already frozen a few times.

I use Bing music exclusively. I was a big shazaam user before Windows Phone but I don't see the need for that app. It has yet to fail me and its so effortless. Hit search,music search and I am good to go. Is there a reason I should go back to shazaam? I haven't tried it in a long time.

if you pin the shazam search to your start screen, it's faster than using bing music search

I use soundhound, because it gives me free synchronized lyrics! :)

SoundCloud > Bing music > Shazam

I live in Sweden so I'm glad to receive this function now. However when I've watched reviews and such of other windows phones( E.G in the US ), they can scroll on the bing page when the app is first opened... I only have a dull, non-scrollable search page, what are the features I am missing? Also the social scout has never worked on my device, just says try again later.

Swede here too :) You need to change your region to US for it to work.

Ok thanks, but what kind of changes would that do? Since the region setup is there for a reason... Tack för svaret föresten.

Just change "webbläsare och sökspråk" to English (US) and you'll get the extra Bing features. No need to reboot neither.

Don't got no Bing music in the Caribbean soo shazam!

Do you get all the services wp offer in the caribbean ? ...apps working etc?

Yup. Majority of things work. Just apps like Pandora , Hulu plus etc won't work. But, it's the internet and there is a workaround for almost everything :)

Very good to hear ...been monitoring that aspect awhile now.. from trinidad by the way, thanks for the info

Where's India, come on Microsoft!!! *disappointed*

This is an example of what I was commenting about MS services like Bing in some previous articles.. See the "services fragmentation" there.?? Why only now for those countries, not to mention ours still isn't included yet. Also how about the beautiful Local Scout..?? They really need to step it up on quality + availability... Great news for WP community though...

I use Bing , SoundHound & Shazam , Each have it own advantages & Disadvantages .
• Bing starts faster & have a bigger database compared to both SoundHound & Shazam , but it doesn't work without an Internet connection unlike SoundHound & Shazam . • Shazam can recognize Arabic music (Khaliji to be specific) , but have a small database compared to Bing . • SoundHound have all the social stuff & have Voice Commands , but sometimes takes forever to start.

I'm looking forward to Local Scout coming to Canada. I really like the Bing Music service. I've never had to install Shazam.

I had Local Scout on my Lumia 900 and was not happy, like most WP8 users, when it was not available in Canada. Apparently it is available in all these backwoods Eastern European countries though..........which is pointless!

Its pretty nifty how fast, accurate this product is compared to shazam. People are often surprised how quickly I can tag a song. Wonderful cloud tech.

Bing is just a different app for each country.. Check it yourself changing search regions. Although some features change,, thats local scout and Bing music are integrate in the OS. My Lumia 900 will never have Bing music and I am in Argentina.

When Xbox Music will be availible in Russia? Windows Phone is one of the most popular mobile platform in this country but Microsoft doen't care much about us

I'm in Ireland and have it a few weeks now, not the local scout thing though

I like bing audio but sometimes need to resort to sound hound because Bing won't recognize a song, or when I want lyrics information.

wow...i had no idea that this feature even existed and I follow the platform closely. I think Microsoft needs to do a better job of showcasing WP's features to the general public.

I've been using Soundhound.

I didn't realize it wasn't available for everyone. Wow . Its a great feature that I always use when listening to the radio. just hit the search button and then download the track right after with my Xbox music subscription. Truly awesome.

Since june 25th this feature is available here in Brazil :D

I bid you adieu, Soundhound.

i'm from mex, i change my location to "united states" to see the 3 buttons on bing search :D

Would love to see the Bing Audio feature activated in India, using Shazam till that time :)

Had no idea Bing has this available. I'll have to try it!