Bing Translator for Windows Phone gets 'better quality and responsiveness of translations '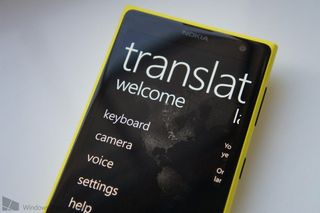 Today, Microsoft has updated their Bing Translator apps for Windows 8 and Windows Phone 8, bringing new features and refined functionality to the popular – and well designed – language deciphering programs. By allowing users to "live" translate various language to their own native tongue, Bing Translator is an invaluable tool for those finding themselves in a foreign land.
Last updated at the end of September, Bing Translator for Windows Phone today is having a few new alterations that should improve the user experience.
Bing Translator 2.8 (Windows Phone)
Improvements to the speech functionality for better quality and responsiveness of translations
Redesigned user interface for the existing and recently released offline language packs
You can grab version 2.8 of Bing Translator right now here in the Store or scan the QR code below.
When it comes to the Windows 8 version, we're also getting an update for that app to bring it up on par with the Windows Phone 8 version:
Speech-to-speech translations from any Windows device
Portrait and landscape mode for the camera mode
While we don't see many occasions where we'll hold our Surface up to scan a translation, we could envision doing that with those multiplying 8-inch tablets, so it's great that we do landscape and portrait with today's update.
If you're running Windows 8.1, you will have the update pushed to you automatically. If not, you can head into the Windows Store settings > Settings > App Updates and Check for updates to make the magic happen right now. You can also find Bing Translator for Windows 8 here in the Windows Store (opens in new tab) directly.
Via: Microsoft Translator Blog (opens in new tab)
Windows Central Newsletter
Get the best of Windows Central in your inbox, every day!
Daniel Rubino is the Editor-in-chief of Windows Central, head reviewer, podcast co-host, and analyst. He has been covering Microsoft since 2007 when this site was called WMExperts (and later Windows Phone Central). His interests include Windows, laptops, next-gen computing, and for some reason, watches. Before all this tech stuff, he worked on a Ph.D. in linguistics, watched people sleep (for medical purposes!), and ran the projectors at movie theaters because it was fun.
I love Bing Translator . Its the most reliable translator i've used

I'm still waiting for the Rodneyej to English update.

Thats not true... Google's is way better

Like you'd know what's the best he's used? LoL

I hate all google services and hate to use them even more so they somehow put tracking cookies even when I am using IE in inPrivate mode. Anyway to the point I am learning Korean and I can easily say which translator has helped me more when using it and google is leaps and bounds better than bing it has been a god awful experience so far that I stopped looking at the app altogether I hope this update improves things, but I somehow doubt it...

lol sure. It's probably the crappiest translator I've ever used. It is almost always wrong. Even my friend who likes Google admits the Translator sucks and uses Bing Translate.

That's an absolute lie!!! I've used both and Bing Translator is waaaay better!!!

for chinese at least, bing intelligently uses the correct grammar and words

The most incredible translator I've ever used is "t-translator" and it's in the Windows store. I've used Bing and Google translators for years but I am just blown away with the accuracy of t-translator. The biggest thing for me was that when I speak, it catches it nearly 100% of the time, every time. I still have no idea how it does that voodoo! lol. And it's not available for iOS (at least every time I brag about it while showing off my Lumia 920 to my apple friends. Mid conversation (after a few demonstrations) they always stop to go looking for it and haven't found it yet. nice ;) (maybe I should be more adult about this.... perhaps tomorrow). I just checked the windows store and t-translator is still there. 5 out of 5 stars (only 65 reviews though). I'm surprised that no one is talking about this. tons of language packs, nice interface. easily switches from one language to another, and when I do side by side comparisons between 4 translation programs I have installed (bing and google included) they don't even come close. The accuracy in terms of understand what I said, putting it on screen and then saying it back to me is incredible. I guess I should go to the store and write a review since i LOVE this program so much. Kept meaning to do so but haven't. Then I saw all thiis discussion today about which translation program is the best and once again, t-translator seems to be some kind of best kept secret. So this is my THANK YOU to the devs for making a fantastic FREE APP. Hopefully someone here will see this and try it out. If you do like the app, spread the word. Maybe MS would buy them and incorporate whatever trick they use to be so accurate. (end of advertisement. lol. but seriously, don't know those guys from a fly on the wall, just thougt it a bit selfish of me not to share. )

What he said. I have the Bing translator installed and doing nothing while t-Translator gets all the traffic. A truly awesome app.

So I just checked out T-Translator and it indeed kills both Bing and google thanks for the tip.

You're welcome! hope others get to experience the joy. Perhaps WPCentral could do a review and highlight the work these guys have done. I use it all the time. I am still wondering what they've figured out that even google and ms (with all their R&D dollars and might) haven't figured out. Whatever it is, I just hope more people discover it. It makes me think that true/accurate voice recognition is not that far off.

I don't why but this feels like a commercial. Anyway; I'll keep the name in mind just in case.

Qu, Merveilleux, Wunderbare...haha...works great. It looks quicker too

Bing translator sucks. Missing so many offline language packs, that without internet is unuseable

Correction: the foundation of the app and service is solid, it just needs more languages.

Yep. Still I can't understand why they can't just add all languages downloadable offline. Compared to google translator on lagdroid this app's just horrible.

Because creating reasonably accurate language translation files involves a lot more than search and replace.

Compared to google, this is maybe missing a few languages. Doesn't make it "horrible". Makes it maybe, not for you.

Can anybody help me? I own an unlocked Lumia 920 and in nokias page I can see that the black update is also available for my phone (Spain), but when I check for updates it says that my phone is up to date and there are no updates available. I am 100% sure that I have not updated yet. I am actually running amber. Does anyone know something I can do? All my friends have their 920 and 820 updated but me. :(

it's way better than any other Free translator out there

It has all the important and useful languages /troll *grabs popcorn*

But can it translate Minion

Of course! cats, dogs, minions, ... Only thing it can't translate is what women say to what they really mean :p

Were are not that advanced yet :P

Is this like the new version of "can it run Crysis?"

It would be great if they could make this native to the OS.

Then it would take longer for updates.

You mean like it is in Bing Vision when you press the search button, and then the eye symbol?

Bing Translator does more than visual translation. But it would be great if the service was built into the search button as well.

Love this app. I'm confident that I can go to foreign countries now without being a total clueless tourist. But its been really helpful here in Canada since my French sucks!!

Don't they all speak and write in English too? I always thought they did there

Not if you are outside of Montreal in Quebec. Also we have French customers sending us notes in French with their packages.

I think I'm the ONLY person who is waiting for pinyin to be added to the simplified chinese translations.... like google translate has had FOR-EV-ER. Otherwise, it's my favorite translation app on any platform.

You are not alone. I bet they'll see a surge of increase in usage if they implement pinyin.

I really like "Bing Translator" on my Lumia / Surface but on my PC I still use both Bing and Google because there are sometimes very weird translations on Bing sometimes. But as I mostly read texts in languages I can read Dictionariy-Apps are way more important to me. What I would really like to see on the client for phones is a history as in the Windows-version which in my opinion makes more sense than an extra pivot.

Man.. I wish I would of had the offline language pack for when I went to Guatemala two weeks ago.

This app is great. Really helpful. But somehow I need arabic to english translation through camera.

The app name on the live tile still overlaps the daily word, I hate that. Hopefully they fix that.

I use the cam on my surface to translate packages in warehouse every day

Yes it does you have to tap &123 then tap "->" and it should be there.

Could be better if we able to pull it with search button!

So they made it understand Klingon. But a download for Japanese is still a no go :(

That was a side project largely done by volunteers, done partly to ride the publicity coat tails of Star Trek: Into Darkness. Perhaps there aren't enough people fluent/literate in Japanese willing to volunteer their time to adequately train the system.

The update has really made the app more stable & faster. The live tile use to go black every so often, so hopefully they fixed that bug. Other than that very useful.

Its good, not perfect but then what translator software is. Just wish they would call it bing translator, so its grouped with other apps

Hope they get vision for Japanese soon.

GRACIAS POR SU AYUDA SEÑOR RUBINO

What I need: - Multiple translations, showing different possibilities. - Offline packages from Swedish to German for example. Its only possible to have German <-> English and Swedish <-> English

It's totally a bad translator it always gives the wrong word to me.
I use T-translator free app no ads and way better

Useless to me not having Arabic Offline

It needs a lot offline languages!

Maybe a bit tedious, it is still better to just learn the language. All internet translators tend to be terrible.

my best translator hope it will get more improvement

So they translate klingon, but still no latin translation...

More offline languages are needed ><

Now where is the option to move language packs to SD card? It's pretty bogus that maps can only be put (as in redownloaded, not move) on SD card with the Lumia Storage Beta and those offline translation packs all go into scarse internal storage. Heck, for some reason I even had to manually delete plenty of stuff from internal memory so I could apply the Black update while my SD card is only 5% occupied.

The voice translator really improve alot more faster and more accurate voice detect I just hope Offline language packs can save in SD card

And yet, despite the icon, does not do visual/camera translation from Japanese to English, which is the only use I would have for a translator.

Hi Daniel.. translation apps are awesome apps to use while travelling abroad. So, its great to know about this windows phone translator app. http://speechtrans.com/ also provides such advanced translation apps for windows phone.