Bing Translator smashes the language barrier, arrives on Windows 8/RT devices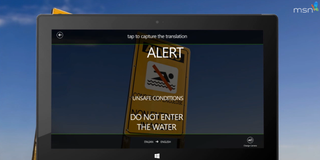 Today Microsoft released the Bing Translator App for Windows 8. Just like the Translation application on your Windows Phone, you can now easily convert between 40 different languages using your PC.
Bing Translator app is based on years of Microosft Research and advanced machine learning. The application can translate text, visual images, and content you find on the web. Simply type in what you would like translated, point the tablet's camera for an augmented experience, or use Windows 8's share charm to translate content anywhere on your PC.
In adddition, Microsoft offers several language packs to download for offline use of the application including Chinese simplified, French, German, Italian, and Spanish. According to the company, more language packs will be coming in the near future.
You can grab the app for free here (opens in new tab).
Let us know what you think – has Bing Translator ever saved you when you needed a language translated?
Source: Bing Blog
Get the Windows Central Newsletter
All the latest news, reviews, and guides for Windows and Xbox diehards.
My starship was attacked by Klingons last week and our translator was killed in the accident - Bing translator saved many lives by providing the phrase "mevyap. Qo' bach"

LMAO I was wondering how this would have real world application. Thank you. Downloading it it now.

*P.S. I'm dead serious.

The app is pretty handy but screw Klingon... Why did they spend effort on that when Japanese isn't available for the camera translation? I travel there several times a year on business but unfortunately as a WP owner, there doesn't seem to be a solution for that. I'm pretty sure nobody travels to Klingonia or wherever the hell one might use that.

I'm pretty sure in the video, they state that there was a WP Bing Translator app long before the W8/RT version. You should check it out.

Pretty sure Japanese is there, its actually the one before klingon.

im guessing a trekky fan sent them the translation for all words Klingon and they decided to include it, (it thats true then it's pretty cool lol)

Dude on the Translator project knows Klingon and did it on his own time. Could we give this one a rest already?

The Windows Phone 8 Bing Translator needs more offline language packs. It's too limited as of now.

Bing translator app is based on years of MICROOSOFT research. Just to inform you

Maybe its launched by gOOgle

I mean as competition to Microsoft. ;)

Now can I speak directly in brazilian portuguese in here and all of you will translate to your native language using the Share Charm?? :)

I found it very helpful on identifying ingredients in foods I brought back to the US from overseas business trips. I didn't have a WP at the time so was using a friends. But now I can use mine while over there which will be hugely helpful.

Am I the only one who doesn't think that the word 'Metro' appeared by accident in that video?

I was really excited about the Image translation aspect of this... But then I found out it only works to translate english images to other languages...
Hopefully they update it to support that soon. To me that would be one of the most liberating things ever when traveling.
Update: watched the video and they show the function, but it seems to be disabled on a lot of the languages (ie. Japanese to English)

got it finally i have been waiting for this

I wish they would fix the live tiles on windows phone. Word of the day doesn't work :-/

Man, Microsoft is really workin' it! Do they ever sleep?? My respect for Microsoft grows stronger everyday!

The last part where it translate text on the Modern IE made me download the app just now for my laptop.

Share charm integration -- extremely handy in the browser.

I hope they add camera support to all the languages. Just tried it by aiming my Surface Pro's camera at a Spanish language newspaper on my workstation's screen. Translation was very zippy, even with a large amount of text and the funky interference patterns you get when you point a camera at a display. Good job, Microsoft!

Damn it.. Kingon is not an option in the Australian WP7 version even after the last update (bit is on Win8/RT)

I will have to try this when I get the time, but I was severely dissapointed in the WP8 app. Not because it wasn't a good app, but because it is useless for actual translating to German, which is the main function I need. If it won't show the definite article with the translated word, it doesn't actually help me at all.
There are far too many language which apply genders to nouns. These are things you need to know when using the language to be able to properly form a sentence. Just knowing the word isn't enough. Really hope they have fixed this in the W8 app.

Hi Michael.. Ya, translation app reduces the language barrier while communicating in foreign languages. So, thanks for sharing this nice and informative post. Really a great help.