BitTorrent Sync is now available for Windows Phone, sync files without the cloud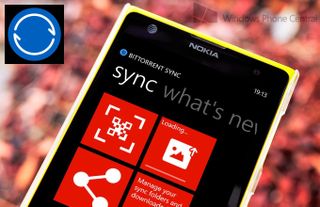 Despite what other blogs would have you believe, BitTorrent Sync was not released for Windows Phone last week. Instead, it was a private beta that was helping develop the Windows Phone version of the app. That beta is finally over. BitTorrent just announced version 1.3 of their Sync product and with it, a new app for Windows Phone users. Let's check out BitTorrent Sync for Windows Phone.
BitTorrent Sync promises to allow users to share data and files with one another, but still own that data. It offers secure, unlimited file-syncing without requiring a third-party cloud. Your files are never stored on servers, so no NSA eyes will fall on it. You can also access your files anywhere. Create a Sync folder and you'll be able to access it on any computer, phone or tablet. There's also no limit on file sizes. Which means you can send files that range in kilobytes to terabytes.
Version 1.3 of BitTorrent Sync brings a ton of changes to the desktop version of Sync and includes service updates for the mobile apps on iOS and Android, but it also introduces a Windows Phone variant. For the full 1.3 changelog head into the BitTorrent forums.
The Windows Phone app is now public. Here's what you get with BitTorrent Sync for Windows Phone:
Access all your Sync folders and files from your Windows Phone device.
Add photos from your Windows Phone device to any of your Sync folders.
Automatically back up your Camera Roll to a folder on your computer.
File transfers are encrypted and protected by secure keys.
Your information is never stored on a server in the cloud.
Connecting the Sync application to other Sync folders is as easy as taking a picture of a QR code with your camera.
Right now Rich was able to download the app in the U.K. Daniel and I couldn't grab it yet in the U.S. This appears to be the version of BitTorrent Sync that was a beta last week. So be patient if you try to download right now and get a permissions error. The Windows Phone Store will take time to propagate that the app is now public.
Nonetheless Rich is enjoying it and we all really like the premise behind BitTorrent Sync. Head to the download page and grab the desktop version of BitTorrent Sync for your operating system. You'll need that to get the most out of BitTorrent Sync. We definitely recommend trying it out on a desktop or PC that you tend to keep on more often than not.
Like Live Mesh, BitTorrent Sync works by skipping the cloud and syncing files and data directly between devices. We like that and know a lot of you are looking forward to something like this.
Download BitTorrent Sync from the Windows Phone Store today. It's free!
Source: BitTorrent Blog
Windows Central Newsletter
Get the best of Windows Central in in your inbox, every day!
I lost my usb cable but now file transfer is easy for me thanx bittorrent

Fantasic. I use BitTorrent Sync between my home server and other devices.

Every day we have more apps... Soon the world will know the power of wp8.1

Firstly yeah ur damn right ita abt time for all other Os users to feel the power of Wp8.Secondly For those who don't know a secret here's one-u can already transfer files to ur phone and also SD CARD!I say again SD CARD through MOLI PLAYER PRO to any folder of ur choice through WIFI now i don't use the cable any longer!And i checked on my bro's Galaxy Note to find that Android Moli Player doesn't have it though they have KIES Air similar apps.Am just loving the Wp experience more and more and also major credits to WpCentral!
Sent while listening to One Republic-If i lose myself!

yeah but moliplayer always reboots phone when file is larger than 500mb

So there is nothing like adding torrent files to download??

In WP8.1 there's said to be support for downloading files through IE11. Which means torrent apps should start to appear after that.

There's already a torrent app for WP

Wptorrent... Its good... I am using it...

Sam try downloading now. Just got it from the US app store.

Available here too, southeast US.

WP 8.1 delayed, according to Dan, check his twitter status :'(

Off topic. And incorrect, I said the dev preview was delayed.

WHAT?!?
It won't be available right after the Build announcement?

It should be. Mahn im tired waiting.

Isn't such a delay kind of unprofessional ? They should've accomodated for some delays before announcing the build dates..

I've seen no official dates for the dev preview, only rumors. I don't think Microsoft has even officially said that WP8.1 will be shown off at Build. Anyway, we'd better get back on topic before things get nuclear.

Hey is there any app to sync camera roll via local WiFi ? Not ftp, that would mean copy paste, i want auto sync via local WiFi, internet is too slow here in India :( and i presume this bittorrent client syncs via internet, not LAN. (edit: confirmed via app description)

Am I the only one getting a feeling like this is more of a commercial for OneDrive?

Just looking at this now, there is no Windows 8 app. Need this on my surface as well.

Very good news!! Already using it and it's working flawlessly.

Eh, I don't use bittorrent. I use µtorrent

You can use μTorrent Remote.

Ahh!!! Still missing the option to backup video and hi-res photos :'( Really want this to be my OneDrive replacement!

I see it as an easy way to get files to my phone from my desktop. However, you can't copy/move the files to a location outside the app...but I believe that is an OS limitation.
Of course there is much more to this app than that...but that's a nice little gap fill for me.
I do like the idea of having at least one way to share very easily that doesn't involve storage outside my control.

Unable to sync, it says syncing on both, but the process doesn't even start. 0kbps
Has anyone been able to get it to sync the camera roll ?

If you're not on wifi, make sure to go to settings and enable "Use cellular data". It took me a good 5 mins before I realized that it wasn't working because I had this feature disabled.

Finally! Good riddance OneDrive.

Great for this but we need a U torrent client to manage pc Utorrent through mobile please.

Utorrent remote you mean, not client. I agree that it's needed.. Posted via the WPC App for Android!
Windows Central Newsletter
Thank you for signing up to Windows Central. You will receive a verification email shortly.
There was a problem. Please refresh the page and try again.