Nokia exclusive Xbox game Blobster oozes onto Windows Phone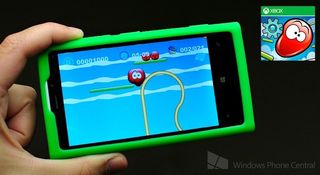 Just when it seems like Xbox games for Windows Phone's darkest hour, when all hope of a new release before January 30th has long been abandoned… Nokia once again comes to our rescue with a new exclusive Xbox for Lumia owners: Blobster from Chillingo (who we've barely written about today) and Divine Robot. With this surprise late-day release, there are now eleven Nokia exclusives in the Xbox lineup.
Revolting blob
Blobster is an innocent little platform that clocks in at a light 13 megabytes to download. The titular character is a living blob (sadly lacking lobster claws) who must apparently stop the Big and Powerful Corporation from polluting the land of Canterlot, I mean Blobtopia. While the adorably and sticky littler thing bears the color red by default, players can select between six different skins – including a female one.
The gameplay is simple enough to learn. Pressing the left or right side of the screen moves the Rock Blobster in that direction, not unlike Chillingo's own Roll in the Hole. A tilt option is also available, though I'd have preferred a virtual stick, myself. To make Blobster jump, tug at him with a finger and then release; he'll go flying in the desired direction.
Throughout the game's many levels you'll come across unique power-ups like pieces that cause Blobster to grow and jump farther, a helmet for breathing underwater, and more. The protagonist can't attack enemies directly, so you'll need to avoid them instead. Grab all the collectibles scattered around each level for a handful of Achievements.
Silly putty
Nokia and Chillingo's latest is a cute game whose looks will appeal to general audiences and kids. I find the uninspired backgrounds badly in need of parallax scrolling, but flat backgrounds have long been a pet peeve of mine. With a fair assortment of levels that become more varied as the game progresses, fans of casual platformer fans might just end up falling in love with this blob.
Blobster costs $2.99 like every Nokia Xbox exclusive and works on both Windows Phone 7 and 8. You can view its Windows Phone Store page here, but the game must be purchased from a Nokia Lumia phone.
Thanks to Er.Akshat (tell me that's not supposed to be naughty) for the tip!
Windows Central Newsletter
Get the best of Windows Central in in your inbox, every day!
Paul Acevedo is the Games Editor at Windows Central. A lifelong gamer, he has written about videogames for over 15 years and reviewed over 350 games for our site. Follow him on Twitter @PaulRAcevedo. Don't hate. Appreciate!
What's with the lack of adrenaline pumping great Xbox live games? I mean these cutesy little games are boring after 2 or 3 plays. Where's subway surfer?

+1 Subway Surfer or Temple Run, please?

I downloaded temple run 2 last night on my iPhone. Its pretty good.

Its very good! According to how things go around here; when Temple Run 3 comes out we should be getting Temple Run 1 on WP.

I would expect Temple Run in the first half of this year, but that will still be pretty late.

Exactly give me Dead Space, Batman, or something of the sort. These little games are ok, but come on give us some more variety. And while they're at it I want Splinter Cell to be WP8 compatible. I paid for it on WP7 &now that I have a 920 I can't play it, WTF!

NES to SNES, your SC is lost forever most likely. I second the request for more hardcore games.

I agree that more variation should be there even, but could somebody tell me why anybody would wanna play Splinter Cell like games on mobile?
Why somebody would do that? I mean all of you must have PC, console or similar in home. Why would you spent hours on a mobile game? Angry Birds to me is as far as mobile gaming goes as a 3 minute distracation when you need one.

Have you played Vice City on a 4.5" Android? That game is f*cking awesome.

People like the kind of games that they like. You might like more casual experiences, but other people would like to play console-like games on their phones. It's not a mystery.

I picked the game up without reading the article, but unfortunately it's not one of Chillingo's best. I'm awaiting another Contre Jour/Feed Me Oil. Came back to see what the article wrote and its true. This is for kids, but my sister wouldn't want to play this. Oh well.

Microsoft teases "whats coming up sneak peak from gameloft" in spotlight-xbox games

This is why there are no xbox titles for everyone else, Nokia has taken them!

Did you seriously just put that cover on that beautiful device?

I use it for the gym/when running, not all the time.

Sorry Daniel, but I just called your green cover ugly.

FC Rocket out too, new xbox title...

Off topic but that green cover is ugly. It's like a beautiful with an ugly dress on.

Unlike everyone else, I dig the green cover. Looks a lot like mine.

The Snex8 emulator came out yesterday and I am completely happy with that.

What the hell is happening with those 12 gameloft games that were announced back in october? The fact that neither MS or gameloft have commented is really worrying. I'm getting rather fed up with broken promises and the lack of up to date info. Don't p*ss off loyal early adopters MS!

There was just video posted in the Spotlight section of the Games hub regarding the titles. They must be on the way shortly.

Nokia has some influence in regards to the OS? The prior article linked several avenues to ask MS to bring LIVE titles like halo, forza, why not contact Nokia to influence MS to bring more LIVE games? Just thinking of bothering anyone, partner, that has a connection to the OS.

All of the less intelligent people are going to blame Nokia for the fact that they didn't get an XBL game this week because of this.

Why would anyone blame Nokia? I have not read one person blame Nokia for MS not churning out LIVE titles. Odd statement.

Exactly. Still Microsofts fault. Nokia releases its games randomly, on any day of the week, and sometimes a few at a time. Microsoft is the one letting everyone down Wednesday after Wednesday.

Another Nokia game is also available to purchase...called FC Rocket. Kinda like flight control.

Thank you, Paul, for bringing attention to this release; I don't think I would have found it otherwise since I generally check Nokia Collection first (I don't see it in Nokia Collection); however, I do see it, along with FC Rocket (will you be reviewing this one as well?) and Picnic Wars (both by Nokia, under the XBox Live header.

As far as this game goes, I kinda like it; but it is almost as challenging as Contre Jour for me, but iwith a more colorful UI. I just may purchase it, but will play the trial a little more. Blobette is cool but sometimes uncooperative :)
Windows Central Newsletter
Thank you for signing up to Windows Central. You will receive a verification email shortly.
There was a problem. Please refresh the page and try again.