Blu Win HD and Win Jr head north with Microsoft Store Canada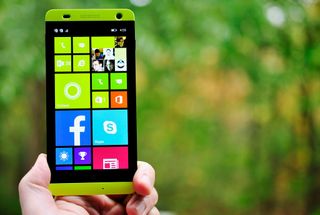 Blu, purveyor of low-cost Windows phones, can now be found in Microsoft Stores in Canada. The pair of Windows Phones had previously only been available from Blu and Microsoft Stores in the United States. Blu's phones aren't associated with any carrier in either country, so that these prices are off-contract is an encouraging thing: $179 for the Blu Win HD and $89 for the Blu Win Jr.
So what do these low prices bring to the party? The Win Jr has a meager 4GB of internal storage, but sports microSD expansion, plus 512MB of RAM and a 1.2Ghz quad-core Qualcomm Snapdragon 200 processor. The 4-inch display has a resolution of 480x800, while the rear camera clocks in at 5-megapixels with a little VGA shooter on the front. These aren't mind-blowing specs, yes, but a phone with a small number following the dollar sign also comes with small numbers in the specifications department. Laws of economics and all that.
The Win HD is a more impressive phone, with the same Snapdragon 200 processor, but throwing in an Adreno 302 GPU, 1GB of RAM, and 8GB of storage with microSD support. The screen here is bumped up to 5 inches with an improved 720x1280 resolution — it's not the 1080p HD we'd like, but again, we're talking about a sub-$200 Windows Phone here. The cameras are also bumped up on the Win HD, with 8MP on the back and 2MP on the front.
There are trade-offs for phones at this price, of course. They're not as awesome as the more expensive phones you can get from HTC or Microsoft, and they're missing out on support for some features like microSD cards larger than 32GB or LTE.
Even so, it's good to see Blu's Windows Phone distribution expanding beyond the borders of the United States. Anybody in Canada picking up a Blu Win HD or Blu Win Jr?
Via: Windows Phone Canada, Reddit
Windows Central Newsletter
Get the best of Windows Central in your inbox, every day!
Derek Kessler is Special Projects Manager for Mobile Nations. He's been writing about tech since 2009, has far more phones than is considered humane, still carries a torch for Palm, and got a Tesla because it was the biggest gadget he could find. You can follow him on Twitter at @derekakessler.
Super design, great smartphone for the cost,

Snapdragon 200!? No thank you!

Can someone explain what is so bad about the snapdragon 200 on a windows phone? How would it hold up against the s4 in the Lumia 920?

Just go to a Microsoft store and see how it works its probably not as bad as people say most of them probably haven't touch the thing in the first place. Posted via Windows Phone Central App

I have the Blu Win Jr and it feels just as responsive as my old 920. I really like it. My only gripe is the 4GB of storage.

I went to the MS store and have to say it isn't that good. Scrolling is is too choppy, tinny soud, and mediocre camera . Blu could have gone with the 400 chip and upped the price a little to fill a niche, instead they settled for less and built a device that will not represent WP well.

At this screen size it is slightly laggy.

I have a 630 with a Snapdragon 200 and its very fast and smooth.

yeah, the 630/635 have the 400. it's a choice, do you go for the slightly faster 400, smaller die, LTE and Nokia brand on the 635 or more RAM, bigger battery, 720P screen, front and 8 MP rear cameras of the BLU Win HD?

Excellent phone for the price.....

I see your attempt at being first was unsuccessful.
Edit: Well played! You edit your comment and I'M the one who looks l like an idiot.

Such a beautiful budget phone. Would love to get one.

HD would be mine if it was released in India...

Nice Nice I thought these phone were coming to Brazil as well. Posted via Windows Phone Central App

Yes, already available :) it's not only US (and Canada)

Cool cool Posted via Windows Phone Central App

So I bought the blu win HD athe microsoft store in Boston this weekend and its not without its issues. First off the camera sucks. It also has no camera button which takes some getting used to. I broke the sim.card slot and had to get the phone exchanged. Also the touch screen isn't as sensitive as my 1520. You have to press real hard sometimes to get anything done. Music audio is way lower than normal so I doubt ill be keeping this past 30 days but damn it's so pretty to look at. (yellow neon green)

So you are comparing a 200$ phone with a 500$ one? Nice!

I actually have a 520 which I hate. Like the blu win HD much better BUT the audio is lower and the touch screen has issues.

You classify breaking yiour sim card and a low-end camera on a $179 phone to be issues? Interesting

Ikr? He probably wants a 1520 camera in a 200$ phone.

Probably because the cameras on the 530 and 630 are pretty good for what they are.....and both of those phones have good response from their touchscreens along with audio volume that is perfectly ok.
In short, these Blu phones sound like they have issues that put them behind their equivalent priced Microsoft phones. & that's a problem worth considering if people are considering buying these phones...

Has anyone personally used and compared with the 520 or 530? Please post your first hand experience, thanks!

I have never heard of any 530/630 review that criticised the touchscreen response or the audio levels.... On the flip side, two people on these forums have independently confirmed that the Blu phones have particularly low audio levels, and the commenter above has also said that it is often difficult to get the phone to recognise touch inputs. Therefore, I think it's safe to assume that the Blu phones may indeed have an inherent problem with regards touch/audio that the Microsoft/Nokia phones don't seem to have. Yes, it would be great to have first hand experience of such things. However, in lieu of that, I think one can draw a conclusion from the evidence that is out there.

The irony of this is that the phone he's comparing it to, the 1520, has issues with its touch screen.

I got a Win Jr a few days ago. It is much faster than my daughter's 520 running WP8.1 Preview. The speaker volume seems perfectly fine to me, actually louder than my 822. The screen looks quite good, also better than the 520's. Yes, it is slightly less responsive, specially near the edges, but it's perfectly usable and nothing major. The rear camera is also usable, but the flash sucks in close up shots. Outdoor shots look pretty good to me. As for the front camera, well, it's a VGA, so don't expect much of it, specially indoors, but could be useful for Skype. One thing that suprised me is that the Xbox Music app runs much faster in the Win Jr than in my freshly restored 822. Overall, I would say it was a very good purchase (I got it mainly for the dual SIM).

If you want dual-SIM and North American frequencies, these two phones are your only option at this time. That's one way in which they trounce the Lumia 520, 530, and 630.

Fair play :). I'm not from N.America, so I don't have any such issues to contend with :).

You don't contend with that issue because you don't need dual SIM, or in that you live somewhere that the local Lumia 630 variant is dual SIM? :-) Almost no phones in North America are dual SIM, despite Canada and the US have the world's longest undefended border, Canada and the U.S. being each other's biggest trading partner, etc. There's a need, but most consumers are unaware it's even a possibility.

I live in the UK, and have yet to find a need for a dual sim phone. However, it is easy to buy such devices as we don't have anywhere near the amount of carrier restrictions that cause so many issues in the US market.

I'm in Canada and our market is, if anything, even more restricted than the U.S. due to collusion amongst carriers. However, we enjoy greater portability between carriers since all of our carriers switched to HSPA whereas half of the U.S. carriers stuck with the now-dead CDMA2000 upgrade path. Anyway, Microsoft selling unlocked phones into the Canadian market directly (not repurposed phones originally designed with Central America in mind) is a first, and a brave one at that!

How does it compare to say the Lumia 520? I think that's a closer comparison and would give many potential users a feel for the actual device performance

I'd prefer a Lumia 520 in some ways (Lumia exclusive apps, guaranteed upgrade support, dedicated camera button), but I would get a Blu because of the dual-SIM feature and them coming unlocked (the 520 is typically carrier-locked). Also the Blu handsets come with a data cable and a case, which the 520 doesn't by default.

I wouldn't buy one, personally; and I don't think that anyone looking in that price bracket will be going to the Microsoft Store to buy a phone. Frankly, I'd be surprised if they sell 1000 of these all together.

Probably already have. Posted via Windows Phone Central App

I would get it as a secondary phone

I think they will sell more than that. It is a good phone at its price point. It is ok as long as not compared to flagships.

FYI... Amazon keeps selling out of all colors. Posted via Windows Phone Central App

Yeah, I'm not saying that there isn't a market for them out there. I just don't know how many people are going to go to the Microsoft Store specifically, brick-and-mortar or online, to buy one of them.

I used to work at a Microsoft Store. If these had been available, I would have sold a lot of them. You have no idea how many conversations ended once an international traveller or student found out the phones were locked to AT&T or other carriers.

Perfect phone to get the kids!

Yup. You're right. Good phone as a present.

It has better support than my flagship icon on Verizon

Microsoft store rep I talked to in Edmonton said they were selling "really well".

On the Canadian https://www.windowscentral.com/e?link=https2F%2Fclick.linksynergy.co... site, the in-stock colours keep changing, suggesting they're selling out and being restocked.

512mb ram, and I stopped reading there, sorry

It's a budget phone, what would you expect ? Posted via Windows Phone Central App

I think that's no longer enough for WP, even for a budget phone

You can't really tell it's only got 512MB. It is much faster than the 520.

Guess the winhd is the successor to the ativ s(minus the lte variant, lack of storage. But its a bigger 720p display) same specs. Guess it'll be a nice gift for someone who doesn't use a phone very much outside of wifi coverage

Those are great prices, even a better value for their money than the 530, 630. The design is great -- especially from the Win HD and double the RAM. Not to mention Blu's distribution, which is shaping up to be quite good!

The problem, I think, is that the Lumias have a better support, even HTC had problems with their Windows phones

If they sell well they will have good motivation to support them well.

The Blu Jr was previously available and sold out within 24 hours. Hope this release is just as successful; and gets better stock management from Blu.

Only thing some people will complain is its lack of support for hspa(aws) it should be quadband but its isnt

The specs list 1700 hspa- is that a non-AWS 1700?

its a pcs frequency think att/rogers

Thanks- I've asked that question before but no one seemed to have the answer. It drives me crazy when phones are advertised as TMo compatible because Tmo has 1900 in some markets. I'll wait until I can get the 850/1900/2100 since I travel to the EU for business several times a year.

No problem I find how 3rd party retailers advertising lists lte is more misleading

Actually, AWS is supported on one of the two variants of Blu Win HD. The 510U version supports AWS as in using it on Wind Mobile. I'm impressed with how week the phone actually works, especially for the money. Now, Windows Phone just needs more apps.

Great phone for that price, a friend of mine bought it as a backup phone and is very impressed, he has no lag with that processor, I think this is a winner.

Im making this comment on the fact that we're talking about device availability here....
...........
I think that it's kinda pathetic that we haven't seen a version of the Gs5 for WP.. By now we should have versions of the S5, and the Note 3 on store shelves... WP is advancing pretty well, but devices capable of showcasing it's best features are few and far in between.... Where is Samsung?.... That's really a rhetorical question, but still..

No offence to you...
But I personally despise Samsung. Period.

You couldn't pay me to choose a Samsung phone over a Lumia, but what does our preference have to do with anything?.. It doesn't matter what we hate, and that's besides the point.

They did release the ATIv se. Isn't that there gs5 or is that gs4 base.

I wholeheartedly agree. I use the note 3 on T-Mobile. I'd prefer a 1520 but I'd love a note 4 W8Phone version to drop on the 17th. I just gotta have the T-Mobile WiFi app. If there was anyway to get it on the 1520.3 I'd go that route. Regardless Samsung need to step up. Posted via Windows Phone Central App

I agree, but I'm not blaming Samsung on this one... Guess who?

The App is available in the Store. I wonder if it will install I'd you have a TMob SIM in the phone or is it locked to certain services only?

I have the phone and the only problem for me is the weak audio output but I can live with it.

So how about the speed is the 200 really a problem or people just saying what they hear. Posted via Windows Phone Central App

200 snap dragon is fine, no lag for me

I guess the improved GPU helps to deal with the lag originating from more pixels.

I find other manufacturers tend to have too high an output but I use noise isolators so that could be why

People on amazon are reporting 64gb cards working with the win HD. I asked the reviewers on amazon.

Yea I figured that because people didn't know lumias could do 128 till someone tried.

I'm not sure about the HD, but I got my 64GB card to work with a Jr. I even left some screenshots in the forums.

That sounds about right to Mr, because I was dumbfounded how the manufacturer could limit the SD card expansion, when (I thought, anyways) that was Microsoft's domain.

Whenever the BLU Win HD hits South Africa I will buy it, it's probably better than the Lumia 520

It definitely is better than the 520, but I'm not sure BLU's supply chain is that big to reach other continents lol

They'll turn into MS apps eventually... Right?

And still be exclusive to Lumia

They're not that special. Only thing I would lose that I actually use is Nokia camera which doesn't matter on this phone anyway. A year ago it was a different story.

Anyone who knows any shit about economics, knows there are no laws! :)

I have the phone, been using it for about 2 weeks now. As stated before lack of a dedicated camera button takes some getting use to, the camera, especially for video, is sub par at best and the there is no backlight for the capacitive back, home and search buttons. Other than those gripes for less than $200 its a great deal in my opinion, I don't have touch screen sensitivity issues nor do I have problems with my speaker volume. I'll probably use this until the factory unlocked 1520's come down a bit more in price. Its no Nokia flagship but its better than any WP device tmobile has to offer right now.

Wow 179dollars for the hd frontcam and 1g ram sd support GO BUY IT PEOPLE!!!!!!!

Now if only the Lumia 1020 cost $339.99 CAD in the Microsoft Store. Blu phones are slightly cheaper in Canada, Lumias slightly more expensive. Though the Microsoft Store is also selling unlocked Lumia 635s, which is cool, even if they're selling for $49 more than the highest carrier price (which can then be unlocked for as little as $9). It's a good start, all the same. :-)

you'll need to tell me the website/location that unlocks a nokia 635 for $9 or even a place i can unlock it in the first place.i am stucked with a locked to rogers prepaid lumia 635 that no one seem to be able to get the unlock code for.i have tried canada gsm and 2 other sites and was refunded due to unlock code not found in their databases.rogers will not unlock until after 3 months service

If the phone's price is subsidized by the carrier, they do not have to unlock until the cost of subsidies is covered.

I used cellunlocker.net, but the phones had already been in service for a ling time. Lumia 920 and Lumia 1020, cost was $7.99 USD for each one.

I have had the Win HD for a few weeks now and very happy with it. A couple points: 1. I have a 64gb SD card in mine. No issues. 2. At first I found the screen sensitivity was off, but after its first full charge it became normal. However some games do act up when you have to press simultaneously - such as Terraria. It will get stuck walking in one direction making it unplayable. Hopefully its fixed somehow, but not the end of the world. 3. I removed the screen protector and the screen feels better. 4. I am using t-mobile, but don't have access to their Wi-Fi calling or visual voicemail. I assume because its not from tmobile. I assume other carriers will be the same. 5. Battery is amazing. I use my phone all day and by 5 I'm usually 60%. Lower processor helps here Overall a solid phone for what I want and the processor does not seem to slow it down in normal daily routine.

I have problem number 2 with hungry shark evo

Hoping for a Europe release

Yes get it to europe tio ill buy it.

I have bough it for my daughter to replace her Lumia 520 (Blu Win HD) as dedicated "iPod" - eg no Sim. Can give you quick observation, if there is an interest (I'm rocking Lumia 1520 myself). Good exp btw, cause I see what I might get through if id decide to switch to HTC M8 Win. Anyway first quick observation against 520. Device is beautiful, great to hold, great big screen compared to 520, and most importantly...1gb Ram so little,one could run ALL the games now and Front cam - see Skype and selfies!!! No what I didn't like - No,dedicated camera button (getting used to), Touch screen is not very sensitive compared to Nokia (even compared to 520) but probably on the level of average android phone, no double tap to wake, no flip to silence, and my largest disappointment is very slow SD card interface. I've specifically timed writing new app to Blu vs 520 (Same SD card speed and mfctr), takes almost 1.5 longer. Can't tell for sure (cause this game is not available for 520 lack of 1gb), but fifa15 or 14 becomes almost unplayable...very very slow, as I suspect read speed from SD is affected. Moving FIFA 14 to dedicated phone memory helps a lot, but still see some slowdowns (processor?) Overall good upgrade for my daughter, but now I'm double guessing, should I switch to M8, cause even double tap to wake has become,my second nature...taking aside all Lumia apps and large and very sensitive touch screen of 1520.
As the side note, recommended to whole bunch of different parents in our community, 520 is the best bang for the buck for 8-10 years old...no Ipod can stand near...Sd card support, mostly All kid's games 512ram support (angry birds,temple run, etc...) greatest device in this segment, even without Sim and SD support for almost unlimited expansion (128gb for kid Is ALot of games!!!) I'd say probably 100 or so parents bought it for the little ones in our school alone....I think MS, Nokia could do a LOT more sales on it alone, if they'd stack cheap Lumias against Ipod...

Yeah I want more snapdragon 800 and 1080p and this is more sizes of phone 4.0 to 4.6 sizes we need more of those slim and thick phones!

If you order the win hd online to ireland , would it work?

As long as you have SIM based provider...it is unlocked.

It has to support the correct bands. Not all GSM phones are the same.

Usual. GSM 850/900/1800/1900 and HSPA 850/1700/1900/2100

I have a 630 on cricket, I'm wondering, does this as an unlocked phone have hotspot availability? If so, sold. I would love a bigger screen, my old eyes don't see so good anymore.

Been playing around with a borrowed win HD the past couple of days. So far, I'm impressed. The slow processor isn't a problem really. 720p seems like a good screen resolution. I do miss lte sometimes and the battery life could be better.

Would this phone work in the UK? And any websites which can send this to England?

Btw the Moto g is sub 200

That's something I don't get, a lot of people say that the Moto G is $100 or less, but when I check my local stores it's about $300 even with this economy the Lumia 530 is about $160 I don't get the hype with the Moto G

No articles today. This is the third time I open the app today and the latest article is still this. Huh

Sunday is a day off. Mostly.

So look at the live tial and Wai for it to update. Why open the app?

Glad for Canada, they need em with those carriers of theirs.

So true dude. The great White North gets crap all.

Kind of a htc rip off... No thanks.

While you're at Microsoft. Can we please get some other unlocked high-end devices like the 1520 and 930?

It's gonna be mine tomorrow win HD.i tried getting it throw amazon but they don't deliver to Canada but that is all over now that is the ms store here in Canada

I still love the performance I get from a WP7 device. I'm perfectly fine having a sub $200 like this. Its awesome seeing more than HTC and Nokia in this area

WP market share is virtually nonexistent in Canada. So MS decides on this product for the CDN market? I don't get it? Posted via the Windows Phone Central App for Android on a BlackBerry Z30

Is scrolling smooth? I've read several comments saying scrolling lags a little choppy Posted via the Windows Phone Central App for Android

In india,,these phone have to compete with indian wp's. And these will fail coz people dont trust on it....even many people dont trust on nokia,,,haha,so,dont come to india..here mmx,xolo,karbon are selling like champion in android,,n they have wp tooo....

I have the phone and for the money $179 its worth it going to get the orange when it releases

My lu 1320 is also laggy sometimes when browsing on ie. I guess cpu/ gpu is too weak for such a large screen

I have 1320 but WP 8.1.1 DP. Kinda curious as i usually use UC Browser. Test IE and it works normally. May be the page is not finished loading. 3rd party browser for consideration if problem persist.

Looks like a HTC one m7 in a colorful way

Thinking about getting this for my dad to upgrade his 520, as he travels back and forth between the US and Canada a lot and the dual SIM capability would be more convenient than swapping out his two SIMs every time. Wish more phones in North America came with dual SIMs. Would also be useful for a lot of people in situations where they're currently carrying around one personal phone and one work phone... I see a lot of this.

I bought a BLU Win HD from the Microsoft Online Store a few days ago. Overall I'm pretty impressed. It's a great way to dip one's toes in the Windows Phone waters without a massive investment. There is one major glitch...I'm with Rogers and I can't get 3G service on this phone. It tops out at 2G. Anyone else noticed this? I've jigged and re-jigged the APN settings but to no avail. I like the phone, and don't really want to return it because of this. I can survive on 2G + wifi, but it's a bit annoying.