BLU Win HD LTE may have been added to Windows 10 Mobile Insider Preview program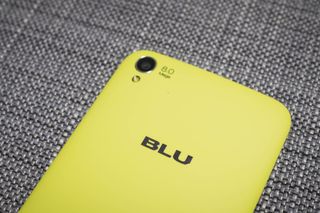 Reports are coming in that the BLU Win HD LTE may have been added to the list of phones that can download builds from the Windows 10 Mobile Insider Preview program.
While Microsoft has yet to confirm this addition, a couple of members of the Windows Central forums have posted word they have managed to download and install the most recent Insider build of Windows 10 Mobile, version 14328 that was released on Friday to the Fast Ring.
Another report from WindowsArea.de claims that the earlier BLU Win HD model is also supporting the new Windows 10 Mobile Insider Preview build, but we have yet to confirm that news. Hopefully, Microsoft will issue an update on their list of Insider phones shortly.
In the past, some phones have accidently gotten by Microsoft's prescribed list of phones for the Insider program, so we are not sure if this is a genuine change or a fluke at this time.
Currently, BLU accounts for 0.24% of all Windows Phone active on the market according to data from AdDuplex.
Windows Central Newsletter
Get the best of Windows Central in your inbox, every day!
Europeean version ? Posted via the Windows Central App for Android

This!
Why has only one HD LTE variant been given the W10 update? Makes no sense to me.

perhaps the L925 as well?

Not gunna happen, if they do it for 925, they have to do it for 920/1020, no ifs or buts. (even if they don't fully support 1020 cam. module that's fine)

Isn't the 925 just a 930 on Verizon? The issue with the 925 / icon is that software has to be approved and pushed by the carrier. Not entirely an MS problem.

L925 is different from the Icon/ 929. I don't know why the 929 doesn't get the updates though since it is similar to 930. With the preview program I don't believe the carrier needs to approve it, otherwise why does the icon get windows 10 at all.

You don't have to look @ WindowsArea.... Here is a Picture: windowsunited.de/2016/04/26/blu-win-hd-lte-nun-fuer-das-insider-programm-freigeschaltet/

First update the European version to windows 10

BLU WIN LTE HD got Windows 10 this morning. Brilliant.

Great, how about some love for the "other 930", you know the ******* step-child Lumia Icon

The Icon was tied to a carrier. MS cannot push an update, without the carrier signing it off. I believe these were specific to Verizon so maybe the anger and resentment should be aimed at them

Are you sure the carrier needs to sign off? The icon got the windows 10 10586 build and I doubt Verizon signed off on it.

That was of course the Insider program, and I think technically MS could get round that obstacle as the program offers beta software and is intended to be signed up to by a small percentage of users. It's also completely down to the user. MS pushing out a commercially-available update to the majority of Icon users is an entirely different situation, I'd presume, and one that Verizon would have to agree with first. I can only presume that because the Icon will not be getting the official release for that reason, MS sees no point in supporting and testing the phone on the Insider program either as - from a general, consumer point of view - it's not ever gonna be a W10M device.

Anything that touches the radio stack needs carrier approval.


Can confirm BLU Win lte hd got update today in the uk

Just got the update now... Its true. Works in the UK

If they do that ten they should add the Icon. Whicht the Icon should be on there anyway -_-

Is on the list of supported phones - http://windows.microsoft.com/en-us/windows/preview-supported-phones Dunno if added today/yesterday or is there since ever

it is on the list because it supports Release Preview. Now it is also compatible with Fast & Slow Ring as said correctly on WindowsArea.de

The european version didnt support release preview. Hope it does it now

I wish they would add the 1020. Sent from Windows 386

Perhaps the l920 as well..please

Add the Lumia 925 Posted from Windows Central for Windows 10

Yup, all of a sudden my x150q is downloading the latest Fast ring release. Finally getting the Insider updates! Thx MS & Blu!

Can someone pls explain why Microsoft is avoiding the Samsung ativ se they didn't do that with 8.1 developer preview so why they do this with W10? the Samsung ativ se specs are almost still flagship like after 2 years and I see phone with mediocre specs get put in the insider program

Wasn't that exclusive to Verizon? If so...that's your answer.

I did upgrade and it hung on the boot page for ages. So held down power and volume up it rebooted then it rebooted again and then it went in ok. Phew :)

Yup, I can confirm it .. My Blu WinHD LTE 150q is running build 14328 as of last night ..... big improvement over release ....... my battery dosent seem to suck anymore ..... performance seems decent. So far so good .....

Seems super quick and has fixed a screen blanking issue . Sweet :)

Wow...it is much quicker isn't it? Nice! Thanks MS & Blu!

Yes... Installing on my blu hd lte (dual sim) UK variant.... Happy. Thank U both companies. MS and Blu

I have a BLU WIN 10 HD LTE and Microsoft Band app does not open, rendering my band essentialy useless. Now I have a $300 pedometer. In fact most apps force close at least once while using. FACEBOOK never opens the first time!