Bugsnax is coming to Steam sometime in 2022
The adorable title about food animals and body horror will soon join the list of PlayStation games on Steam.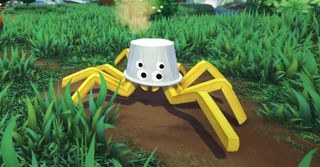 (Image credit: Young Horses)
What you need to know
Bugsnax, an adventure game about the titular food-animal hybrids, was a PlayStation 5 launch title.
It's set to launch on Steam sometime in 2022, having been available on the Epic Games Store for PC.
The developers have also teased future surprises in store for Bugsnax fans.
Bugsnax is making its way to Steam more than a year after it was launched on PlayStation and the Epic Games Store. Developers Young Horses have confirmed the game is coming to Valve's PC gaming store "sometime next year." The game is currently available for players to wishlist on Steam, with a release date of "2022."
Bugsnax, a Lovecraftian horror story hiding inside a children's game about cute food/animal hybrids, was first revealed at the PlayStation 5 reveal event in June 2020, and released for PlayStation 5, PlayStation 4, Mac, and PC via the Epic Games Store in November 2020. Despite the more creepy elements of the premise — that you are literally what you eat — it's one of the better kid's games you can play on the PS5.
This would make yet another PlayStation title that has come to Steam in the last few years. Sony has been making more and more of a push to extend the lifespan of its titles by getting them on the Steam library. Other examples are Days Gone, Horizon Zero Dawn, Death Stranding, and Detroit Become Human. Bugsnax technically doesn't fall into the exact same category, as it's always been available on the PC -- the Epic Store specifically. But it's still a PlayStation title that's making its way to Steam, and that opens it up to many gamers who might not otherwise have enjoyed it.
Developers Young Horses have also implied that this isn't the only Bugsnax news on the way, with creative director Kevin Zuhn saying, "We'll have some meaty news and a few juicy surprises to get people talkin' bout Bugsnax again later this year." Now the song is stuck in your head too, isn't it?
Windows Central Newsletter
Get the best of Windows Central in your inbox, every day!
Rachel Kaser is a Windows Central gaming contributor, who's been writing since 2013 and gaming since the age of five. She's covered everything from gaming news, reviews, and analysis -- if it exists in gaming, she knows about it. She also contributes to Future's other sites, iMore and Android Central. If you want to hear her opinions on games, pop culture, tech, and everything in between, follow her on Twitter @rachelkaser.
These Epic Store, PS exclusive champions always come crawling back to Steam. Just sayin. PS: The game is crap and clearly didn't do great. People should know better than to support a company that has their platform of choice as a last resort to sell their year-old, failed game.

From what I hear the game was actually pretty good. And as for platform exclusivity, developers normally do this for a small investment of cash so they can have more time and resources to polish a game. Of course every non first party game would love to release on all platforms at the same time, but it's not always a reality. Money is normally, if not always, the deciding factor.

My kid loves it! Glad Steam is getting it. Now get it to Xbox as well

Damn, Microsoft must really be struggling then if they're buying up all these developers to get exclusives on Xbox. Timed exclusives are exactly that TIMED exclusives, this isn't exactly rocket surgery.

Not true, it ends up being better for gamer's. I for one was glad Horizon Zero Dawn came out on Steam or else I never would have experienced such a beautiful and amazing game.
I personally think sometimes devs release it on PC because they know it allows them to make the game closer to how they want it to look and run e.g. PS4 only ran the game at 30fps. Abysmal for such a beautiful and massive world.